HOME PAGE
Welcome - Croeso
Our mission is to educate and inspire children and communities, enhancing natural creativity and well being, through environmental art. Our vision is that children and adults will engage with nature in a creative way, helping to protect and sustain it for future generations. Ein nod yw addysgu ac ysbrydoli plant a chymunedau wrth wella creadigrwydd naturiol a lles trwy gelf amgylcheddol. Ein gweledigaeth yw y bydd plant ac oedolion yn ymgysylltu â natur mewn ffordd greadigol gan helpu i'w diogelu a'i chynnal ar gyfer cenedlaethau'r dyfodol.
scroll down for news items and links to features
Year of the Sea 2018 - Sculpture on the Coast Project
Our exciting new project - a special sculpture trail along the Gower Coastal Path.
The trail will coincide with our annual Beach Sculpture Festival at the end of July (see details and dates below) and will showcase contemporary Welsh arts in an adventurous, inspiring way, giving a distinctive cultural visual arts experience for all and encouraging active lifestyles. Five site specific sculptures have been created especially for the trail between Mumbles and Rhossili by our team of artists using concepts inspired by the 2018 theme Year of The Sea. The project has been funded via the Welsh Government's Tourism Product Innovation Fund which aims to encourage new innovative product ideas working in partnership which will have a greater impact and attract more visitors.#yearofthesea #sculptureonthecoast #artedbts #findyourepic #SeaSwanseaBay #VisitSwanseaBay @visitwales @findyourepic #sculpture #art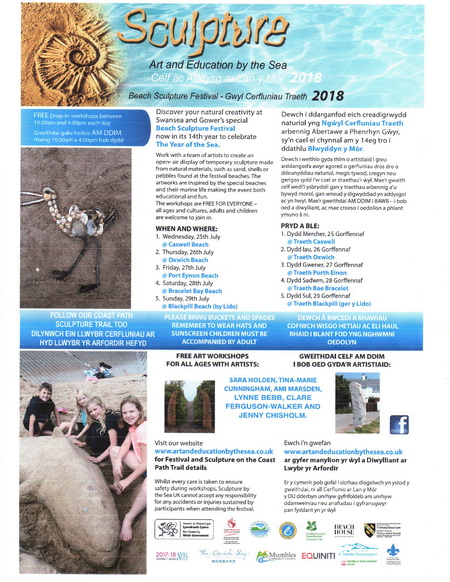 The surfboard and fish sculptures at Caswell were unveiled by TV Coast and Country Programme Presenter Andrew T. Price - 20.7.18

more details am ragor o fanylion


Cafodd y cerfluniau syrffio a physgod yn Caswell eu dadorchuddio gan y Rhaglen Arfordir TV a Rhaglen Gwlad Andrew T. Price

Shell Sculpture at Three Cliffs Bay Cerflun cragen ym Mae'r Tri Chlogwyn

The fifth sculpture installed on the Gower Coast Path. Our sculpture trail is now complete.Y pumed cerflun wedi'i osod ar Lwybr Arfordir Gwyr.Mae ein llwybr cerflun wedi'i gwblhau erbyn hyn.

The Leaping Fish Sculpture at Limeslade was unveiled by Professor Mal Pope - 12.7.18

Dadorchuddiwyd Cerflun Pysgod Ehangu yn Limeslade gan yr Athro Mal Pope - 12.7.18

Surfboard sculptures at Caswell Bay

Cerfluniau byrddau syrffio ym Mae Caswell

The third sculpture installed on the Gower Coast Path.

Y trydydd cerflun wedi'i osod ar Lwybr Arfordir Gwyr

Fish Sculpture at Limeslade Bay

Cerflun pysgodyn ym Mae Limeslade

The fourth sculpture installed on the Gower Coast Path
Y pedwerydd cerflun wedi'i osod ar Lwybr Arfordir Gwyr

more details am ragor o fanylion

Arch sculpture unveiling at Horton by Sir Robert Hastie KCVO, CBE, RD

Dathlu cerfluniau arch yn Horton. The first sculptures installed on the Gower Coastal Path. Y cerflun gyntaf wedi'i osod ar yLlwybr Arfordir Gwyr

click here for more details/story. cliciwch yma am ragor o fanylion
Dates for our annual beach sculpture festival which will link in with the sculpture trail on the coast path.
WHAT: Beach Sculpture Festival 2018 / Gwyl Cerfluniau Traeth 2018
WHERE AND WHEN:
Wednesday, 25th July - Caswell Beach
Thursday, 26th July - Oxwich Beach
Friday, 27th July - Port Eynon Beach
Saturday, 28th July - Bracelet Bay
Sunday, 29th July - Blackpill Beach (by Lido)
TIMES: Between 10.00 am and 4.00p.m. FREE Drop in workshop (all ages and cultures welcome).
DETAILS: Sculpture Festival with Free Environmental Art workshops. Join a team of professional artists to create a display of temporary sculptures that inspire, inform and educate on Swansea and Gower's beautiful beaches. Learn new art skills and techniques. Please bring buckets and spades, hats and sunscreen.
The project is progressing - the sites have been chosen for the five way-marking sculptures and the artists' designs have now been made
Cerflun ar y Prosiect Arfordir
Rydym yn falch o gyhoeddi dechrau ein prosiect cyffrous newydd - llwybr cerfluniau arbennig ar hyd Llwybr Arfordir Gwyr. Bydd hyn yn cyd-fynd â'n Gwyl Cerfluniau Traeth flynyddol ac yn arddangos celfyddydau cyfoes Cymru mewn ffordd llawn antur ac ysbrydoliaeth. Bydd y prosiect yn rhoi profiad celfyddydau gweledol diwylliannol unigryw i bawb ac yn annog ffyrdd actif o fwy. Caiff pum cerflun eu creu'n arbennig gan ein tîm o artistiaid ar gyfer mannau penodol ar y llwybr rhwng y Mwmbwls a Rhosili. Byddant yn defnyddio cysyniadau a ysbrydolwyd gan thema 2018, sef Blwyddyn y Môr. Mae'r prosiect wedi cael ei ariannu drwy Gronfa Arloesi Cynnyrch Twristiaeth Llywodraeth Cymru sy'n anelu at annog syniadau cynnyrch arloesol newydd trwy weithio mewn partneriaeth er mwyn cael mwy o effaith a denu mwy o ymwelwyr.
Mae'r prosiect ar waith - mae'r safleoedd wedi'u dewis ar gyfer y pum cerflun â chyfeirbyst ac mae dyluniadau'r artistiaid wedi'u cwblhau cliciwch yma
Art and Education by the Sea /Celf ac Addysg ar Lan y Môr is an Environmental Arts Company operating in South and West Wales in the U.K. We specialise in running sculpture and art workshops and events for school children and communities read more
Cwmni Celf Amgylcheddol yw Celf ac Addysg ar Lan y Môr sy'n gweithredu yn ne a gorllewin Cymru, sy'n arbenigo mewn gweithdai/digwyddiadau i blant ysgol a chymunedau. Rydym yn dîm o artistiaid hyfforddedig sydd wedi cydweithio'n flaenorol ar brosiectau celf ysgolion
ART IN THE LANDSCAPE SCULPTURE TRAIL PROJECT 2017
with Pennard, Newton, Bishopston, Knelston and Christchurch Primary Schools and The Young Carers Group. Link to feature - Click on photos below.
There is now a exhibition of photos of the trail at the Rose Hip and Vintage Tearoom - Wildflower Cafe on Blackhills Lane, Gower until further notice.
ANNUAL BEACH SCULPTURE FESTIVAL 2017 PHOTO FEATURE
THROUGH THE SENSES ART AND NATURE PROJECT SUMMER 2017
BEACH SCULPTURE FESTIVAL 2016
GWYL CERFLUNIAU TRAETH 2016

AONB 60th Birthday Celebration Flag Schools Project 2016
Prosiect Baneri Ysgolion i Ddathlu 60 mlynedd ers sefydlu AoHNE

The project involved 7 Gower Primary Schools - Bishopston, Newton, Crwys, Penclawdd, Knelston, Pennard and Llanrhidian working with our artists in an exciting interpretative opportunity to create banner flags for the 60th birthday of the Gower Area Of Outstanding Natural Beauty title. Their colourful banner flags were based on seven beaches and the flora and fauna in the Gower AONB to celebrate the beauty and biodiversity of the area. It was an ideal opportunity to share the story of Gower with the children, highlight the AONB anniversary and the forthcoming celebration events. The beautiful banners will be displayed at Rhossili Visitors Centre (July 16th and 17th) and the Civic Centre to celebrate with the wider community the AONB 60th birthday, as well as at other planned events throughout the year. See below for banner images.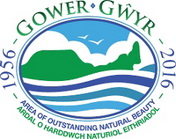 Port Eynon Beach - 24.07.15
Click photos below to link

to Sculpture Trail Feature

Every Child Outside Sculpture Trail

Project 2014

Schools Project making sculptures for a special trail

.....
EXHIBITON OF PHOTOGRAPHS AT TENBY MUSEUM AND ART GALLERY

Now showing from 26.10.13 to 23.11.13

FFOTOGRAFFAU YN CANOLFAN
...Site Specific Sculpture Sec-Ed Project 2012
Datganiad I'r Wasg Mawrth 2012 Prosiect Cerflunio Safle Penodol Addysg Uwchradd
CLICK HERE FOR PROJECT FEATURE
The Nine Site Specific Sculptures built in Nine Welsh Secondary Schools - ( left to right):
PARTNER SCHOOLS: BISHOP GORE, LLANGATWG, CEFN HENGOED, GLAN AFAN, MORRISTON, MILFORD HAVEN, QUEEN ELIZABETH, ST. JOSEPH'S R.C., SIR THOMAS PICTON.
SCHOOL TERM TIME PROJECTS-Please get in touch with us at info@artandeducationbythesea.co.uk for workshop details/prices that we are available to run for Primary Schools in Swansea and West Wales- e.g. Through the Seasons Project and Art in the Environment - a Project for Foundation Phase.
INSET DAYS FOR TEACHERS -Informative and practical inset days for teachers are available from the Art and Education by the Sea Team- specialising in the teaching of kinaesthetic and hands on educational approachs that link in with the curriculum, especially in outdoor settings. Please contact us for further information and prices at info@artandeducationbythesea.co.uk
Art and Education by the Sea are a trained team of artists who have extensive experience in working with schools and community in natural settings since 1998 on high profile environmental art projects. Our team of talented Swansea and West Wales artists are available to run small or large interpretative and fun events or workshops for all age groups at competitive rates. Please contact us for a free consultation to find out more. Our website features examples of projects we have run in the past.
Reg. Ltd. Co. No: 8204938.
Welsh Finalists of National Lottery Awards 2006 for The Most Innovative Project
All photos Copyright Sculpture by the Sea UK/ Art and Education by the Sea/Celf ac Addysg Lan y Môr
Home About Us Gallery Schools Festival Links Contact Us