Our annual beach sculpture festival, now in its 12th year, began at the beautiful Caswell beach that boasts fantastic views and has accessible amenities. The beach holds both a Blue Flag and Seaside Award, which our art group has helped it to achieve with its environmental education activities.
Always a popular venue for the annual sculpture festival with all ages, the beach was soon alive with families and children eager to begin making sculptures with the artists. Although the weather was changeable, the beach was full all day with people enthusiastically collecting shells, pebbles and driftwood for decorating the sand sculptures being made on the beach. As they gathered these treasures washed up by the tide, they explored and learnt about the beach environment.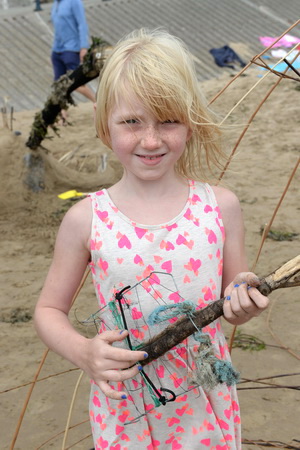 Making instruments at the beach adds a musical dimension to the festival-
making a guitar from found objects was fun to do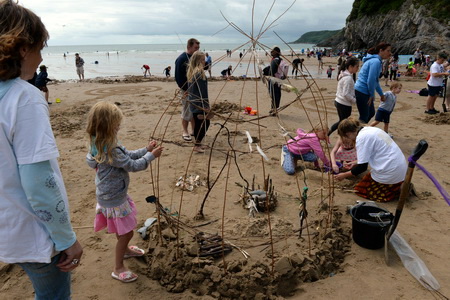 The 'music den' was a popular area of the festival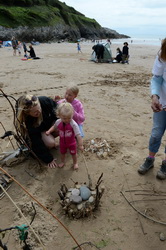 A 'steel drum' made from pebbles and sticks was a wonderful way to inspire young children with imaginative out of doors early learning.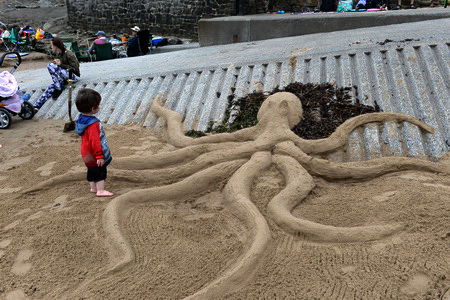 A young boy admires Opah the Octopus
The festival at Caswell is always a very popular day and brings families and friends together in a wonderfully creative, fun and happy way. It a chance to meet and make new friends, explore and discover new things at the beach too. It is an opportunity to develop imaginations and resourcefulness, showing children how to have fun in a positive and creative way that inspires and educates too. Even the adults enjoy having a go at creating sculptures too!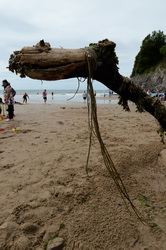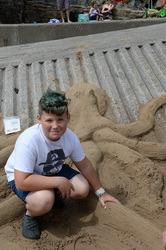 .....To see page 2 of 2016 Festival at Oxwich Beach- click the link at the bottom of this page.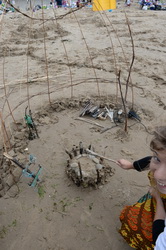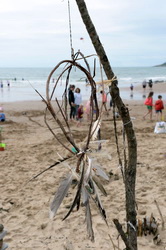 SAMPLE OF FESTIVAL MESSAGES FROM PARTICIPANTS
We helped with the beach band - piano, recorder, ukulele and were definitely happy with the outcome. What a fantastic, creative, outdoor opportunity for our children. they had the chance to use natural materials in a non-prescriptive, exciting way. Nowadays, children are so directed in their art activities but this allowed my children to use their own ideas and express themselves in original ways. A fabulous initiative - we need so much more of this!! Thank you so much - my children were totally engrossed!! Hannah, James, Gracie, Daisy and Mabel Spence
We made Oprah the Octopus and were very happy with the outcome. The Artists were fantastic - inspirational. We also found out about other environmental aspects while at the festival - e.g. shells/insects/birds, etc. Environmental events like this are very worthwhile as they are great fun and a brilliant way to encourage creativity in kids. Gethin Jones and family
We made the Sea monster and were overwelmed with the outcome! Our creativity was enhanced through the workshop with new ideas. We found out about neon jellyfish while working with our artist. Yes, events like this are worthwhile as they give new ideas for the beach. Will and Bella
We were very happy with the Whale,octopus, volcano and other things we made. Art, wildlife, fresh air activity, fun, learning new skills are a powerful combination. John and Jane Parsons and 7 children
Our Blue Whale was great - we were very happy with it. Our creativity was enhanced by using stones to make details and looking at pictures for reference. It was a great way to enjoy and appreciate our beach! A lovely project which made a group of family and friends work together creatively and to think about nature. so much more exciting than using a plastic bucket and spade! Thank you. Monty, Raffy, Tom, Charlotte, Tilly, Camilla
We helped with the Dino which we were very happy with. The festival fgave the children some inspiration. Events like this are great as they encourage children to play outdoors and be creative. Donna Morgandaines and Jacob, James and Anna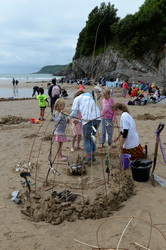 Our Dog, fish and octopus were amazing! the artists taught us how to do sand sculptures. It was fun and got us into art. Rhian Richards and Saskia, Sylvie, Xvier,Sofia and Ollie
We enjoyed making a starfish and a dolphin. Our creativity was enhanced by learning how to look for detail and we learnt about the starfish feeding method! Festival like this are great as there was a real sense of community. Richard and Aubrey
We made a killer whale which we were very happy with. Events like this are worthwhile. Sam Haslew and son
Lily made a wind chime, harp and starfish. Our creativity was enhanced by giving creative expression and recycling flotsam. It is important to understand our surroundings and how we affect them - the festival helped us to do this. Lily Berry and family
We made a sea monster and loved it. The children got involved and learnt how to be creative and use their imaginations. Cheryll Head and children
Our seagull sculpture was great. We felt very creative through the workshop and learnt how to be considerate on the beach. It was fun! Sophie and Toby Hookway
The artist helped me to make a octopus and I was very happy with it. Events like this are very worthwhile as they are a great opportunity to be creative. Jonathan Jones
We made a dolphin sculpture which we were very happy with. Our creativity was enhanced through creative play. It was a lovely way to learn and play. Hadley and James Johns
We loved the dolphin and fish sculptures we made. We learnt all about the dolphin habitat. the event was good to think about our environment. Chloe, Eleanor, Henry and Anne Bell
We were happy with the turtle we made. We learnt how turtles are endangered and it was great fun being creative on the beach. Henry Isaacs and mum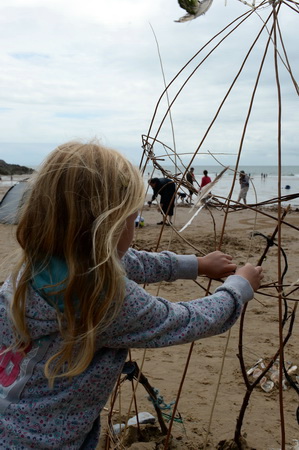 Lots of opportunities to make fun structures and sculptures using a variety of skills, such as willow weaving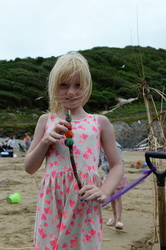 Lilly made some musical instuments which were very happy with. It was much better fun than an Ipad! the festival was great as it was something different to do. Lilly Lloyd and Dad