Our annual beach sculpture festival, now in its 12th year, continued to its second venue at the beautiful Oxwich Bay. Oxwich Bay is on the south of the Gower Peninsula, Wales. Its landscape features sand dunes, salt marshes and woodland. Oxwich Bay includes a 2.5-mile long sandy beach, accessible from the village of Oxwich. It is in the Area of Outstanding Natural Beauty, which celebrates its 60th anniversary of the title in 2016. Oxwich is a popular spot for swimming and watersports including diving, sailing, water skiing and windsurfing.It is the second largest beach on the Gower Peninsula (Rhossili being the first) and is one of the most popular during summer months. There are excellent facilities and dining venues at Oxwich with the Oxwich Bay Hotel and the Beach House Resturant. Always a very creative venue for the annual sculpture festival, the beach was soon alive with families and children eager to begin making sculptures with the artists. Special collections of flotsam, jetsam, limestone pebbles, shells and seaweeds were made to decorate some beautiful and inspiring sculptures based on marine species.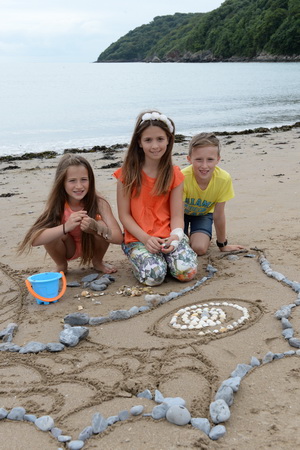 Working at the edge of the tide to create a beautiful seahorse sculpture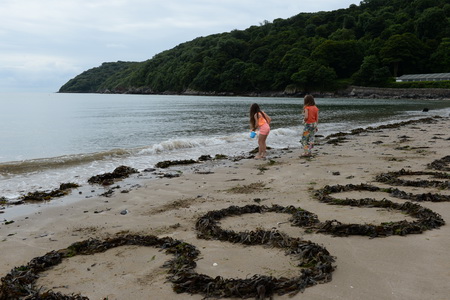 A sea weed pattern emphasises the edge of the tide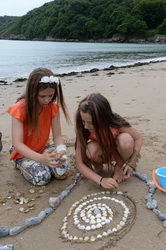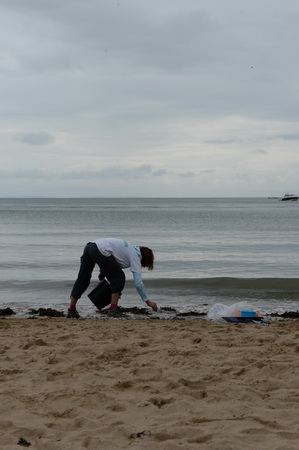 Collecting flotsam, pebbles, shells and other treasures to make sculptures on the beach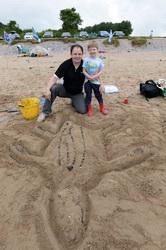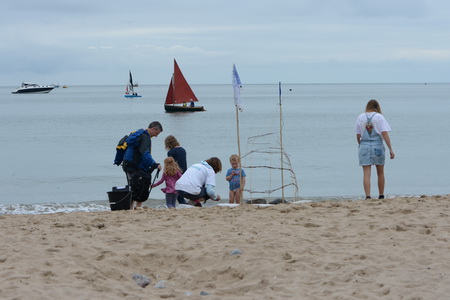 It was a wonderfully creative day despite a couple of rain showers during the day, which quickly cleared and kept the sand nice and moist for some excellent sand sculpting.
.....To see page 3 of 2016 Festival at Port Eynon Beach- click the link at the bottom of this page.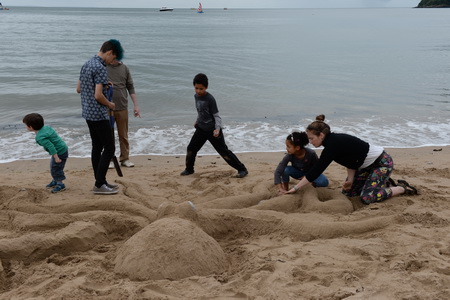 Large interactive sculptures were created by the artists and the festival goers,
providing a fantastic opportunity for creative and imaginative play all day for all ages
SAMPLE OF FESTIVAL MESSAGES FROM PARTICIPANTS
We have been lots of times to the festival before. We made a volcano and a fort which was lovely. Our creativity was enhanced by the festival as nature is just a wealth of stimulii, which is what it was all based on. We learnt about seaweed types and stone types. Environmental art events likes this are so worthwhile as they are about creativity, natural exploration, team building, following own ideas and so much more. Many thanks, loved it. Fab to see you all again and see you next year! Susie, Ruby and Jasper Hollett
We made a jellyfish which we were very happy with it. The event was great for the kids. We found out all about the beach and wildlife. Helen and Rowan Rea
We made an octopus and were very happy with the outcome. Our creativity was definitely enhanced by the workshop and the festival involved kids in outdoor activities being creative. Theo and Lauren
We were very happy with the sea horse we helped to make. our creativity was enhanced through imagination, planning and design with the artist. We found out about tides, sea urchin shells, etc. Sam and Elizabeth Evans and Gracie Hurley
The festival was free, fun and engaging. We loved it. Lily Davies and Kayley Roberts
We made a jelly fish which we were really happy with. We learnt different ways to use natural resources and ways to sculpt the sand. We found out about different names of shells, seaweed, different marine life. Events like this are really worthwhile as they give children knowledge about the world they live in, new language and experiences. Thank you, it was really fun. We had a great family time and learnt new things. Our artist was very patient with the children and made it so much fun. Thank you again! Charlie, Isabelle, Helen and Wayne
We made a fish with our artist it was brilliant fun and the artists were great with the children. Children enjoy learning about the sea life and art. Dawn McMullan and 4 children
We worked withlots of others on a hugeseahorse. the children became very absorbed in the project. We talked about the types of stones they were using. It was a beautiful way to engage youngsters with nature and the environment which is so hard in the cyber world we live in! Thank you. x Amelia, charlie and Michelle Sterry
Our turtle was great fun to make. Our creativity was enhanced by being shown how to make something different to sandcastles. The festival was very entertaining for both adults and children. We enjoyed seeing all the sculptures and learning how to make the turtle. Stuart and Abi Ramsden and Mason Oxenham
We come each year to the festival and this year made a merman and a sea scorpion. it was a great day and we learnt a lot about the sea shore. Ian and Charlie Lippiatt and Ben Topping
We were amazed to come across the festival on the beach and helped to make a sea horse. It was a great idea to get all involved. Events like this are great to promote creativity. Jenna, Shaun, Maisie and Ernie Coombs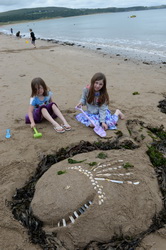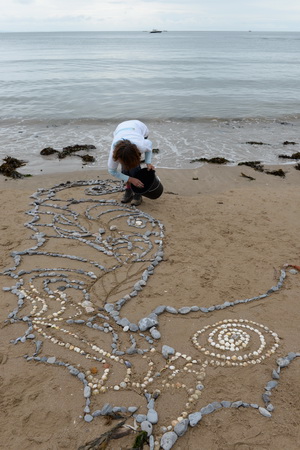 The seahorse made from pebbles and shells looks like a piece of lace against the sand background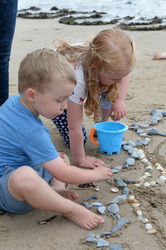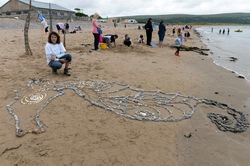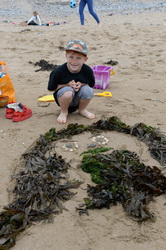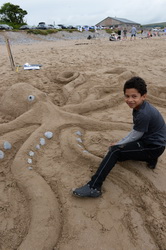 An octopus is sculpted from the soft honey coloured sand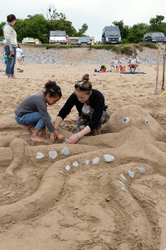 Thank you to everyone for making our annual sculpture festival such a success once again.
THANK YOU TO OUR KIND SPONSORS BELOW: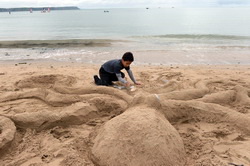 To see day 3 of 2016 Festival at Port Eynon Beach- click the link at the bottom of this page.