Our annual beach sculpture festival, now in its 14th year,continued its third day at Port Eynon Bay, the most southerly point of the Gower Peninsula. We met lots of people during the day on holiday from other countries and also from Wales who were absolutely delighted with our event. They thought it was the most amazing and inspiring idea to have a sculpture festival like this. Families appreciated it as break from busy lives and left less stressed and enriched by the day's activities and the opportunity to meet and work with artists. They stayed for several hours or all day to create lots of different sculptures based on marine animals. Many families came specifically to Port Eynon because we were there so they were already keen. There was a real sense of pride and excitement at things that were made today as materials were suggested to create different tones or patterns. An environmental awareness was achieved by the artists in many ways - e.g. teaching the names of shells and sea creatures, backed up with fact sheets about British marine life. Both shells and stones were identified, as were crab varieties and jellyfish too. As the week has progressed we realised how little some people know about marine life, and sea shore environments. However people are interested and asked many questions and shared their understanding whilst developing new knowledge. The journey of the leatherback turtle captured a lot of interest. The visuals the artists brought helped to tell their journey, with help from the many jelly fish found on the sea shore.
Mae ein gwyl flynyddol ar gerfluniau traeth, sydd bellach yn ei 14eg flwyddyn....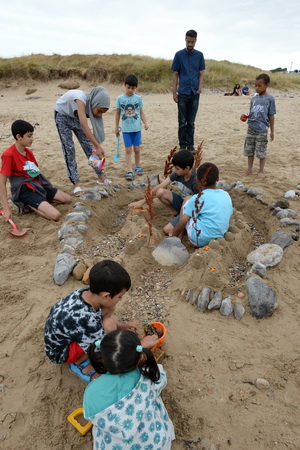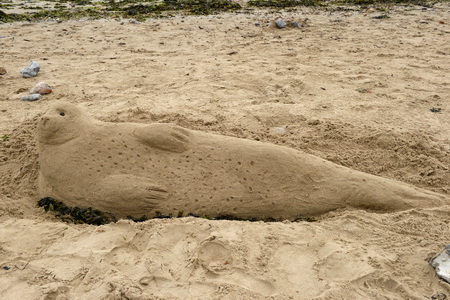 A beautiful Seal sculpture rests on the beach for all to enjoy!
We talked about seals, we also talked about the salt mine and how it was used to hide contraband!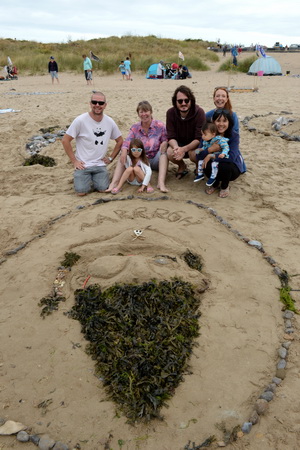 Aarrgh! A wonderful Pirate sculpture to celebrate the prolific smuggling industry on Gower at the turn of the century, in particular at Port Eynon. Whiskey and Rum was smuggled in under the cover of the Salt House,which is now a ruin at the end of the beach. Unbeknown to many, The Gower was frequented by smugglers even more than on the Cornish coast but it was a well kept secret by the shipwreckers and smugglers alike!
It was a fantastic day at Port Eynon with the beach packed full of people who had come specially to our Beach Sculpture Festival.Families and groups were totally wow-ed by their experience, they loved to hear viewers talking about their creations and asking them questions , some said this was the best thing they had ever done on a beach. Participants took many pictures of themselves and their group for a keep sake of their day building sculptures.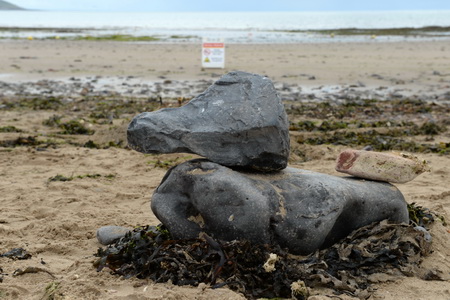 Sculptures were created using different materials on the beach such as these lovely limestones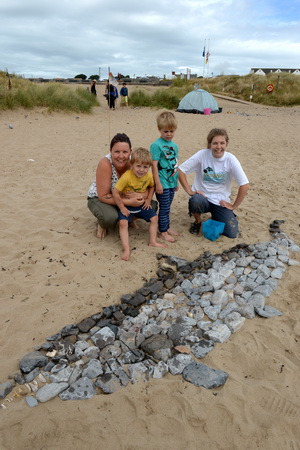 A beautiful shark is created -
Participants learnt lots of new skills through the festival with the knowledge how to create sculptures from the artists.
There was a lot of joy with the creative explorations with many participants saying that seeing and making different sand sculptures had given them inspiration to visit beaches more, and develop new ideas with their families.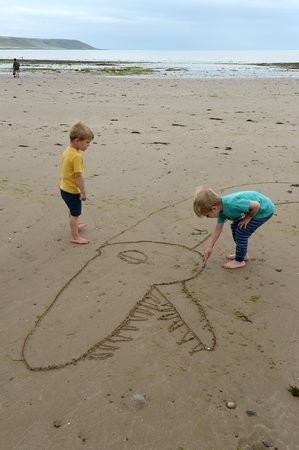 The vast expanse of beautiful sands at Port Eynon was a great place for these little bioys to try out their drawing skills on a wonderful sea dinosaur. The festival certainly captured their imaginations.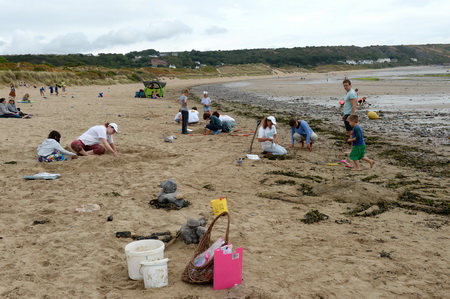 Intricate sculptures and designs engaged all ages working together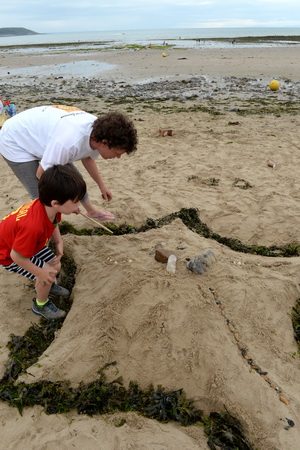 Using the theme of Sea Animals, children enjoyed creating a ray and learning all about them too from their artist.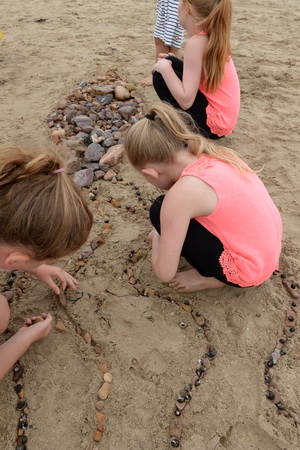 Selecting all the pink pebbles to make a lovely stingray, learning all about it while creating it.
Participants all experienced the wonder of seeing different sculptures within the sand and on the sky line of the sea shore. Everyone was eager to have a go. All were interested to develop their knowledge of the marine life on the welsh coast and create their own specific art work. Most liked to be mentored and helped to bring their ideas to life, initially they liked to be given tasks to do with demonstrations alongside.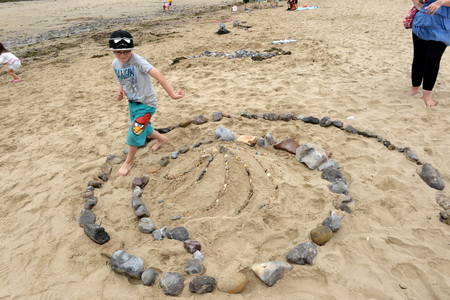 A wonderful day being creative at the beach. Also in discussing the materials, where they came from and what they were used for.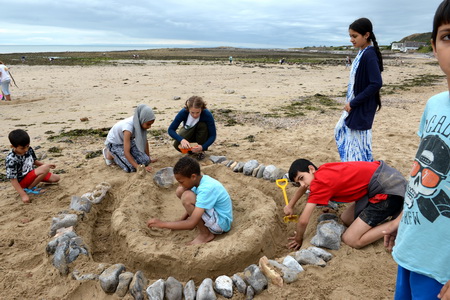 It was great observing how groups bonded whilst making, sharing their ideas and taking great pride in the creation forming along the way.
To see day 4 of 2018 Festival at Bracelet Bay- click the link at the bottom of this page

I weld gwyl dydd 4 o 2018 yn Bracelet Bay- cliciwch ar y ddolen ar waelod y dudalen hon
SAMPLE OF FESTIVAL MESSAGES FROM PARTICIPANTS

SAMPL O WYBODAETHAU GAN GAN Y CYFRANOGWYR
We made a spiral urchin which we were very happy with and we felt very creative afterwards. Braydon Williams and family
Our penguin on a surf board was really fun to make and we enjoyed it because we got to make something new - it was good fun and thank you for helping us! Nia and Evan and Nerys Richards
We had great fun making a giant and baby turtle and we were very happy with the outcome. We were motivated by the spirit and ideas of our artist. Environmental Arts events like like this are very worthwhile as it makes people appreciate how precious our coast and seas are. The Festival was a great family bonding exercise with a terrific guide! The Booker family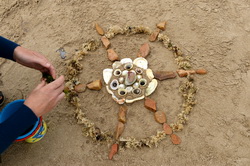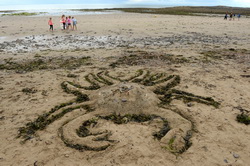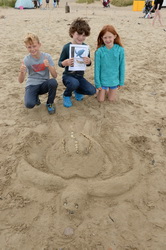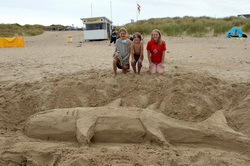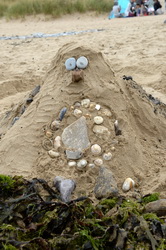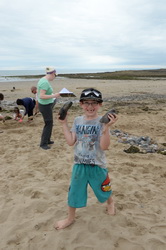 Thank you to everyone for making our annual sculpture festival such a success once again.
THANK YOU TO OUR KIND SPONSORS BELOW:

Diolch i bawb am wneud ein gwyl cerflunwaith flynyddol mor llwyddiant unwaith eto.
DIOLCH I'N EIN HYRWYDDION SY'N GWYBODAETH BOD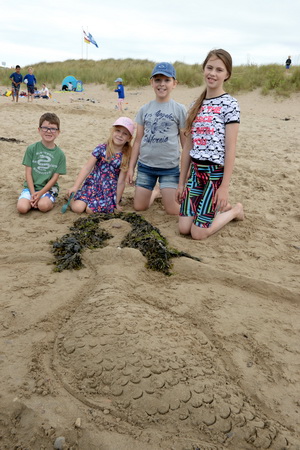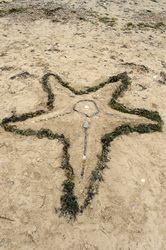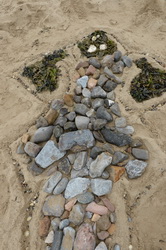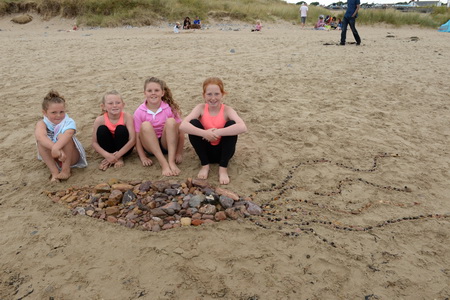 The finished work was a beautiful creation.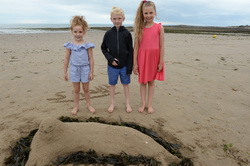 Everyone was pleased and happy with their sculptures