The fourth day of our 19th annual Beach Sculpture Festival was held at Bracelet Bay in Mumbles. Situated on the south of the Gower, the picturesque bay is home to Mumbles light-house. The range of materials to use for sculptures here is diverse and includes many shell species, sand, different coloured pebbles and stones of various sizes. The festival is a fantastic opportunity to learn about the beach environment and the sealife through wonderful creative workshops with the artists. People arrived all during the day eager and prepared for the activities and expressed their happiness at creating artworks on the beach.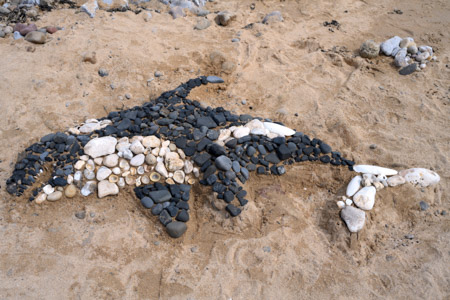 We really enjoyed creating this beautiful Orca. Absolutely loved the festival.
A beautiful seahorse is created by this young girl who worked all morning with the artists.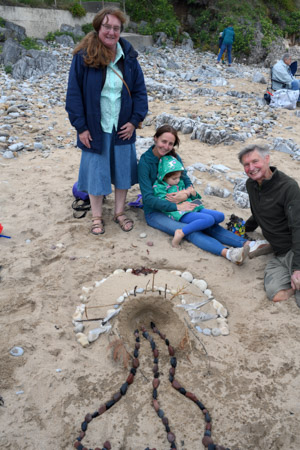 A fantastic sculpture based on a jelly fish was created by this family.
Lovely community event - Fun, creative and different!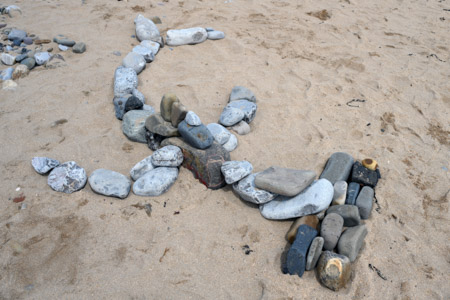 "We think the festival is a great idea"
Art and Nature Conversations were explored by people with the artists as they worked on their sculptures. People's creativity was enhanced through the festival with inspiration, ideas, using different elements of nature to create their sculptures. An environmental awareness about the site and its marine life was achieved through the festival with both discussion and visuals. There were lots of discussions about the geology of the beach, and participants gained an awareness of sea creatures and rock pool life through the activity.

Wonderful experience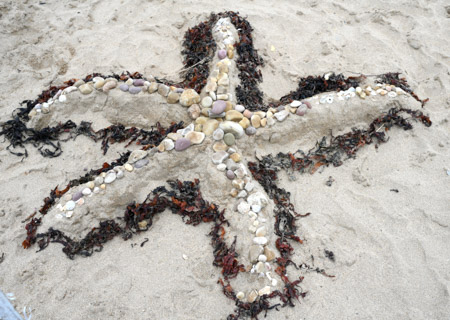 We made a starfish. Thanks for your help. A lovely afternoon.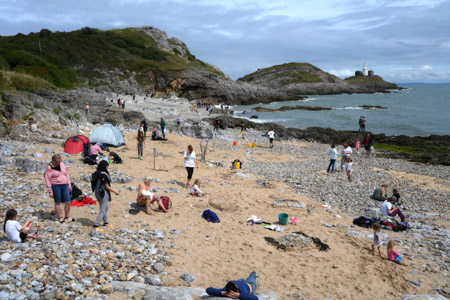 A beautiful little bay in Mumbles with an iconic lighthouse.
The Beach Sculpture Festival is good for mind, body and soul and aims to help support and protect marine environments and species through creative educational workshops.
Everyone attending the festival worked hard and enthusiastically.They really enjoyed working with the coloured pebbles at Bracelet Bay for a change after sand and shells at the other beaches on the festival tour. There were some great discussions about the local environment and sea life. Participants were eager to learn new art skills.
A must event for everyone's annual family calendar!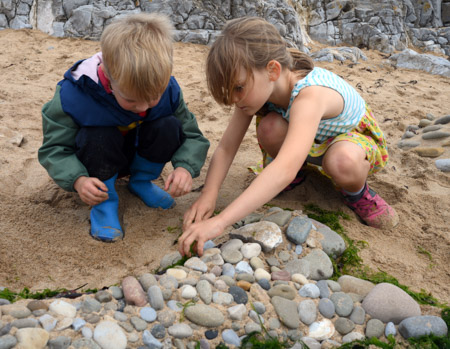 Concentration and attention to detail were skills that children learnt whilst creating meaningful and beautiful sculptures. They were focussed and engaged; excellent lifelong learning skills were learnt from creative play. The multiple coloured pebbles on Bracelet Bay are excellent materials for creating sculptures.
Participants shared their thoughts of well being gained from the activity whilst smoothing the sand and collecting seashore resources.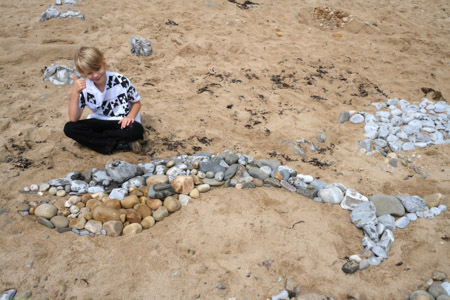 The event was educational and great fun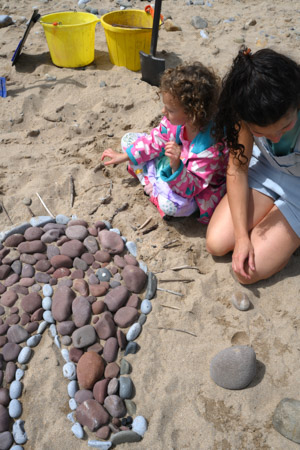 It was a great day out (even when we had a rain shower!) Something creative for the kids and adults alike.
Fun, educational and beautiful creations.
Very inspired to make more. Thank you!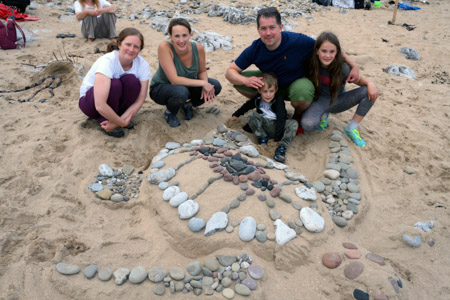 What a fantastic experience for the family. The artist team are great and this is a much needed acticity over summer to inspire creativity.
The artists give just the right amount of direction and encouraged free play.
To see Day 5 of 2023 Festival at Blackpill Beach - click the link at the bottom of this page
I weld tudalen 5 o 2023 Gwyl Traeth Blackpill - cliciwch ar y ddolen ar waelod y dudalen hon
THANK YOU TO OUR KIND SPONSORS BELOW:
DIOLCH I'N EIN HYRWYDDION SY'N GWYBODAETH BOD: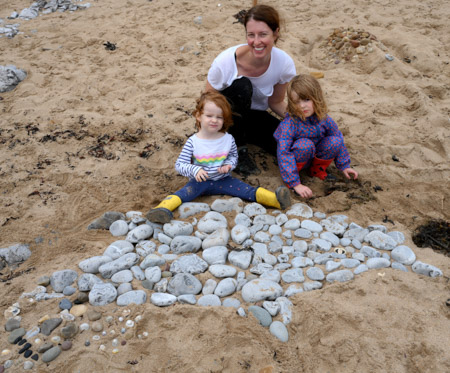 A lovely morning and afternoon at the beach with the artists. The festival was very well organised with lots of help available. Thank you!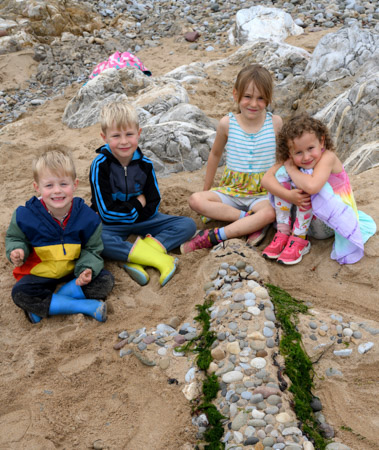 The perfect activity for the summer holidays. We've had a lovely time!
Very good educational event for children. Really good to see how inspiring this is to others around us on the beach too. The artists are linking people together, getting them outside, making new friends and getting creative.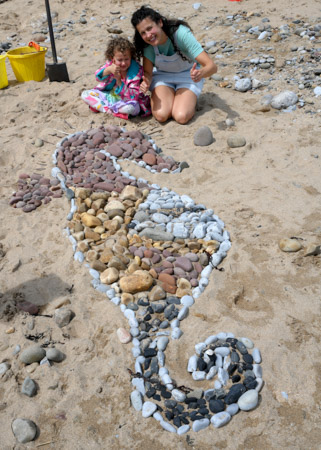 We enjoyed making this seashorse and loved the event!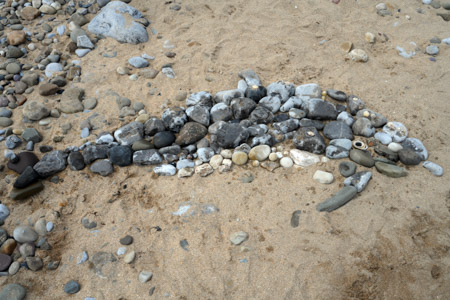 A beautiful dolphin sculpture was made from the grey and white coloured pebbles on Bracelet Bay.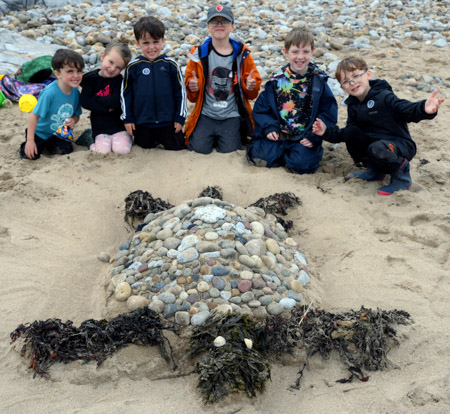 Brilliant experience. We will take what we've been taught and use it on our beach days.
At the end of the day, there was a fantastic display of beautiful and interesting sculptures for others to see and enjoy. Everyone was very happy with the outcomes and the learning process which will continue for the families all Summer! The Artists packed away the flags and banners ready for the finale at Blackpill Beach.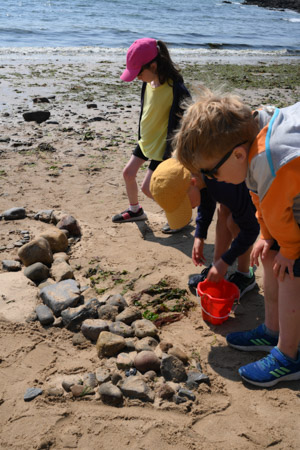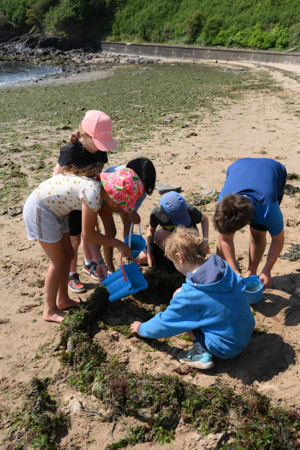 Pre-festival Primary Schools Workshops
Each year, as part of the festival, a series of workshops are run also for local schools to teach them techniques and skills for creating beach or nature sculptures. All enjoyed their workshops in a session at the beach, creating sculptures based on marine animals.
Thanks to Mumbles Community Council for sponsoring these school workshops.

An environmental education through art
Seven pre-festival art and nature workshops were run in the summer term with Mumbles Primary Schools - Oystermouth, Grange, Newton, Whitestone, St. David's and YGG Llwynderw at a local beach, e.g. Langland, Caswell or Blackpill.
Oystermouth Primary are seen here at Langland Beach.
Bespoke term time Environmental Art workshops are available for schools and community groups - please contact us at info@artandeducationbythesea.co.uk for details and rates.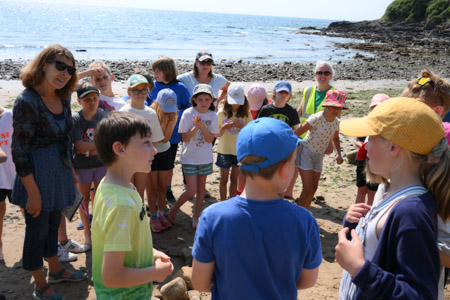 People were also interested to find out about the five piece waymarking sculpture trail along the cliff path between Limeslade, Mumbles and Rhossili that our team of artists created and installed - see sculpture on the coast feature