Our 17th annual beach sculpture festival continued its journey to it's next venue at the wonderful Oxwich Bay in the south of Gower. It is the second largest beach on Gower and it's landscape features sand dunes, salt marshes and beautiful woodland particularly rich in wild flowers. There is a wetland site at the rear of the dunes called Oxwich Burrows National Nature Reserve. Oxwich bay ends at the eastern end with the cliffs of High Tor; but at low tide, a continuous sandy beach connects with Three Cliffs Bay beyond. Rare plants like the dune gentian and insects like the small blue, beachcomber beetle and the hairy dragonfly can be found while the wetlands are important for birds. Oxwich beach is always a very popular venue for our annual sculpture festival and there were high hopes of creating some beautiful and inspiring sculptures based on marine species. The artists were keen to share their ideas about sculpting using different techniques and mediums from carving to building using the wonderful range of materials such as stone and sand found on the shore. Another very hot day with soaring temperatures was about to start ...people spent a lot of time in the cooling sea in between making sculptures with the artists!
.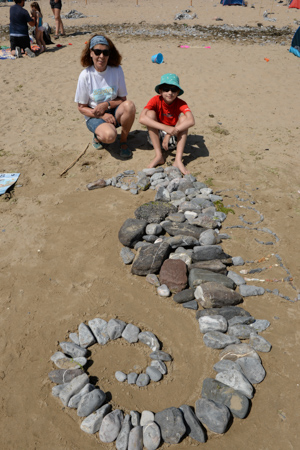 Sea Horse made from Oxwich stone
This young artist found inspiration with the smooth grey slate stones to make a beautiful Sea Horse.
'The event raises environmnetal awareness, especially with children'.
'Fun, creative and engaging!'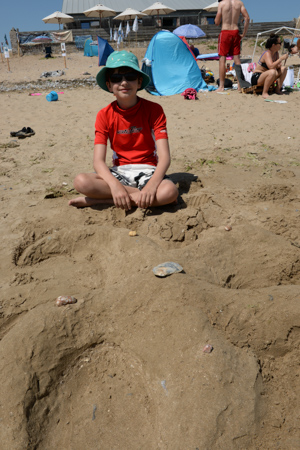 'It's an excellent annual event'
Sea shore art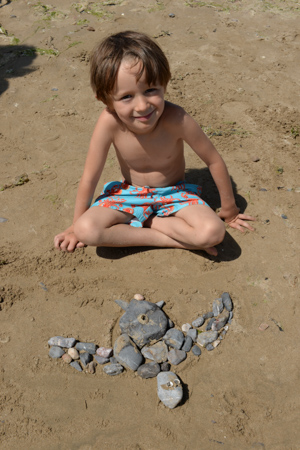 A beautiful little baby turtle is created by this young boy
using the slate pebbles found on the beach. His smile says how much he loved making it.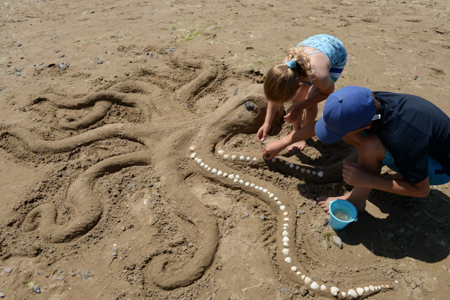 Smiles all round for this fabulous octopus sculpture - sand and shells....
Making an octopus was an excellent way to find out about this species. The children were interested to learn that the Common octopus generally live in rockier areas and in shallow water. Also that they have eight arms with two rows of suckers and receptors so they can taste whatever they touch (rather than tentacles which are longer and only have suction cups at the end). It was amazing to find out that the colour of the common octopus is not fixed and changes to adapt to its surroundings. As octopusses can either swim slowly using their arms to propel themselves or use 'jet-propulsion' by expelling water from their body sending them forward with more power, they can use different movements to help catch their prey.
'The Festival inspires the children to think outside of the box.
Gower is the most beautiful part of the UK coastline we've visited'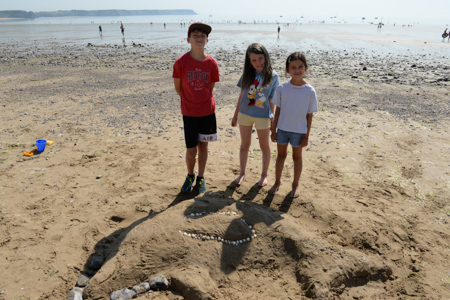 'Environmental Art Festivals like this are so worthwhile -
they turn children into wildlife and loving the beach!
Thank you - they loved it'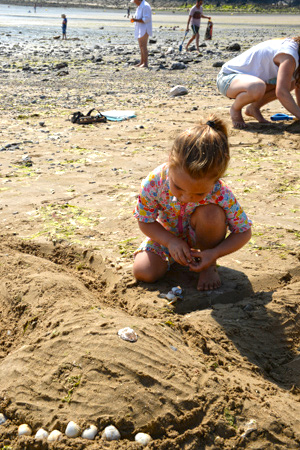 All types of materials including limestone pebbles were used in the creation of different sculptures. People were thinking and discussing how they could use the beach differently to be creative. They enjoyed the event and talked about what they could do with their new art skills in the future.
'Our creativity was enhanced through the workshop - it brought out our imagination!'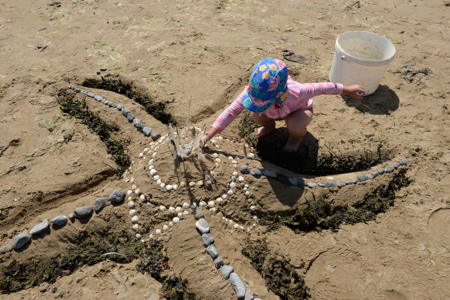 A starfish is made using all the beautiful shells and pebbles on the shore.
'A beach school is so important to us living on the coast.'
'It's given me great ideas to take home with me'.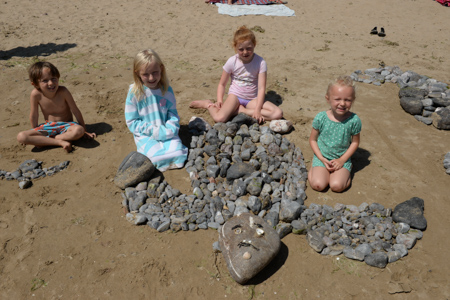 A mother Leatherback Turtle made on the beach from the wonderful smooth slate pebbles by these young girls. It was a huge task collecting all the different sized stones but so worth it when the turtle was made. The children made up a story as they created the sculpture about the turtle and her life. They learnt about the five different species of turtle found in UK waters and how they can grow to 1 or 2 meters in diameter of their shell. They children especially enjoyed making the turtle's face with shells and smaller stones for eyes. A leatherback turtle was actually recently spotted at Oxwich eating jellyfish so it was an apt sculpture to create.
'What a lovely experience for the children'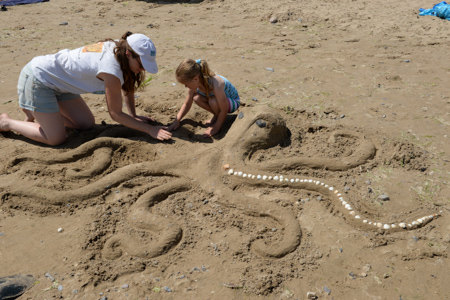 Making sculptures based on marine animals is always a popular activity with young children - learning through play encourages creativity and an enhanced sense of well being.
'We learnt lots things about marine life
and how to sculpt'
'We talked about the mind-set of littering and the rubbish in the seas, celebrating what we have and how to best look after it and make others aware…'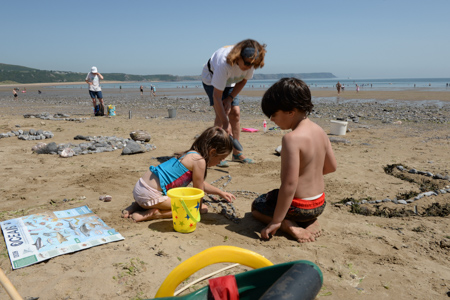 An inspirational Festival in a beautiful place.
The Gower Peninsula, which, in its geological structure and coastal beauty, is of almost unique interest. As well as limestone, there is a considerable amount of shale in Oxwich Bay. There are also many other beautiful coloured rocks and pebbles here that can be used for sculptures and mosaics.
The art of sculpture
Thank you to everyone for making our annual sculpture festival such a success once again.
THANK YOU TO OUR KIND SPONSORS BELOW:
Celf cerflunwaith
Diolch i bawb am wneud ein gwyl cerflunwaith flynyddol mor llwyddiant unwaith eto.
DIOLCH I'N EIN HYRWYDDION SY'N GWYBODAETH BOD:
To see page 3 of 2021 Festival at Port Eynon Beach - click the link at the bottom of this page.
I weld tudalen 3 o 2021 Gwyl Traeth Port Eynon - cliciwch ar y ddolen ar waelod y dudalen hon.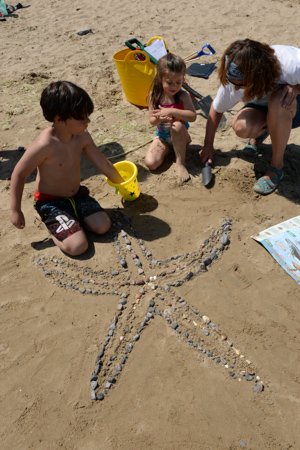 A beautiful Necklace Starfish was created by these children enjoying their summer holidays in Wales.
A fabulous day was had by all, the artists reflected as they cleared the site of flags and banners ready for the next day at Port Eynon Beach.