Our annual beach sculpture festival, now in its 14th year, continued with its finale day at Blackpill Beach, Swansea. This Swansea Bay beach is a great place to find driftwood, shells and other materials that can be used to make thought provoking and beautiful sculptures. Blackpill beach is a designated site of special scientific interest (SSSI) due to the rare birds that overwinter here. In particular, the Ringed Plover and the Sanderling, wader birds that work the tide to catch their favourite food. The birds are always the main inspiration for the sculptures that are created at Blackpill and the festival actively promotes the birds in the bay. The weather begun unsettled but cleared in the afternoon to allow people to join in. An environmental awareness about the site and its marine life was achieved through the festival workshops by bringing awareness with our focus on the bird life here. Sea birds were created using the discarded shells from their favourite sea food. The beach was abundant with many resources initially not thought about by people but they enjoyed finding out about the special birds and using the materials found. The birds sculptures are a poignant reminder to look after the environment.
Mae ein gwyl flynyddol ar gerfluniau traeth, sydd bellach yn ei 14eg flwyddyn
Parhaodd â'i ddiwrnod derfynol yn Blackpill Beach, Abertawe.........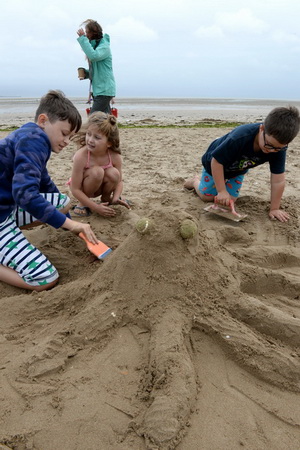 Trying out new ideas is always a good challenge!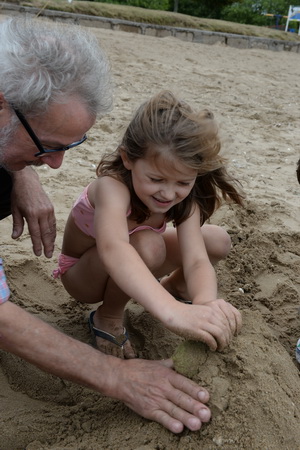 The festival brought opportunities to share ideas, collect and place resources enabling participants to feel part of a community.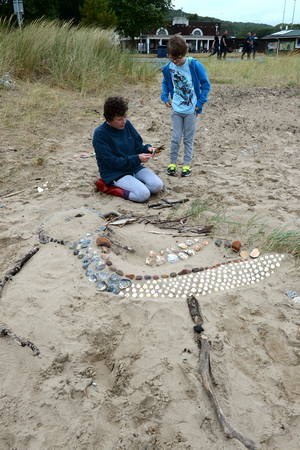 Using different shells as materials was a wonderful way to inspire young children with imaginative out of doors early learning.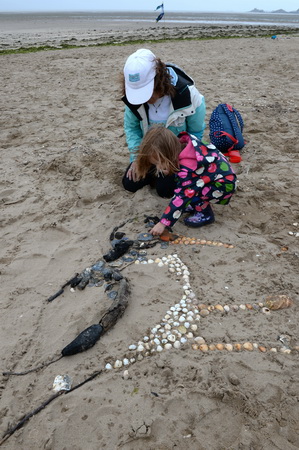 The day was a chance to be creative with children and adults alike and talk about the birds on the beach.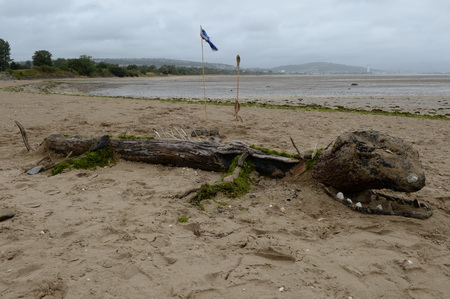 A sea monster is created from washed up logs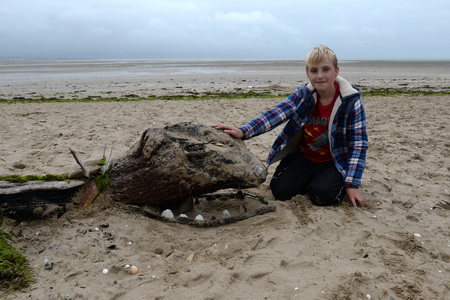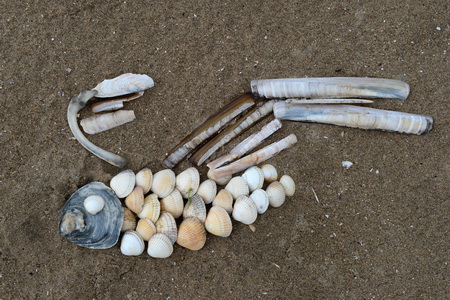 The art works created were largely varied, highlighting the bird life in the bay. Making art works relating to the birds helps to aid as a reminder of their existence to passers-by.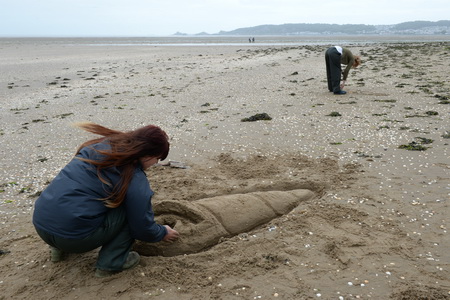 A hermit crab in a tower shell is made using a simple but effective technique, which involved using sticks as armature.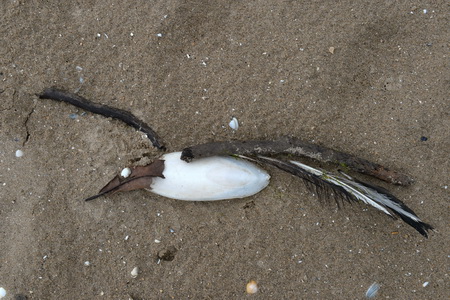 The placing and balancing of collected materials to make birds with really engaged people.It was a bit windy so they didn't last long but that prompted a conversation about environmental art and it's ephemeral nature.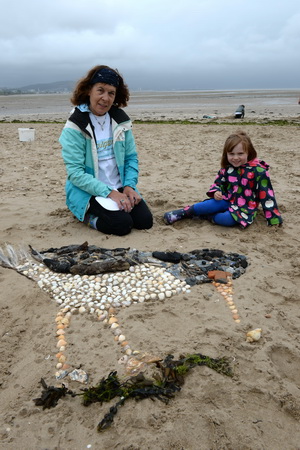 For the love of Birds. Blackpill Beach attracts lots of wader birds with long beaks who work the tide for their favourite sea foods, such as cockles, mussels and oysters.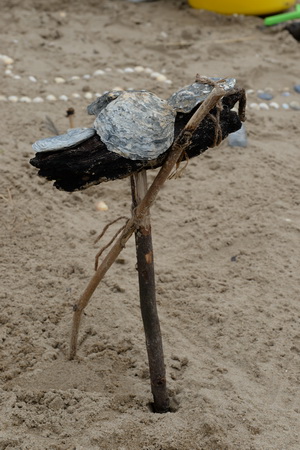 A sculpture based on a wader bird made from sticks and shells was a beautiful find on the beach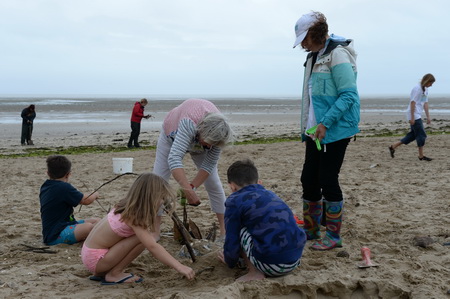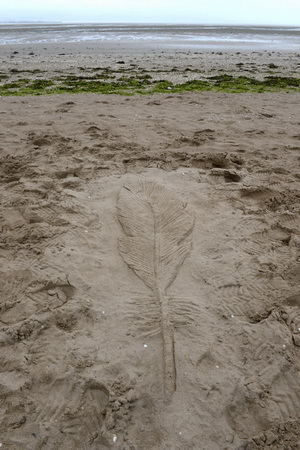 A beautiful feather is carved in the sand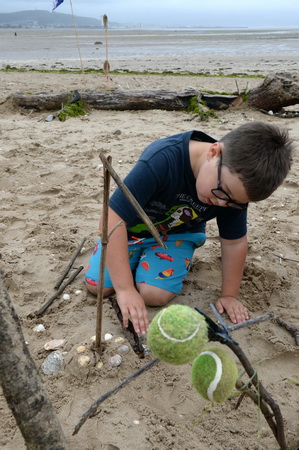 Even found tennis balls were used by youngsters to make ingenious sculptures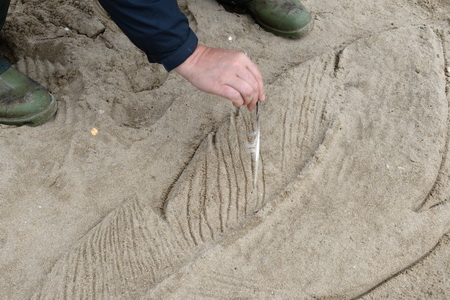 Many participants didn't realise it was a SSSI for overwintering birds so wer showed them images of the birds here. People enjoyed bringing them to life through collecting and making the sculptures. They enjoyed identifying shells too.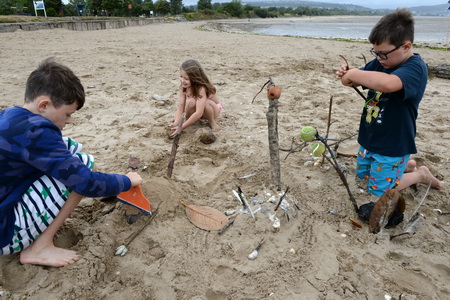 Lots of opportunities to make sculptures using a variety of skills and materials, working in a different medium.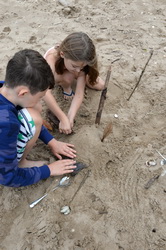 Attention to detail was paramount at the festival.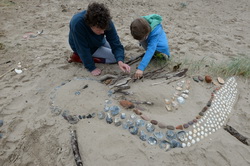 The plumage of this Curlew was an absorbing activity to do from the many shells on this beach.
A SAMPLE OF FESTIVAL MESSAGES FROM PARTICIPANTS

SAFLE O WYBODAETHAU GAN GAN GAN CYFRANOGWYR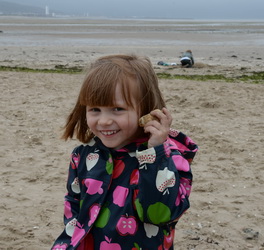 Listening to the sound of the sea in a shell is something everyone should do, whether young or old!
We made a starfish and lots of other things. It was fantastic! The artists were not only talented but showed us how to make the most of our day, even in bad weather. We found out about environmental aspects at the festival, lots about birds and ideas in general. We come every year - love it!! Jms_cld + 4
Thank you to everyone for making our annual sculpture festival such a success once again.
THANK YOU TO OUR KIND SPONSORS BELOW:

Diolch i bawb am wneud ein gwyl cerflunwaith flynyddol mor llwyddiant unwaith eto.
DIOLCH I'N EIN HYRWYDDION SY'N GWYBODAETH BOD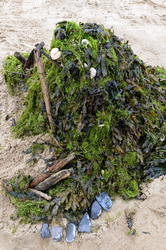 It was a wonderful finale to another year of the Beach Sculpture Festival. The artists packed away their equipment, happy that they were able to run it every day successfully.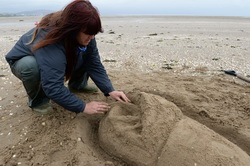 Roedd yn gylchgrawn gwych i flwyddyn arall o'r Wyl Cerfluniau Traeth. Mae'r artistiaid wedi paratoi eu cyfarpar, yn hapus eu bod yn gallu ei redeg bob dydd yn llwyddiannus