Our annual beach sculpture festival, now in its 13th year, continued with its finale day at Blackpill Beach, Swansea. The beach is part of Swansea Bay and is a great place to find driftwood, shells and other materials that can be used to make wonderful sculptures. Situated between Mumbles and Swansea, the beach is a designated site of special scientific interest due to the rare birds that overwinter here. In particular, the Ringed Plover and the Sanderling, wader birds that work the tide to catch their favourite food. The birds are always the main inspiration for the sculptures that are created at Blackpill. The unseasonal weather unfortunately continued during the day but the beach sculpture festival participants still came out during the day - making the most of breaks in the rain showers to join in the creative fun. An environmental awareness about the site and its marine life was achieved through the Festival workshops by bringing awareness with our focus on the bird life here. Sea birds were created using the discarded shells from their favourite sea food.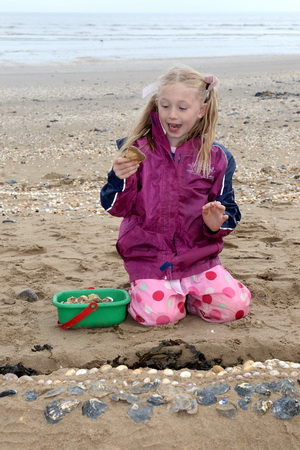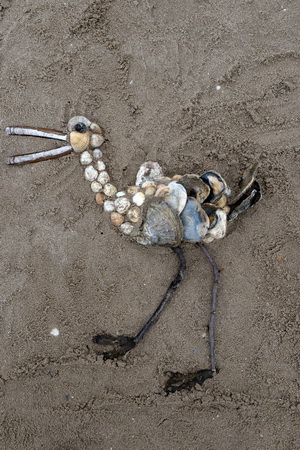 For the love of Birds. Blackpill Beach attracts lots of wader birds with long beaks who work the tide for their favourite sea foods, such as cockles, mussels and oysters.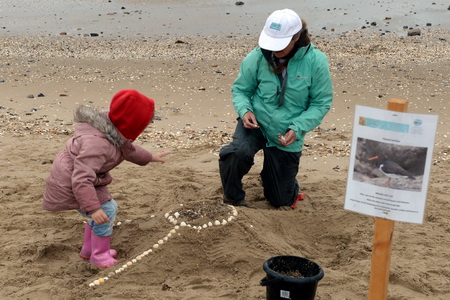 Bird Information posters were placed on the beach to aid identifcation and give facts about the rare birds and inspire sculptures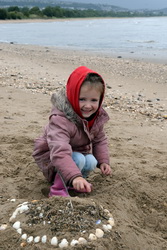 Using different shells as materials was a wonderful way to inspire young children with imaginative out of doors early learning.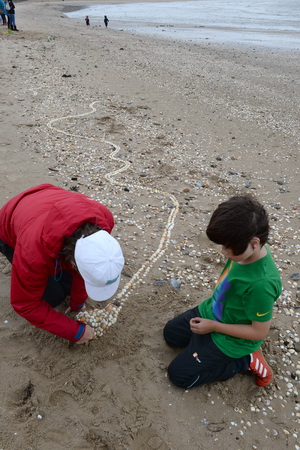 The abundance of shells left by the wader birds were used to create sea serpent mosaics.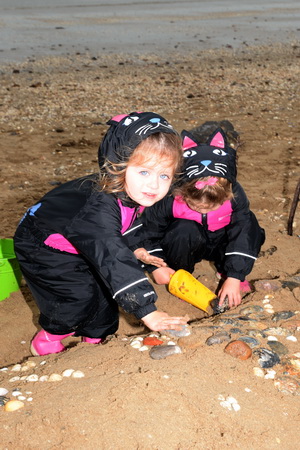 All ages joined in to create interesting sculptures from found materials on the beach -
fantastic rain proof cat outfits were the fashion of the day!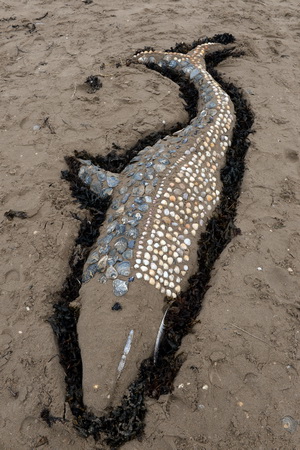 A sea bass flips its tail across the beach, delighting festival goers.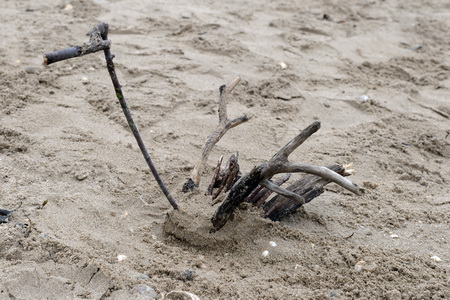 A sculpture based on a heron made from sticks was a beautiful find on the beach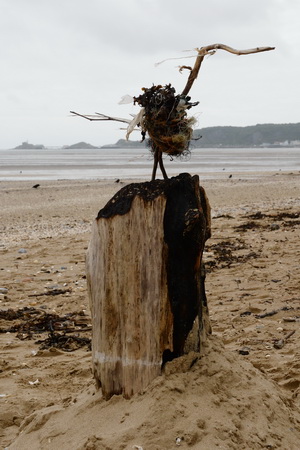 A beautiful bird surveys the beach from its perch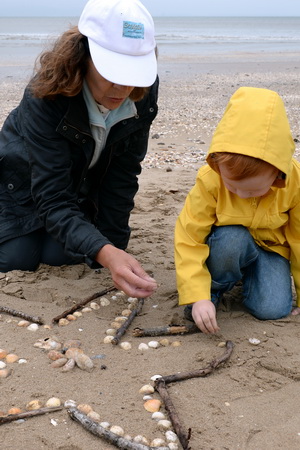 Making a starfish from shells and sticks is a fun activity with the artists helping and encouraging small participants too.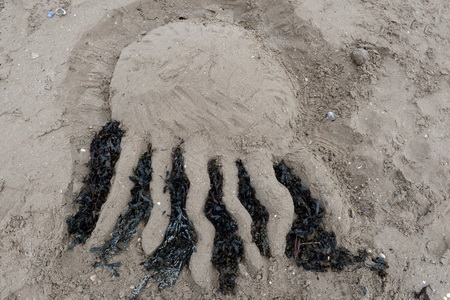 An octopus is made from sand and washed up seaweeed.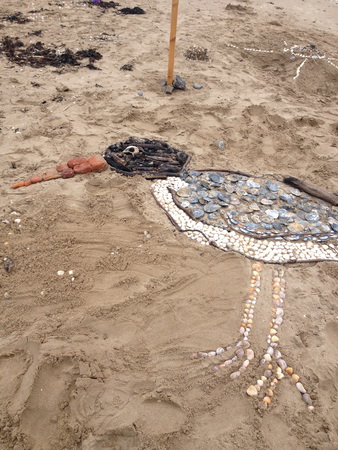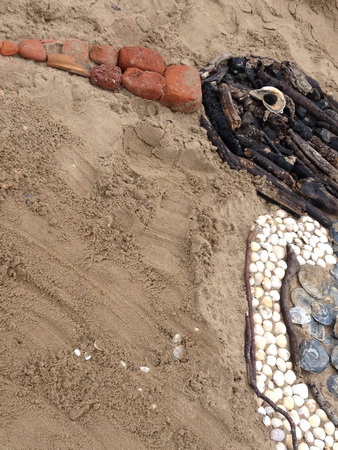 Shells and other found materials were used to create wonderful bird mosiacs like this Oystercatcher.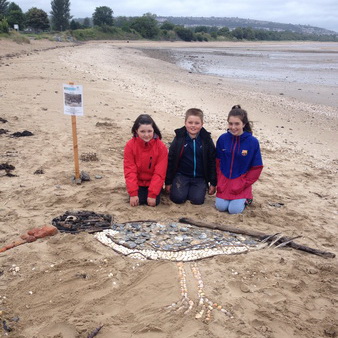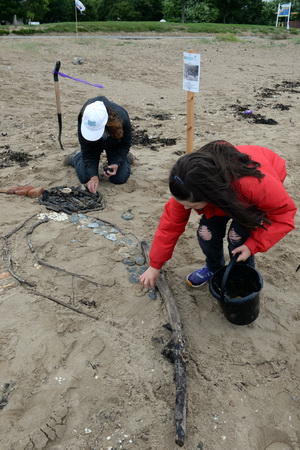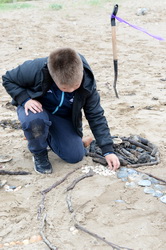 Lots of opportunities to make sculptures using a variety of skills and materials, working in a different medium.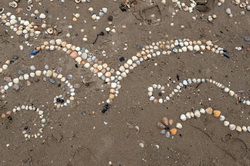 Attention to detail was paramount at the festival.
Beautiful shell waves were created across the beach.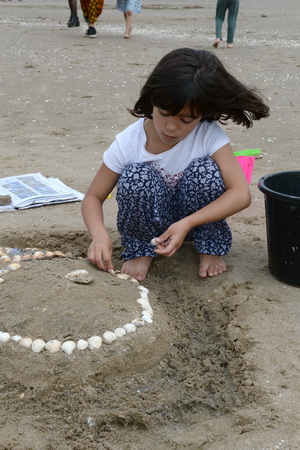 The shells were so plentiful that they were used for great decorations in all the sculptures
A SAMPLE OF FESTIVAL MESSAGES FROM PARTICIPANTS
We made a starfish and lots of other things. It was fantastic and we were here all day. The artists were not only talented but showed us how to make the most of our day, even in bad weather. We found out about environmental aspects at the festival, lots about birds and ideas in general. We come every year - love it!! Jms_cld + 4
We made a little sea house which we were very happy with. Our creativity was enhanced through the workshops - it was fantastic - really loved it. Ali and James Cable
We made a shell starfish which was lovely. We learnt about birds migrating, using the area en route to warm places. Environmental events like this are definately important - awareness is key. Ren, Josephine and Vicky
I made a seasnake and a jelly fish which I was very happy with. it was a brilliant event that showed us what we can do on our own next time. The artists were very talented and very friendly. Ben Cable
We made a beautiful Oystercatcher mosiac - it was a wonderful day. Events like this are definately worthwhile. It was a fantastic experience. Emma, Chloe, Katie and Tom Stacey
I made a dolphin and lots of other things working in turn with all the artists. They gave lots of new ideas to try out. My creativity was enhanced as I learnt a lot and had a brillant day. Bridie Cable
We made a dolphin, stick men and animals which we were very pleased with and it gave us lots of new ideas - simple and FREE! We learnt about the wading birds at the beach. The event was very informative and good for families. It was very enjoyable event encouraging people to get out despite wet weather. 6 children, 8 adults and 2 parents from Tycoch Play Scheme.
We made a beautiful sea horse and found out about birds and grey seals. The event was very creative and enjoyable. Joseph Price and mum
Thank you to everyone for making our annual sculpture festival such a success once again.
THANK YOU TO OUR KIND SPONSORS BELOW: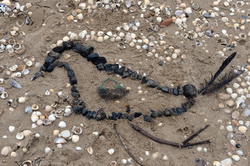 The flocks of black crows watching us make art on on the beach inspired artworks created from pieces of black coal found at Blackpill.
It was a wonderful finale to another year of the Beach Sculpture Festival. The artists packed away their equipment, happy that they were able to run it every day successfully. Thanks for coming and look forward to seeing everyone again next year!