Our annual beach sculpture festival, now in its 13th year, began at beautiful Caswell beach on the Gower Peninsula. The Gower was the first designated Area of Outstanding Natural Beauty in 1956 which was awarded for its fantastic coastal scenery, its history and culture which is totally unique. Caswell beach holds both a Blue Flag and Seaside Award, achieved in part with environmental education activities such as our annual sculpture festival.
The sun shone down at full capacity from the start of the day, delighting all the eager beach sculpture participants who began arriving as the artists put up the festival flags and displays. They were keen to create some wonderful marine themed sculptures with the artists. children and families began collecting shells, pebbles and driftwood for decorating the sand sculptures, which was a good opportunity to explore and learn about the beautiful beach. As the sun continued to shine all day, the beach became a lively and exciting art gallery space that people of all ages admired and enjoyed. There were lovely responses from everyone allowing for new directions and inspiration from the beach scape.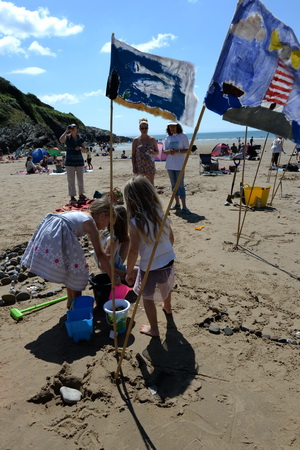 Handmade flags created by local schools adorned the festival site.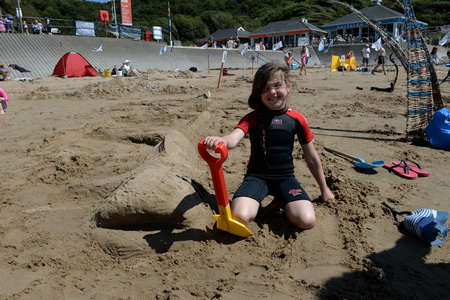 The festival space soon displayed lovely works of art which delighted all.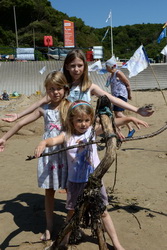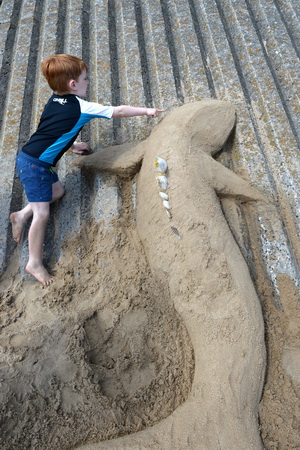 A young boy puts the finishing touches to a beautiful shark made from sand

Caswell beach is always a very popular festival day that brings people together in a artistically creative, fun and exciting way. The opportunity to explore and discover new things at the beach develops imaginations and resourcefulness, showing children and adults alike how to have fun in an educational and creative way that is inspiring to everyone.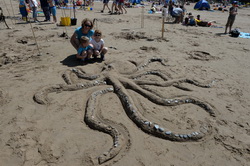 This octopus was fun to make and stretched out across the beach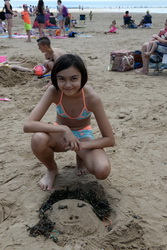 A jazzy mermaid!
Thank you to everyone for making our annual sculpture festival such a success once again.
THANK YOU TO OUR KIND SPONSORS BELOW:
SAMPLE OF FESTIVAL MESSAGES FROM PARTICIPANTS
We were allowed to let our imaginations roam free and we created Bella the Ballerina in a garden of starfish which we were very happy with. We found out how our lives ave an impact on the shore and sea creatures. The event was definately worth it - teaching important messages and having fun - win! win! Morre activities like this please. Diolch i chi! Thank you! Nerys. Erin and Mia Rhyshill
We were very impressed with the festival and our sculpture of a starfish. Our creativity was enhanced through the workshop with extended discussion on techniques and opportunity to try out new skills. The event promotes positive activity in a natural environment. Rhys and Taran Miller and mum.
We made a seahorse which we were very happy with. the event was very worthwhile as it got the children outside and enjoying nature as well as learning and gaining awareness. Anaya, Seren, Talitha Smart and mum.
We loved our leatherback turtle that we made at the festival. Environmental events like this are especially good for kids to teach an awareness of our world. Kate, Archie, Finlay, Charlie Johnson and mum
We come every year and we enjoyed making an octopus this time. Our creativity was enhanced through the workshop by giving the children a chance to look at pebbles and choose which touse. The event was an opportunity to be creative. Jenny, Isobel and Amy Richards
Our starfish was lovely - we were very happy with the outcome. Events like this are great to keep us busy and are good for the environment. We just enjoyed it so much. Millie Jenkins and Ruby Williams
The seal we made was fabulous. The children really enjoyed it and worked well as a team. The activity gave the kids ideas for the beach. Events like this are very important to teach about the importance of animals and our environment. Cath, Edward and Alice Prosser
The children loved the seahorse they made. The activity encouraged the children to draw and experiment. The event was really engaging. Creative events like this are really great for children. Nicola Clution and Rhodri and Ffion Mann and Henry Morgan
Our seahorse was excellent and we were very happy. the boys woerked well with their imaginations tomake the seahorse look very effective. Art festival like this are worthwhile as its definately fun and helps the children with their fine motor skills. We would love to attend another session. Thoroughly enjoyed. Joshua Coombs and Alfie Lloyd and mum
The event was great as it challenged the children and encouraged them to use their imaginations. They loved the seal they made. Elliott and Freddie Felth and Gran
All the artists were fantastic with encouraging creativity. All sandcastles were sea-life and the children loved their finished work. We made a starfish and a whale - the children were happy and entertained for hours in the fresh air. It was a brilliant day. Samuel Israel, Joel Punter and mum
We made a turtle and were very happy with the result. The event was great for both kids and adults. Poppy Thomas-Bowden and mum
The event was absolutely excellent - it was super and really made our summer special! Nicola Howell and family
We made several sculptures which was a purposeful and enjoyable activity. We found out all about leatherback turtles. Events like this are worthwhile as lots of young people enjoyed the beach activity. Anya and Nia and mum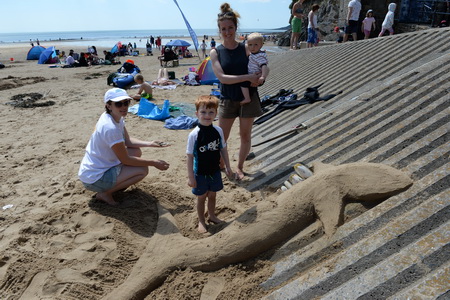 Lots of delight and amazement achieved through new ways to see the world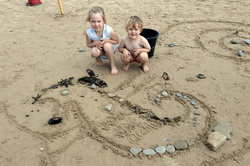 Sea horses were a popular theme for the sculptures for all ages.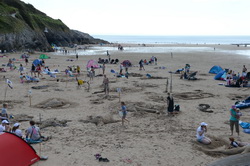 People were very engaged all day and went on to create their own ideas in materials found on the beach. They were very happy to discover the beach through artistic activity and there was lots of discussion about what was found on the beach such as shells, etc.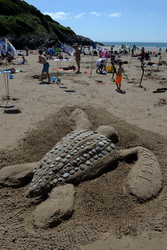 To see day 2 of 2017 Festival at Oxwich Beach- click the link at the bottom of this page.