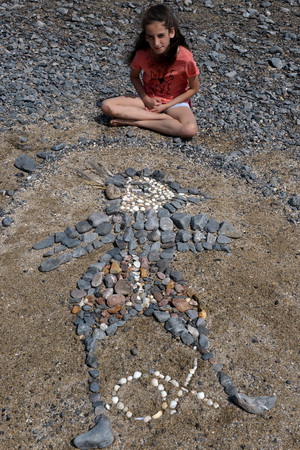 Children followed through their ideas and used their imagainations to create other animals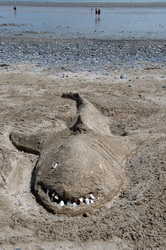 The day was so inspiring with lots of beautiful marine creatures being made like this shark which was fun to make for lots of children. One mum suggested that we ran all summer holiday!
.....To see page 3 of 2017 Festival at Port Eynon Beach- click the link at the bottom of this page.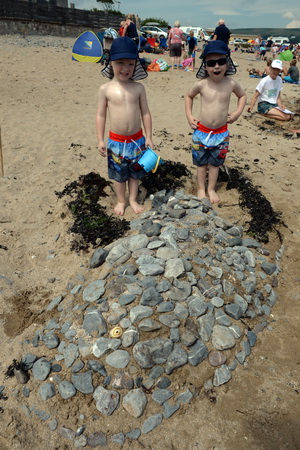 Large interactive sculptures were created by the artists and festival people,
providing a fantastic opportunity for creative and imaginative play all day for all ages
SAMPLE OF FESTIVAL MESSAGES FROM PARTICIPANTS
We were very happy with our starfish made from shells and pebbles. The children enjoyed looking for items and creating the design. We learnt what starfish eat and about other seaside wildlife. Events like this are very worthwhile as children enjoy collecting, making and learning about the environment. The artists were friendly, helpful and very good with the children. We'll definately come again. Beth, Jack and Oliver Spencer
We made a beautiful shell which we were very happy with. We had great fun at the festival. Luke, Amelie, Thea Barrett and mum
Our crab was great - we enjoyed the creative play. Lizzy, Shona Bramwell and parents
We made a shark and a little sea lizard - they were fab! it was a lovely way to learn. Red Richardson and mum
Our sculptures were Terry the turtle, Bird man creature and a mermaid which we were very happy with. It was good fun. Niamh and Fraser Barnett
We made a starfish and a wibbley wobbley jelly fish. The events help children to be more aware of wildlife and marine life. it was great fun - kids loved it. Max,Harry, Rebecca Wiley
We made a castle with sea animals. Our creativity was enhanced through the artists guiding and suggesting ideas. Events like this are worthwhile as they encourage knowledge. Ryan, Alex and Rosemary Blyth
Our shark was great and we had fun. Benjamin Hornigold and Chrissy Mcelroy
We made a starfish and a shell necklace - the kids loved it! They were inspired to make sculptures. Matilda, William, Pippa and Jane Sinnott
The children's creativity was enhanced with the self achievement in making the sculptures. We were very happy with the fish and octopus we made. Millie Jenkies and Ruby Williams
The children worked well as a team to make a mermaid. It was a fantastic event for the kids - absolutely brilliant! Sam and Billie Shakespeare, Joseph, Ben and Kristian Ryman and Henry Shelley.
We made a shell which was very therapeutic - we were very happy with it. Events like this were very worthwhile as they educate children about our natural world. Neifion really enjoyed it. Neifion and Sally Howells
We made a giant turtle - oh yes, we we very happy with it - it was magic! The evnt made people think of the environment - very worthwhile. Well done to the artists! Think Green! Chrissie Wright and Sinclair
The children thoroughly enjoyed planning and making the starfish sculpture- they worked well together as a team - it was a wonderful day. Erin and Annabelle Tonge
We loved our seahorse -our creativity was enhanced through using design. It was fun enjoyable learning. Isobel Keaher and mum
We had a wonderful day making an octopus and starfish. George, Archie and Val Johnson
The event gave us lots of inspiration for future projects. Our turtle was amazing! Environmental Art festivals are like this are worthwhile as they are so good to inform and inspire children. It was a wonderful day. Erin and Emma Stanley
We made a seal which we were very happy with. The event has inspired us to make further sculptures on the beach. Jacob and Brogan Cunningham
We were extremely happy with our turtle sculpture - the event inolved people young and old. It was perfect. Ellie Quirke and Lauren Mochrie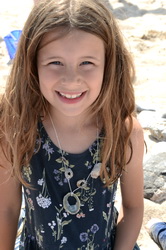 Proudly wearing a shell necklace made at the festival.