Our annual beach sculpture festival, now in its 14th year, continued to its second venue at the wonderful Oxwich Bay which is on the south of the Gower Peninsula. Oxwich Bay is the second largest beach on Gower and it's landscape features sand dunes, salt marshes and beautiful woodland which is particularly rich in wild flowers. Oxwich beach is always a very popular venue for our annual sculpture festival and with the amazingly hot weather continuing,families and children arrived eager to work with the artists and create some beautiful and inspiring sculptures based on marine species. Everyone responded well to the activities with many comments of pleasure and appreciation. The participants seemed to be very aware of the value and importance of the site to their wellbeing. Together with the artists, they were engaged in conversation about the site and environmental issues affecting it. Through the festival, an environmental awareness about the site and its marine life was achieved - e.g. conversations about cockles,muscles and seaweeds growing there. The artists discussed with participants a variety of issues concerning saline worldwide such as plastics being so damaging and the warming of the seas. They gave participants help in identifying types of shells, talking about what lives and grows on the shores here, listening to their stories of what they've discovered in rock pools etc. The participants spotted a lot of jelly fish and learnt from the artists about warm waters around Wales and the journey of the Turtle following their favourite foods in these warm passages. They talked about the variety of different sea weed they encountered on the sea shore.
Mae ein gwyl flynyddol ar gerfluniau traeth, sydd bellach yn ei 14eg flwyddyn........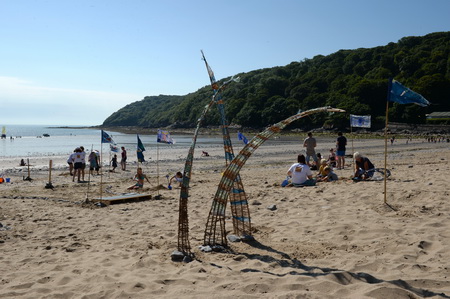 The site was set up with festival displays and sculptures in resadiness for the viisting participants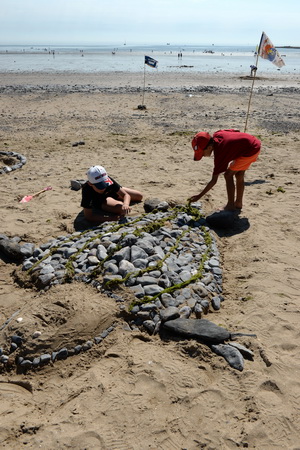 A beautiful turtle was created using sand and the limestone pebbles at Oxwich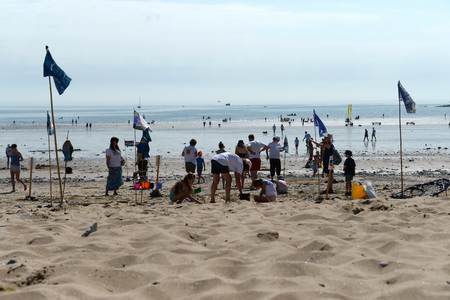 Great to see the sculptures greatly enhanced through group participation from members of the public and how confidence grows through investigating and sharing ideas with others over a variety of age ranges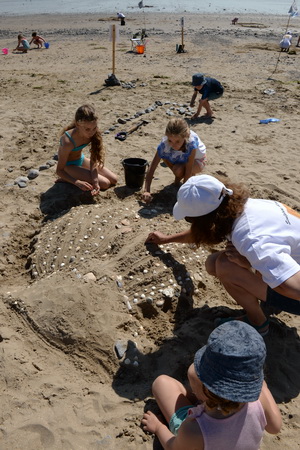 A perfect scallop shell was made by a group of festival goers and their artist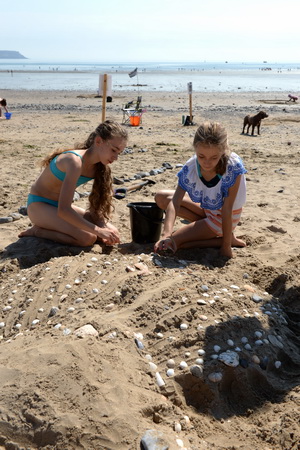 Participants enjoyed learning and talking about the environment. They made connections with the sea creatures they had seen on the sea shore and asked the artists questions with regards to other marine animals.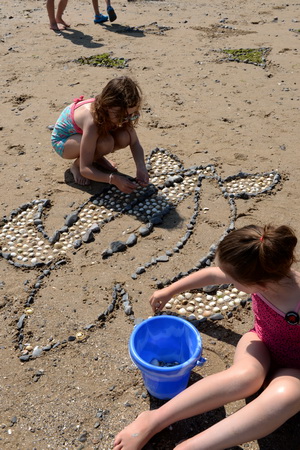 Sculpture, Art and Education
Cerflunwaith, Celf ac Addysg
Visual resources and written info was provided for extra knowledge. Participants liked to help alongside larger creations and to be given tasks such as collecting which helped to encourage everyone to be confident in sharing their ideas and having a go at creating new sand sculptures / drawings.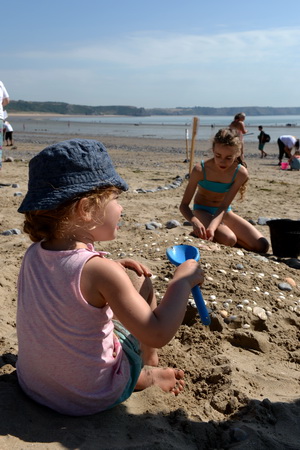 A beautiful shell is made to 'listen to the sound of the sea'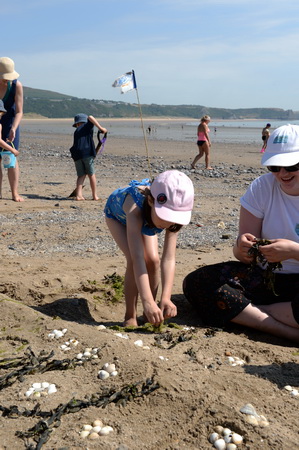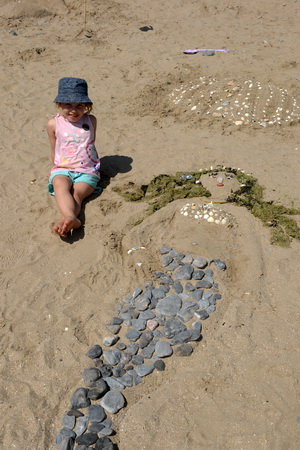 A wonderful singing mermaid made this little girl very happy to play all day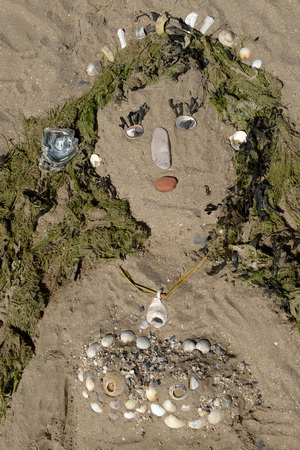 Bringing Art out of the gallery into the heart of the community - on the beach. The day went very well and was greatly appreciated by the participants and enjoyed by the artists. A very busy tourist beach - the event was popular and well attended.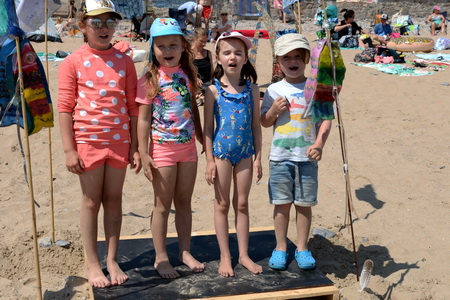 Performances at the festival by some of the youngsters attending
SAMPLE OF FESTIVAL MESSAGES FROM PARTICIPANTS
SAMPL O WYBODAETHAU GAN GAN Y CYFRANOGWYR
Our mermaid was amazing and we were very happy with the outcome. Our creativity was enhanced by taking time to observe and choose appropriate stones, shells and seaweed etc. Environmental art events like this are so important and such a fun and satisfying and creative activity for children at the beach. The artists supported the child's ideas and encouraged them. Lina Meunier and family
We made a turtle and starfish and were very happy with them. Our creativity was enhanced through the workshop as we felt inspired. We learned about fish eggs, why shells have holes, etc. Events like this are worthwhile as they keep everybody busy and happy. We're on holiday and would love to come to other festival days too. Abi and Hannah and family
We made a ray which was fantastic. We felt very creative through the workshop and we found out all about rays! Abbie and Nicky Riley and family
We made a shark and a boat and were definitely happy with the result. It was an unusual activity for the boys so their creativity was enhanced. We found out about environmentalasapects at the festival as we heard Clare one of the artist's perfomances about plastic. Environmental Art Events like this are worthwhile because it makes people care! Loved it and would love to come to more events in the future. Enid, Dexter and Dylan Davies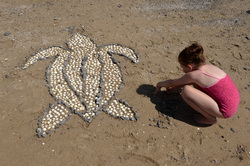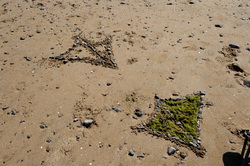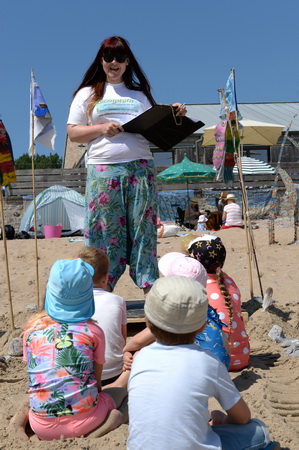 Our artist Clare during her environmental singing performances of 'Plastics' and 'The Red Lady'.
The art of sculpture
Thank you to everyone for making our annual sculpture festival such a success once again.
THANK YOU TO OUR KIND SPONSORS BELOW:
Celf cerflunwaith
Diolch i bawb am wneud ein gwyl cerflunwaith flynyddol mor llwyddiant unwaith eto.
DIOLCH I'N EIN HYRWYDDION SY'N GWYBODAETH BOD: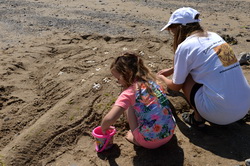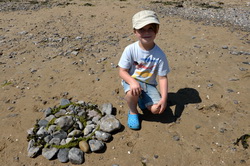 Learning through play always encourages creativity and an enhanced sense of well being.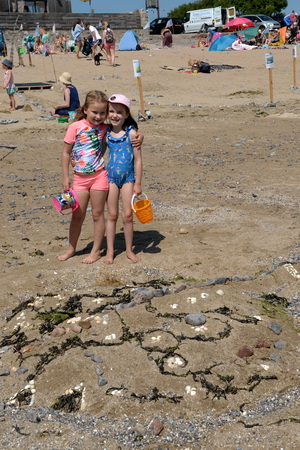 Large interactive sculptures were created by the artists and festival people, providing a fantastic opportunity for creative and imaginative play all day for all ages
Its always nice to see peoples horizons challenged and encourage them to use new materials. Creativity was enhanced for not only those who participated but also for people who were just passing and enjoying what was happening. The more involved the younger participants became, it encouraged the adults to take part too. During sharing and allocating activities there was a lot of positive discussions shared. Lots of groups of people walked around the mass of creative works on the seashore,before retreating to their own space to formulate their own ideas. It was great to see how proud they were of their finished pieces.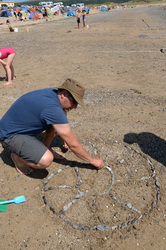 To see page 3 of 2017 Festival at Port Eynon Beach - click the link at the bottom of this page.

I weld tudalen 3 o 2017 Gwyl Traeth Port Eynon - cliciwch ar y ddolen ar waelod y dudalen hon.