We began our 19th annual beach sculpture festival at the golden sandy Caswell beach on the Gower AONB. A Blue Flag beach, Caswell Bay or Bae Cas-wellt is a large beach popular with families, holiday makers and surfers. The artists arrived early to put up festival displays and flags ready for the first day of the Beach Sculpture Festival. Any worries about the weather staying dry, due to the unseasonable preceding run of wet days in July, were pleasantly erased. The skies were blue and the sun was already shining down! Caswell beach is a great place to spot local sealife such as seals, starfish, harbour porposies /dolphins and rock pool creatures so there was plenty of marine life to inspire the beach sculptures. People started to arrive eager to work with artists and create a special sculpture of a sea animal.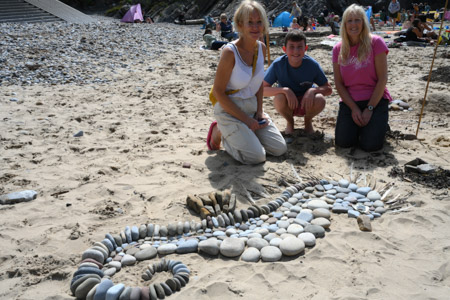 Groups and families enjoyed creating their favourite sea animals using some of the lovely coloured pebbles as well as sand. Here a striking seahorse was made which the participants were very happy with. The activity raised awareness of the beach environment and marine animals. The artists demonstrated techniques and suggested more imaginative use of materials. They also discussed topics like plastic waste and litter having a detrimental effect on sea life.
'So inspiring'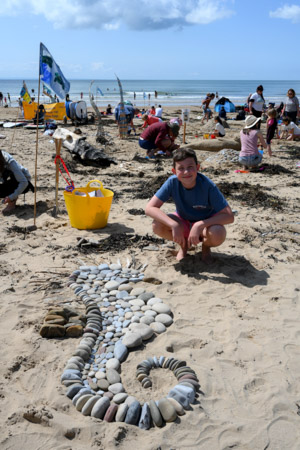 The artists were very knowledgable about sea life, very kind and very patient with everyone!
Very friendly and helpful artists!
The Festival was an opportunity give people facts about the seashore whilst having fun and to see the materials on the beach in a different light, such as the colours of the pebbles or playing with contrast between seaweed and sand.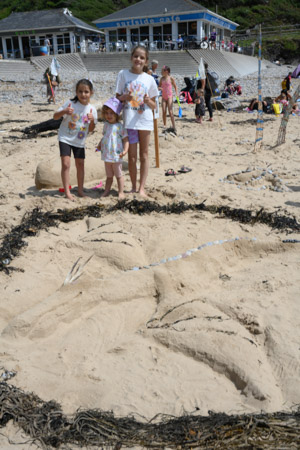 As well enhancing people's creativity and well-being, we aimed to give a sense of place and awareness of different marine species that are dependent on human understanding and care, helping to protect and sustain them in both present and future times. This was definitely achieved today.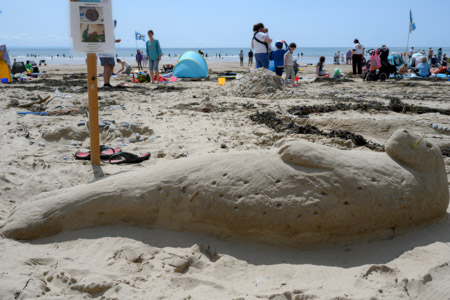 A beautiful seal is carved from the golden sand.
It was excellent fun working with the artists! It was amazing to build my seal sculpture
and lots of fun!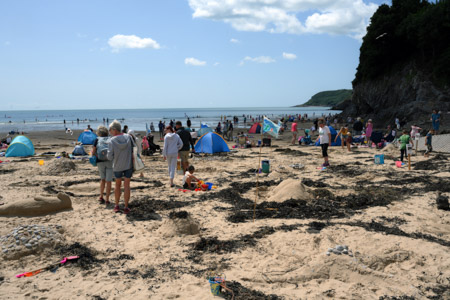 The beach soon filled up with lots of people eager to make sculptures with the artists.
There was a wonderful display of art for people to admire as well as be proud of.
The artist encouraged my children to use their imaginations and develop ideas. Children became aware of the beauty of the seashore with lots of fresh air through the festival! Our creativity was enhanced especially through finding different materials to use in our sculptures.
A starfish was a favourite sculpture to create from the golden sand. Diifferent materials on the beach such as shells and pebbles were used to decorate this large scale sculpture. People used the opportunity to gain more confidence using the art techniques that the artists gave them.
We had a great time at the festival!
An engagement with nature using natural materials and ideas for all ages.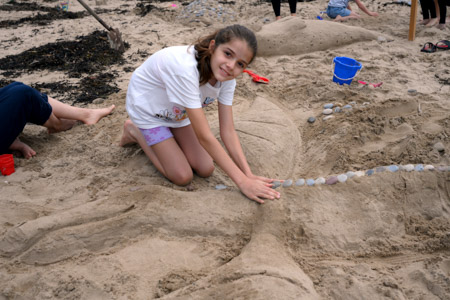 We made a crab and an octupus sculptures which we were very happy with. We have been coming to the festival since it first started. Love it!
A great way to engage people with the environment, very interesting and very mindful!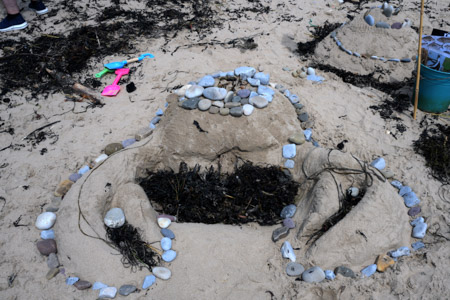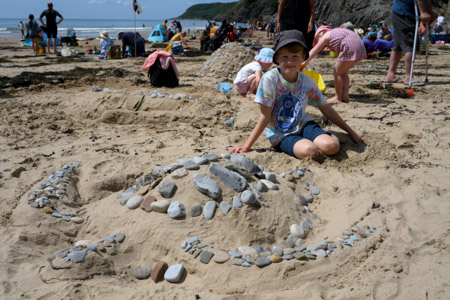 Making a turtle was an excellent activity for our children. It was a brilliant day - we had so much fun. Thankyou.
Environmental Art events are worthwhile as they promote and value the environment, engaging with our senses, encouraging a sense of self pride, achievment and building community. The artists were friendly and approachable.
It was a great day for all the family - loved the activity and the artists were lovely!
We had a lovely time here making a turtle and other sea animal sculptures. The artist's comments, suggestions and pictures were really helpful.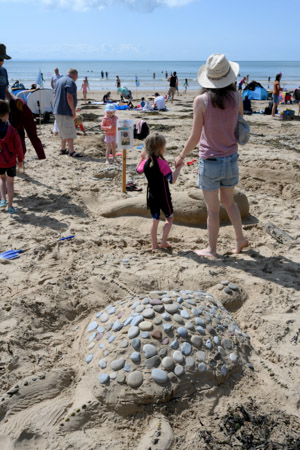 People were surprised to learn that there are five species of turtle in UK waters. They were interested to hear about the activities of the leather back turtle as it swims past the gower beaches following jellyfish along the gulf stream. The artists enjoyed sharing knowledge about different sea animals such as their characteristics, looks, habitats or preferred food. People built up an empathy with these sea animals through creating their sculptures on the beach.
'Creative, educational and fun for children'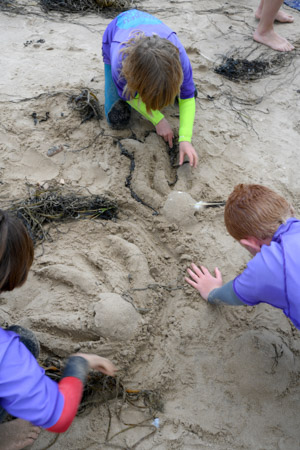 We made octopusses which we were very happy with. The artists were very supportive and caring with great guidance. Our octopusses looked fantastic.
Children and adults alike were able to use the beach to explore their creativity whilst making sea animal inspired sculptures.
It was a fab event with great teachers! We made several sculptures - a hermit crab, mermaid's purse and a sting ray. It really captured our imaginations. Thank you!
The first day of the festival had been a success and the artists folded away the flags and banners ready to take to Oxwich Bay the next day.
To see page 2 of 2023 Festival at Oxwich Bay - click the link at the bottom of this page.
I weld tudalen 2 o 2023 Gwyl Traeth Bae Oxwich - cliciwch ar y ddolen ar waelod y dudalen hon