Our annual beach sculpture festival, now in its 13th year, resumed on the fourth day at the beautiful Bracelet Bay in Mumbles. It is a small bay on the south of the Gower Peninsula with good views of Mumbles light-house. There are lots of interesting materials to use for sculptures here such as the rainbow coloured pebbles found here. Several of the local schools in Mumbles created displays for the festival or took part in a pre-festival workshop at Bracelet Bay. The west of the bay is separated from the next beach Limeslade Bay by Tutt Hill, which carries a coastguard look-out station. There was quite a lot of rain showers during the day, some of which were torrential at times but this did not deter people dropping into the festival as soon these subsided.The event gave participants more confidence to choose materials and develop ideas to make sculptures. For example, many of the participants had not noticed before how many different coloured pebbles there are at Bracelet Bay. People were very interested to learn about the environment and issues that affect marine life. Using natural materials at the beach to create beautiful patterned sculptures and mosiacs and basing ideas on marine life is certainly an absorbing activity that holds the interest of children and adults alike.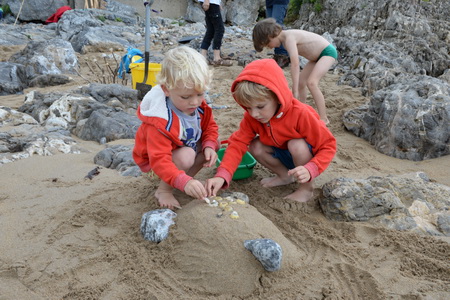 Selecting specific rocks or shells with certain colours or patterns really gave the children the chance to study what was there and made their creation really special..in turn encouraging independent thinking, creativity and a greater sense of self esteem.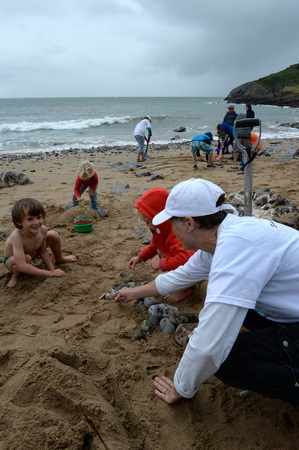 Having fun working with the artists on the beach.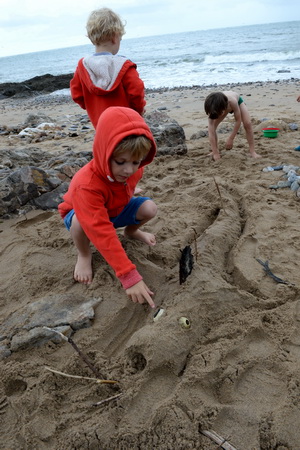 The festival engaged lots youngsters during the day with adventurous activities that encouraged creativity and imaginative play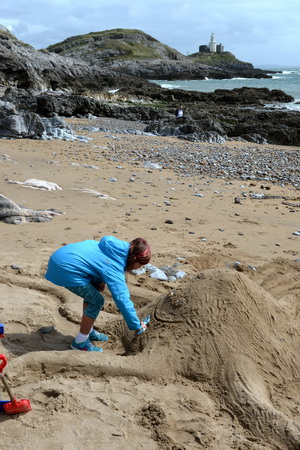 Festival goers spent the day, in between showers, with our artists enjoying making
sculptures and learning new skills.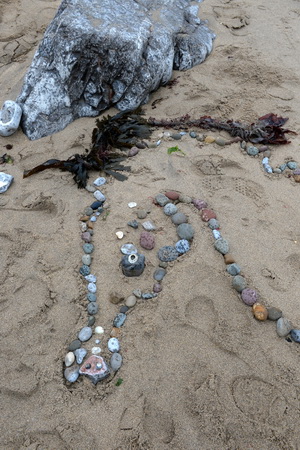 Sea horses were a theme at the Bracelet Bay festival.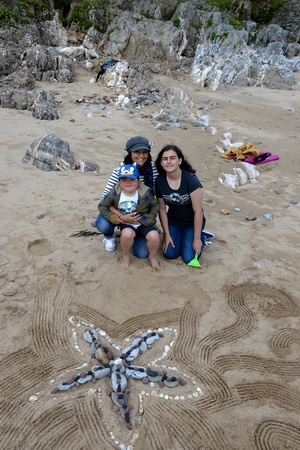 Participants enjoyed gathering, sorting and pattern-making whilst creating wonderful sculptures, like this super starfish.
To see page 5 of 2017 Festival at Blackpill Beach- click the link at the bottom of this page.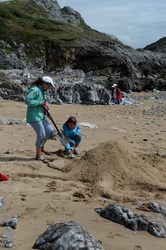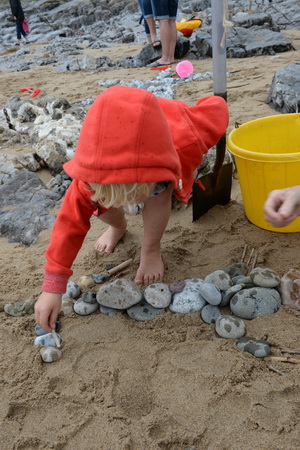 Using pebbles at the beach to make sculptures are inspiring materials for all ages to use.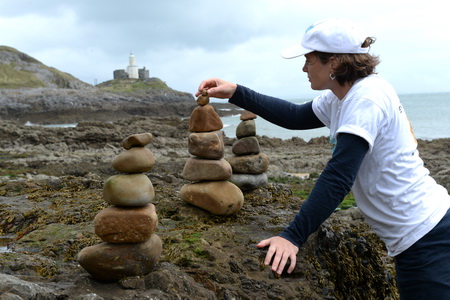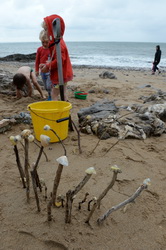 SAMPLE OF FESTIVAL MESSAGES FROM PARTICIPANTS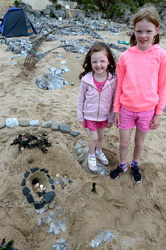 We made some balancing stone sculptures which we were very happy with. The artists were very enthusiastic and helpful. Events like this are worthwhile as its lovely for children to get enthusiastic about art and the environment. An amazing thing to do - thank you! Amy, Lola and Joe Morrin
We made a little horse, sea horse and rock sculptures which was great for inspiration. the event was wonderful for children to really explore their local beaches and get creative outside. Francesca Lowcock, Lola and Joe Morrin and Philip Humphrey
Our sea horse and driftwood horses were wonderful. We always come to the festival every year. Chris and Lily Toft
We made a dinosaur skull which was a great activity for a 6 year old. It was a brilliant experience. Steve Jones and family (4)
We made an island and a boat which looked amazing and was really fun to make. The activity taught us how to use different nature and things around us to create art. Events like this are fun and provide great creative opportunities. Maddy, Ellen and Vincent Langdon Morris
We made a seahorse which we absolutely loved. our creativity was enhanced because the artist's input was very useful. We now know more about sealife. Please keep the festival going. Holli, Laurie Messan and mum
We made a turtle which we were very happy with. Events like this create more conciousness, respect and awareness for the environment. We really enjoyed thank you. We'll definately come again. Mariana, Otaleu and mum
We made a volcano and helped with a seahorse which we were very happy with. Getting creative with nature was great and we learnt about different types of stones and fossils. Events like these are absolutely lovely things to do in school holidays. David Marshall and family (4)
We were very happy with our sea horse, octopus and wave. It was good to work from the imagination and learn about the seashore. Shelley, Chloe and Izzy Jones
Our crab was brill! Alfie, Arthur Vaughan, Jonathan Rheinhard, Keisha and Keaton Williams
We made a manta ray, an ice-crea and a mermaid. Thinking about 3D enhanced our creativity. The event was really worthwhile having fun outdoors and not buying anything! Hannah Valenzuela and 2 daughters.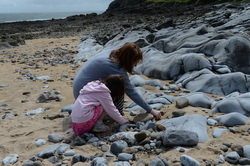 A beautiful curlew mosaic was created using the wonderful coloured pebbles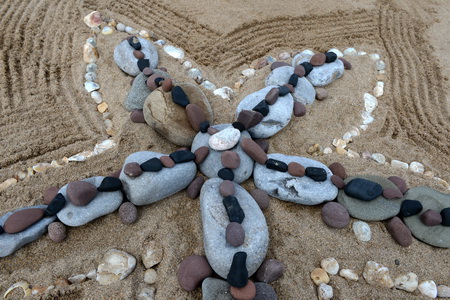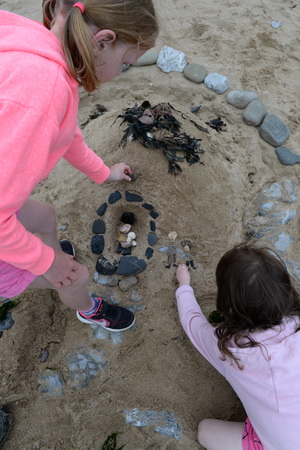 A volcano turns into a beach des res with a little family of people made from pebbles, creative play enhancing imaginations.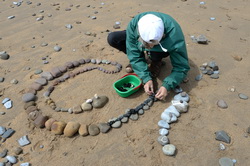 The beautiful multi - coloured pebbles at Bracelet were used to create a colourful sea snake.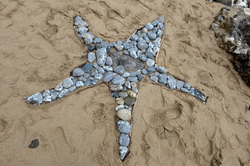 Star of the show!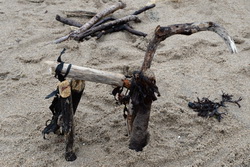 A little driftwood horse
Thank you to everyone for making our annual sculpture festival such a success once again.
THANK YOU TO OUR KIND SPONSORS BELOW: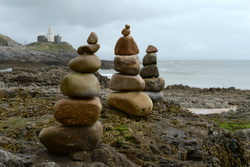 Balanced stones mirror the lighthouse at Bracelet Bay and add three dimensional aspects.
The festival continued the next day at Blackpill Beach, Swansea for the grand finale. To see day 5 of 2017 Festival at Blackpill Beach- click the link at the bottom of this page.