Port Eynon was the third beach stop on our 19th Beach Sculpture Festival tour. On the most southerly point of the Gower AONB, Port Eynon bay is set amongst the most beautiful landscape and a quaint little seaside village with lovely shops and cafes. Port Eynon Beach is one of our favourite places to run our festival with its large golden sandy beach and many different coloured pebbles and rocks for use in making sculptures.There are also lots of holiday visitors here in the summer making good use of the wonderful sea view caravan parks and holiday homes.They were very excited to take part in our special environmental art festival. Whilst in the midst of a stormy summer for 2023, there was a interlude for the day and the summer sunshine brought many people to the beach who were keen to spend time creating beautiful marine inspired sculptures with the artists. The ideas they had to make some wonderful artworks were full of imagination and anticipation of what they could make. The festival was extremely well attended at Port Eynon.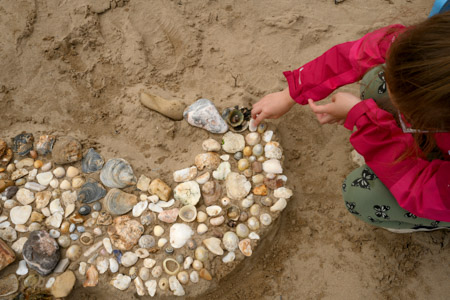 Thank you for all the fun!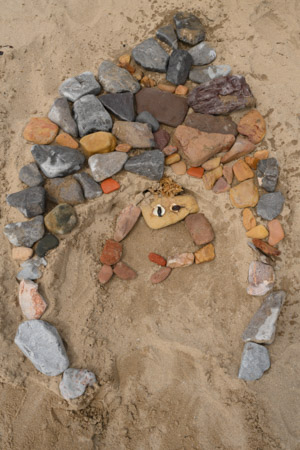 Everyone enjoyed making sculptures based on marine animals such as a starfish, hermit crab, sun star, leather back turtle, rock birds, crab, dolphin, lobster, cuttlefish, crab, seahorse, octopus, etc.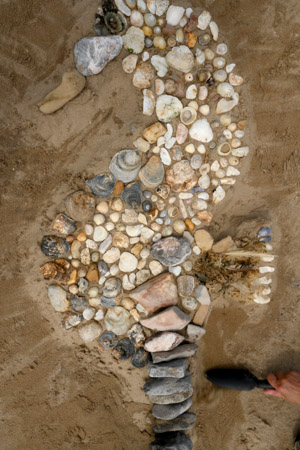 The children learnt about the diversity of materials on the beach to use in their creativity. The festival showed what is possible using natural materials. Participants were interested in learning about the local sea scape and the sealife surrounding the Gower areas.
The festival is a great way to encourage outdoor creativity and learning.
The festival was really enjoyable. Our two grandchildren had a great time searching for different shells/stones etc. The artists were very helpful and imaginative.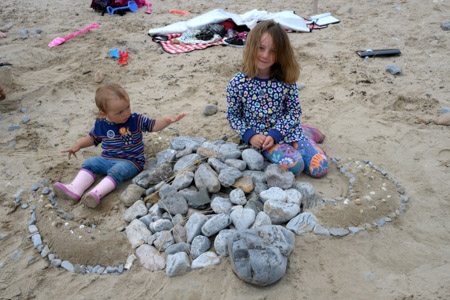 It was very exciting!
Lots of conversations arose during the day to enable free flowing discussion about the history of Port Eynon, and the ancient landscape that can sometimes become visible at low tide.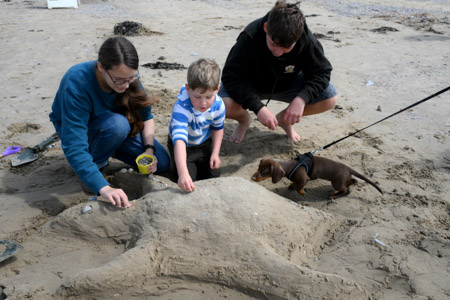 Children really enjoyed this. Fantastic event, we will definitely come again another year. Great day, children loved it AND it was FREE!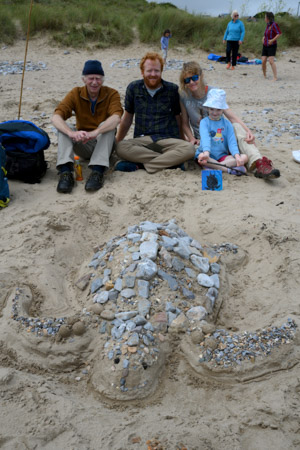 Our creativitiy was enhanced today by being given extra ideas and suggestions to focus onwhile making art. Whilst we made a turtle sculpture, we found out about turtle species in UK waters. The Festival assists with the wellbeing of participants by drawing attention to the environment and artistic creativity. It was very enjoyable to take part. It was a breath of fresh air.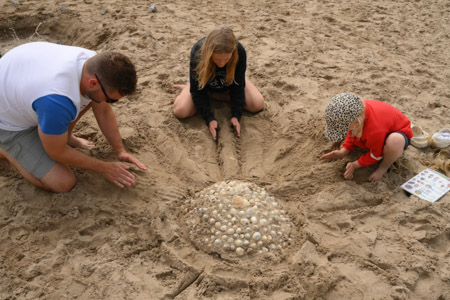 Using different coloured pebbles and stones to create different sculptures along the beach
Fabulous!
Excellent activity for all ages, with well being benefits. Ideas to take forward to the next beach we visit.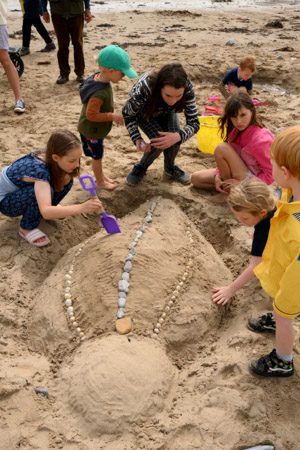 We thoroughly enjoyed the festival. It was lovely the way it included all the children of different ages and we also enjoyed searching for the 'treasure' to use for our art!
Everyone was really engaged, there was a real sense of community spirit on the beach with people passing looking at the artworks and very proud children.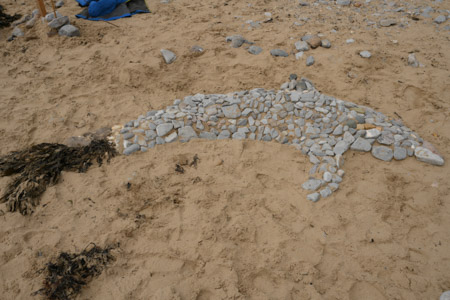 Learning about textures, colours and shapes when constructing a sculpture. Learning to use the found materials to create artworks from really gave everyone a sense of confidence in their work. Intricate sculptures and designs engaged all ages working together - what an achievement! It was an opportunity for all the family to be involved.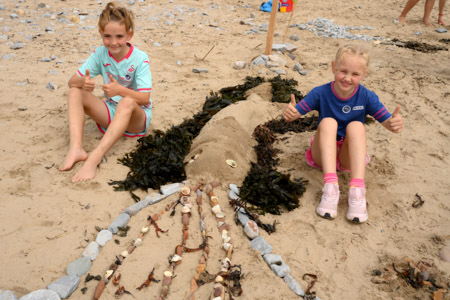 The was a real buzz at the beach!
People were focussed and stayed until the sculptures were finished. Then they were continuing with more sculptures! Families worked together to create their sculptures. Participants learnt lots of new skills through the festival with the knowledge how to create sculptures from the artists.
A great day - children love being creative. Lots of fun and excellent support from the artists.
It was a very busy day with very eager participants all day and the artists worked with lots of family groups as well as individuals. They were some really engaged people, many of whom come to the beach festival each year and there was high feel good factor all around.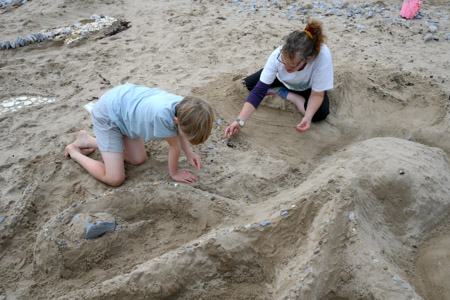 Great idea and fun!
Fantastic art with friendly artist helpers.
Everyone's creativity was enhanced through the festival by sharing of ideas for using natural resources and experimenting with them.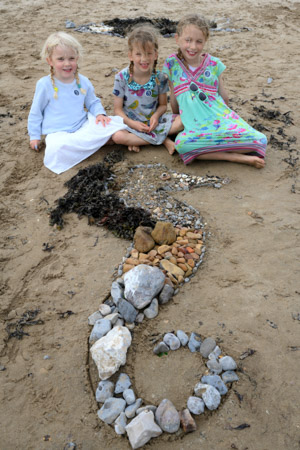 A beautiful sea horse sculpture was created by these three girls, using some of the lovely sea treasures found on Port Eynon beach.
Thank you to everyone for making our annual sculpture festival such a success once again
THANK YOU TO OUR KIND SPONSORS BELOW:
Diolch i bawb am wneud ein gwyl cerflunwaith flynyddol mor llwyddiant unwaith eto. DIOLCH I'N EIN HYRWYDDION SY'N GWYBODAETH BOD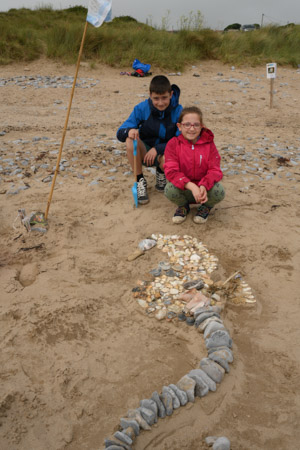 A wonderful iniative that really engaged all our children.
After setting out the sketch, our children were given full rein to let their imaginations run over. Great to take part, Thank you!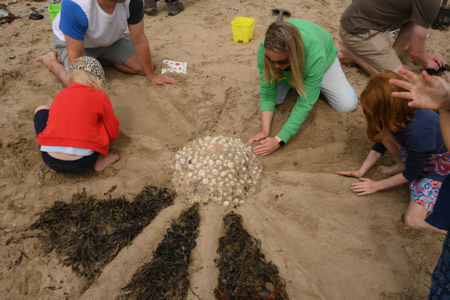 Wonderful art ideas for children and adults alike.
The day was very busy! As there was more and more art on the beach it was easier for people to see how to get effects for themselves and they enjoyed using their ideas. There were fantastic outcomes and the learning process which can continue for the families all summer!

We all enjoyed this unexpected activity. Thank you.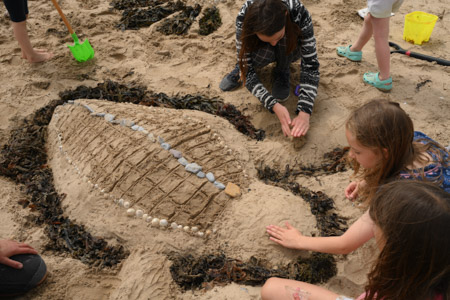 Teaching people what lives and grows on their shores empowers them with more knowledge about their environment and in turn creates a better connection to the natural landscape. Using a variety of materials to make interesting and thought provoking sculptures.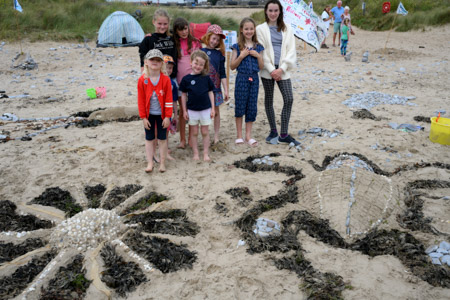 The Festival was very valuable for teaching future generations about our seas and how fragile they are.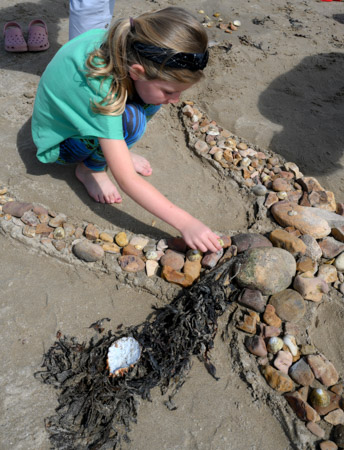 Thank you for letting me join in all the fun!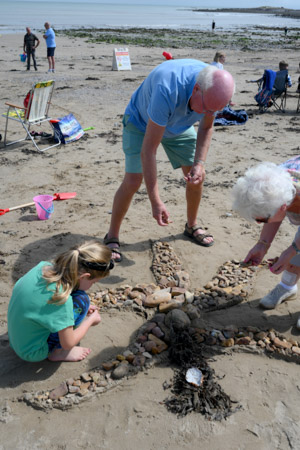 Adults were as involved as children, using a mix of resources on the beach allowed for a wealth of investigation, collecting and making.
An environmental awareness about the beach and its marine life was achieved through conversations with the artists. The beach was full of beautiful sculptures like a wonderful open-air gallery. People walking along the shore marvelled at the creations. The artists packed away the flags and displays ready for the next day of the Beach Sculpture festival tour to Bracelet Bay in Mumbles.
To see day 4 of 2023 Festival at Bracelet Bay - click the link at the bottom of this page

I weld gwyl dydd 4 o 2023 yn Bracelet Bay- cliciwch ar y ddolen ar waelod y dudalen hon
Also see the five waymarking sculptures on the Gower coast path between Mumbles and Rhossili - see Sculpture on the Coast trail - click here
Dilynwch y Llwybr Cerflun ar y Arfordir - cliciwch yma