Our 16th annual beach sculpture festival continued its journey to it's next venue at the wonderful Oxwich Bay in the south of Gower. It is the second largest beach on Gower and it's landscape features sand dunes, salt marshes and beautiful woodland particularly rich in wild flowers. There is a wetland site at the rear of the dunes called Oxwich Burrows National Nature Reserve. Oxwich bay ends at the eastern end with the cliffs of High Tor; but at low tide, a continuous sandy beach connects with Three Cliffs Bay beyond. Rare plants like the dune gentian and insects like the small blue, beachcomber beetle and the hairy dragonfly can be found while the wetlands are important for birds. Oxwich beach is always a very popular venue for our annual sculpture festival and there were high hopes of creating some beautiful and inspiring sculptures based on marine species. Stormy weather was not going to put off people eager to join in.
.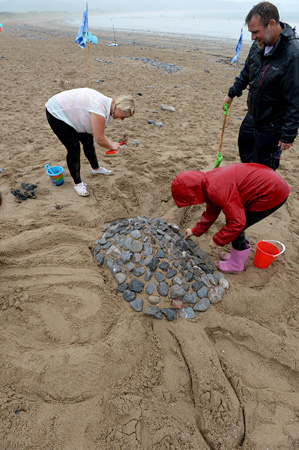 This family created an edible crab - a seafood staple, which they learnt can grow 25cm wide and has a crimped edge shell like a Cornish pasty!They also found out during the workshop about other UK species such as the Common (shore) crab, our most abundant kind, found on all coasts whose shell has a jagged front edge with tooth-like projections and is often dark green in colour.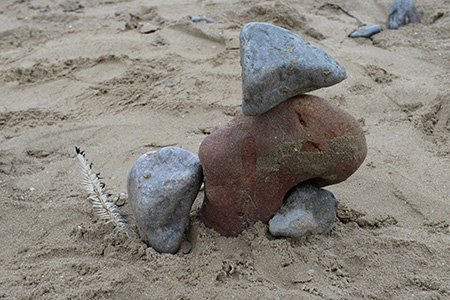 Sea shore art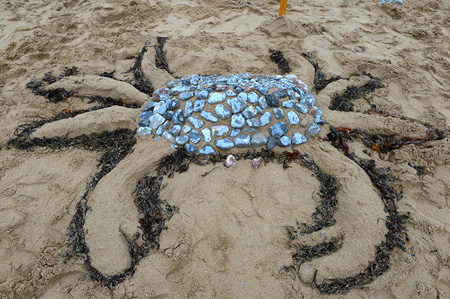 A crab is sculpted from and and decorated with the slate pebbles found on the beach.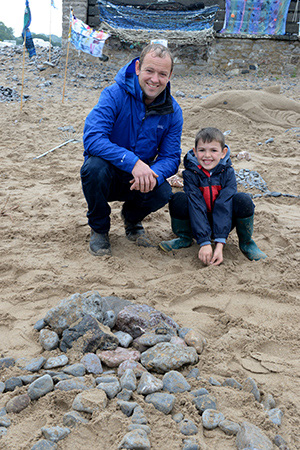 Smiles all round for this octopus sculpture
Making an octopus was an excellent way to find out about this species. Father and son were interested to learn that the Common octopus generally live in rockier areas and in shallow water. Also that they have eight arms with two rows of suckers and receptors so they can taste whatever they touch (rather than tentacles which are longer and only have suction cups at the end). It was amazing to find out that the colour of the common octopus is not fixed and changes to adapt to its surroundings. As octopusses can either swim slowly using their arms to propel themselves or use 'jet-propulsion' by expelling water from their body sending them forward with more power, they can use different movements to help catch their prey.
The Gower Peninsula, which, in its geological structure and coastal beauty, is of almost unique interest. As well as limestone, there is a considerable amount of shale in Oxwich Bay. There are also many other beautiful coloured rocks and pebbles here that can be used for sculptures and mosaics.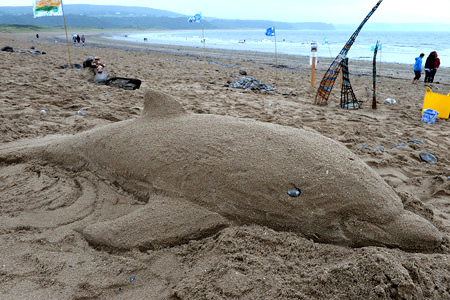 A playful Bottlenose Dolphin
A playful Bottlenose Dolphin with its streamlined body and flippers is skillfully sculpted from the sand at beautiful Oxwich Bay by a group working with the artists. Through the workshop, participants found out about dolphins, the common name for aquatic mammals and a favourite marine species.. Though not quite as flexible as seals, some dolphins can travel at speeds 29 km/h (18 mph) for short distances.and they use their conical shaped teeth to capture fast moving prey. Ther well-developed hearing is adapted for both air and water and some species are well adapted for diving to great depths. They have a layer of fat, or blubber, under the skin to keep warm in the cold water.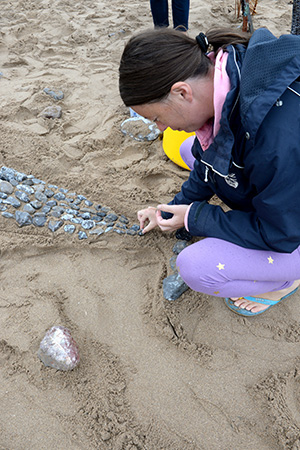 All types of materials including limestone pebbles were used in the creation of different sculptures. People were thinking and discussing how they could use the beach differently to be creative. They enjoyed the event and talked about what they could do with their new art skills in the future.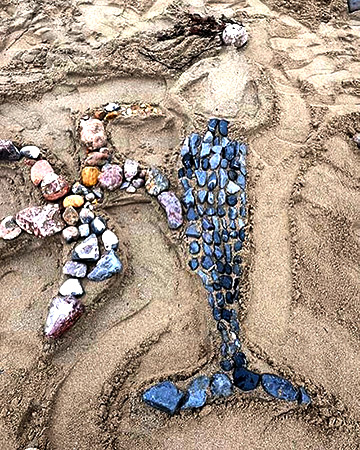 Making a mermaid is always popular with young children - learning through play encourages creativity and an enhanced sense of well being. This one has a starfish for company and is made using all the beautiful coloured pebbles on the shore.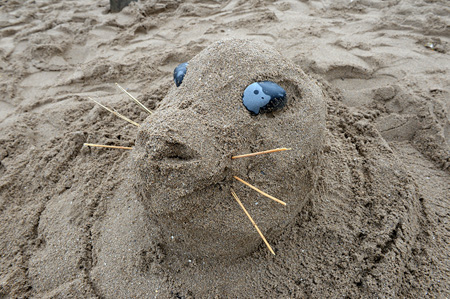 This lively grey seal popping up in the sea was created by a group of young people after sighting one off the coast. As they worked on the sand sculpture with their artist, they discovered that there are a variety of fish on the menu of grey seals like wrasses, sand eels, cod, flatfishes and skates. They also eat crustaceans like shrimps, crabs and cephalopods like octopuses, squids., octopuses and squids. It was a great activity for the group and they enjoyed finding the eyes and whiskers to decorate the engaging sand sculpture.
The art of sculpture
Thank you to everyone for making our annual sculpture festival such a success once again.
THANK YOU TO OUR KIND SPONSORS BELOW:
Celf cerflunwaith
Diolch i bawb am wneud ein gwyl cerflunwaith flynyddol mor llwyddiant unwaith eto.
DIOLCH I'N EIN HYRWYDDION SY'N GWYBODAETH BOD:
To see page 3 of 2020 Festival at Port Eynon Beach - click the link at the bottom of this page.
I weld tudalen 3 o 2020 Gwyl Traeth Port Eynon - cliciwch ar y ddolen ar waelod y dudalen hon.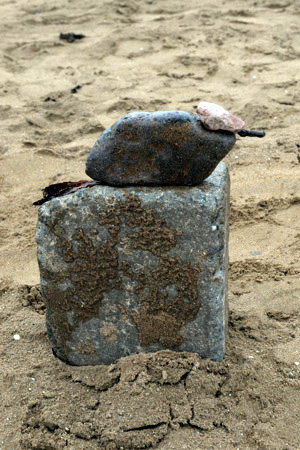 The limestone pebbles and rocks were ideal for making bird sculptures
Unfortunately, the rain set in mid afternoon and the artists cleared the site of flags and banners ready for the next day at Port Eynon Beach, where they hoped for some clearer weather with sunshine.