Port Eynon was the next beach stop on our 18th Beach Sculpture Festival tour. On the most southerly point of the Gower AONB, Port Eynon bay is safe, sandy and great for swimming and watersports. It is also a favourite place for our festival to be held with its vast sandy beach and lots of different coloured pebbles and rocks that can be used for decorating sculptures.The summer sunshine all day brought many people to the beach who were keen to spend time creating beautiful marine inspired sculptures with the artists.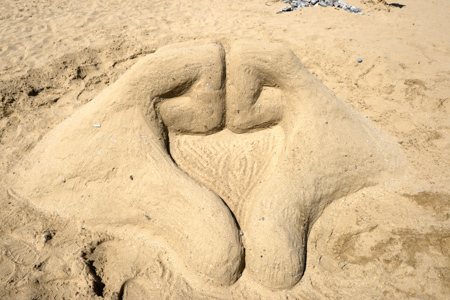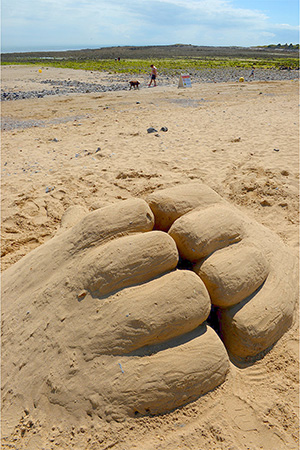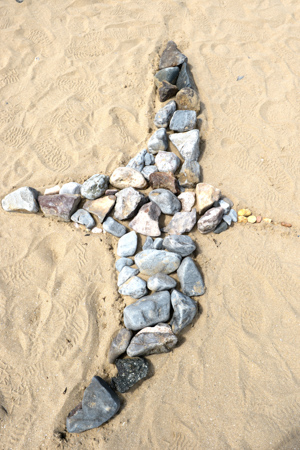 'The children learnt about the diversity of materials on the beach to use in their creativity. The festival showed what is possible using natural materials'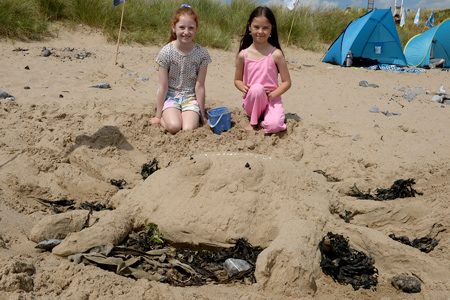 'The festival is a great way to encourage outdoor creativity and learning'.
Lots of conversations arose during the day to enable free flowing discussion about the history of Port Eynon, and the ancient landscape that can sometimes become visible at low tide.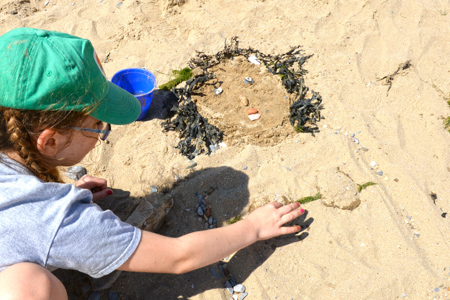 Events like this are very worthwhile as children learn lots of environmental facts while they are being creative'
Also see the five waymarking sculptures on the Gower coast path between Mumbles and Rhossili - see Sculpture on the Coast trail - click here
Dilynwch y Llwybr Cerflun ar y Arfordir - cliciwch yma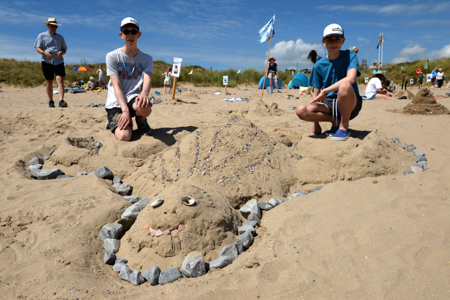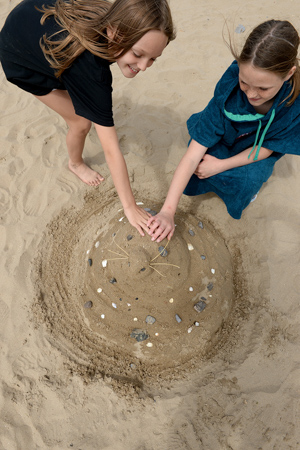 Everyone enjoyed making sculptures based on marine animals such as a cheeky seal, turtles, sea birds, crab, etc.
Intricate sculptures and designs engaged all ages working together - what an achievement!
A great day - children love being creative. Lots of fun and excellent support from the artists'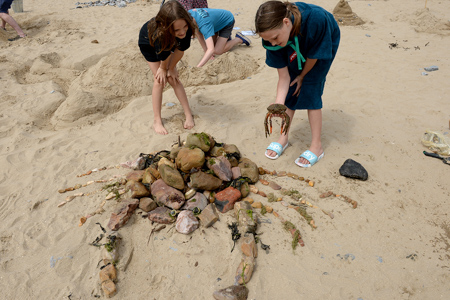 Learning about textures, colours and shapes when constructing a sculpture. Learning to use the found materials to create artworks from really gave everyone a sense of confidence in their work.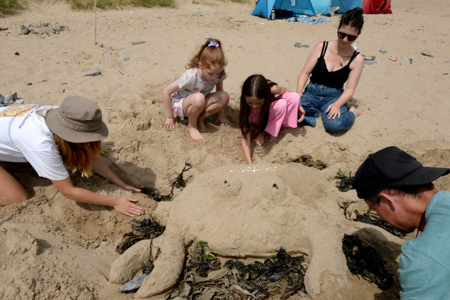 Families worked together to create their sculptures. Participants learnt lots of new skills through the festival with the knowledge how to create sculptures from the artists.
'Our creativity was enhanced through the festival by sharing of ideas for using natural resources and experimenting with them'.
Everyone was really engaged, there was a real sense of community spirit on the beach with people passing looking at the artworks and very proud children.
Thank you to everyone for making our annual sculpture festival such a success once again
THANK YOU TO OUR KIND SPONSORS BELOW:
Diolch i bawb am wneud ein gwyl cerflunwaith flynyddol mor llwyddiant unwaith eto. DIOLCH I'N EIN HYRWYDDION SY'N GWYBODAETH BOD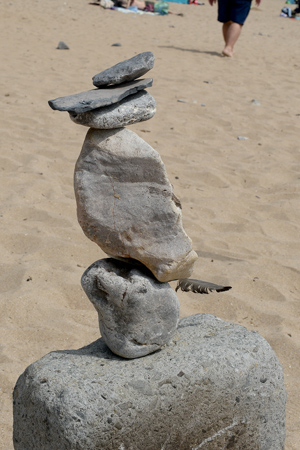 Using a variety of materials to make interesting and thought provoking sculptures.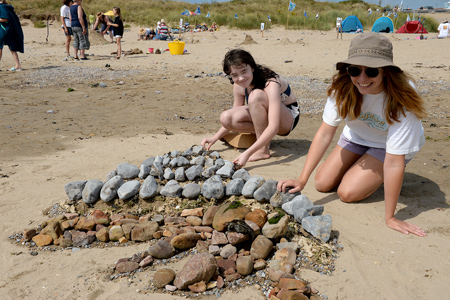 Using different coloured pebbles and stones to create different sculptures along the beach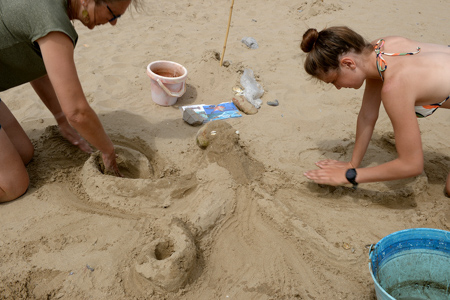 Adults were as involved as children, using a mix of resources on the beach allowed for a wealth of investigation, collecting and making.
Teaching people what lives and grows on their shores empowers them with more knowledge about their environment and in turn creates a better connection to the natural landscape.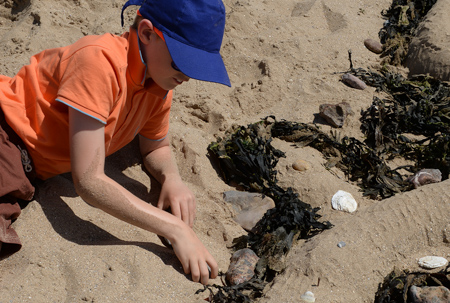 An environmental awareness about the beach and its marine life was achieved through conversations with the artists. The beach was full of beautiful sculptures like a wonderful open-air gallery. People walking along the shore marvelled at the creations. The artists packed away the flags and displays ready for the next day of the Beach Sculpture festival tour to Bracelet Bay in Mumbles.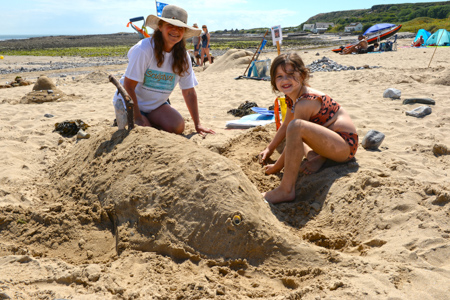 To see day 4 of 2021 Festival at Bracelet Bay - click the link at the bottom of this page

I weld gwyl dydd 4 o 2021 yn Bracelet Bay- cliciwch ar y ddolen ar waelod y dudalen hon