SCHOOLS/YSGOLION
CREATIVITY WORKSHOPS/ GWEITHDAI CREADIGRWYDD
SCHOOL TERM TIME PROJECTS - Please get in touch with us at info@artandeducationbythesea.co.uk for workshop details/prices for Primary Schools in Swansea and West Wales- e.g. Through the Seasons Project and Art in the Environment and Projects for Foundation Phase.
INSET DAYS FOR TEACHERS -Informative and practical inset days for teachers are available from the Art and Education by the Sea Team- specialising in the teaching of kinaesthetic and 'hands-on' educational approachs that link in with the curriculum, especially in outdoor settings. Please contact us for further information and prices at info@artandeducationbythesea.co.uk
Art and Education by the Sea (Sculpture by the Sea UK) are a trained team of artists who have extensive experience in working with schools and community in natural settings since 1998 on high profile environmental art projects. Our team of talented Swansea and West Wales artists are available to run small or large interpretative and fun events or workshops for all age groups at competitive rates. Please contact us for a free consultation to find out more. Our website features examples of projects we have run in the past - for example - see below - Every Child Outside Sculpture Trail where we worked with nine local Welsh Primary Schools.
September 2014

EVERY CHILD OUTSIDE SCULPTURE TRAIL

Bishops Wood,

Caswell, Gower

Art and Education by the Sea

SCHOOL PROJECTS

With Partner Schools:

Newton Primary, Bishopston Comprehensive, Pennard Primary, Crwys Primary, Llanrhidian Primary, Knelston Primary, Pontarddulais Primary, YGG Felindre and Penclawdd Primary

Artists:

Ami Marsden

Sara Holden

Catrin Jones

Viv Rhule

Project Photographer: Phil Holden

Educational Nature Specialist: Jo Mullett, About Wild Wales
THE EVERY CHILD OUTSIDE SCULPTURE TRAIL PROJECT

This is a Schools project that combines science and art - involving children engaging with nature in their school grounds or nearby rural area. Children and young people from nine schools in Gower RDP were involved. They first spent time outside, using an activities tool kit by educational nature specialists, creating personal or group responses to nature. This was followed up with one class from each school working with our team to make sculptures to hang on a special sculpture trail. This led from the entrance of Bishops wood to the Round House, for the Hub Day of the Love Your Countryside Festival on the14th September. Using willow,re-claimed wood, soft angora wool and coloured string for materials combined with the techniques of weaving, batik and indigo dying, felting, pattern making, mould making /casting and 3D construction, the sculptures were inbued with the essence of nature. The children and young people enjoyed spending time outside and working on the theme of nature to create special meaningful and exquisite artworks for others to see. They learnt to look at nature, as well as enjoy being in it, translating their thoughts and feelings in a visual way through the universal language of art.

As people wandered down the trail, the sculptures hanging or placed in different places, caught their eye and reminded everyone of the beauty, sometimes fragility and wonderfulness of nature. To see the wonderful sculptures along the trail, please scroll down and follow in our footsteps through the woods to the valley...................

.

Woodmen by Bishopston Comprehensive School

Walking the trail

Leaf batiks and indigo dyed combined with willow structure by Newton Primary

Dreamcatchers by Crwys Primary School

Nature encapsulated felt balls and little people in dream catcher frames by Pontarddulais Primary

Indigo and waxed flower Batiks with woven sculpture by Knelston Primary

above and below

Seashore inspired tiles by Penclawdd Primary and Pennard Primary Schools

see more below

Small Leaf batiks with willow by Llanrhidian Primary

Felt balls strung on natural string by YGG Felindre

Owl by Bishopston Comprehensive School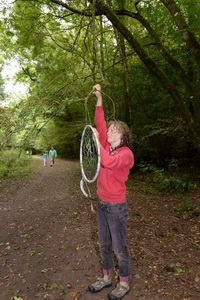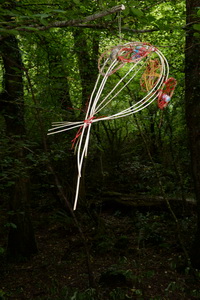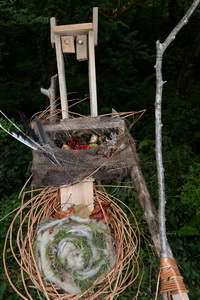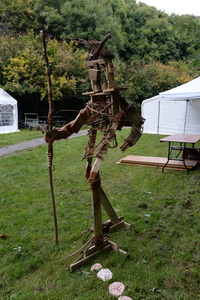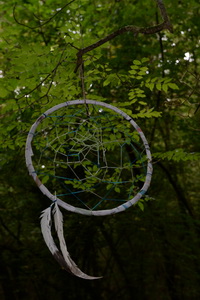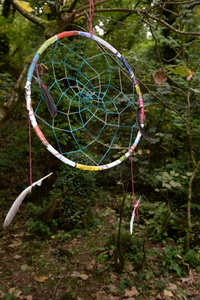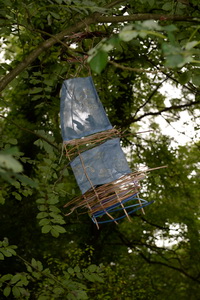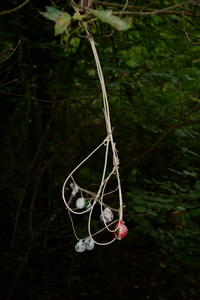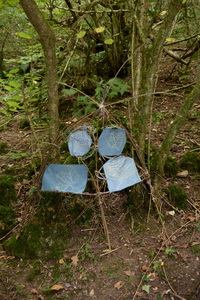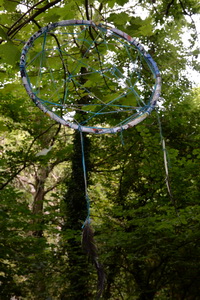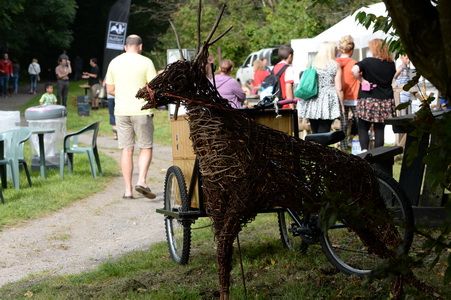 The sculptures delighted and inspired all who followed the trail and validated the special Nature and Art Schools Project which was funded through Countryside Connections.
Countryside Connections is funded through the Rural Development Plan for Wales 2007-2013 (funded by the Welsh Government and the European Agricultural Fund for Rural Development) and Natural Resources Wales.

Ariennir Cysylltiadau Cefn Gwlad drwy Gynllun Datblygu Gwledig Cymru 2007-2013 (a ariennir gan Lywodraeth Cymru a Chronfa Amaethyddol Ewrop ar gyfer Datblygu Gwledig) a Chyfoeth Naturiol Cymru.

THANK YOU TO OUR KIND SPONSORS BELOW:

...............
All Photos by Phil Holden. Copyright Sculpture by the Sea UK 2016
Trading as Art and Education by the Sea
Click Home to return to Index page