Our 17th annual beach sculpture festival, continued its journey to Port Eynon Bay. Located on the most southerly point of the Gower Peninsula, Britain's first designated Area of Outstanding Natural Beauty and located within easy reach of the historic Port Eynon village. The bay is safe, sandy and also suitable for watersports. The interesting selection of rock pools during low tide are perfect for inquisitive children to explore and the lifeguards patrolling the beach during the summer months ensure clean safe bathing. At the far end of the bay, just off Port Eynon Point, is the eighteenth century ruin of the old Salt House which was used for extracting salt from sea water. The beach was voted the Best British Beach in the 2011 Great British Beach Awards. Port Eynon Bay is a very popular beach resort and has a Blue Flag which is achieved in part by environmental education activities on the beach such as our Beach Sculpture Festival. Lots of treasures can be discovered on this beach such as shells like Wendletraps, the spire-shaped shells with diagonal ridges, Common Limpets attached to rocks, perriwinkles, cockles and even cowries, if one looks carefully. Empty shells as well as the butterscotch and pink coloured rocks and pebbles are eagerly collected for sculpture decorations.The bright sunshine all day brought many people to the beach who were keen to spend time creating beautiful marine inspired sculptures. There was a steady flow of people arriving at the beach too to admire the beautiful creations along the beach. An environmental awareness about the beach and its marine life was achieved through conversations with the artists.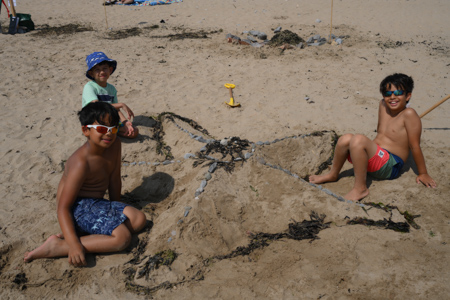 A lovely starfish was fun to make
Everyone learned a lot from the day - from the magic of starfish re-growing limbs, crabs shedding shells to the names of many shells.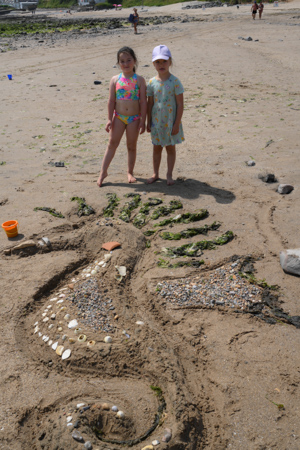 A fabulous sea horse
Young participants learnt how to draw designs into the sand and use collected pebbles and other treasures to decorate and bring it to life!
Children learned the names of shells with the artists and discussed how far that shell may have travelled and what it may have seen on its journey.
Participants' creativity and well-being was enhanced through the workshops- parents mentioned the effects of lock down on their children with the very young having severe shyness as a result and the older ones reliant on technology screen time. It has become apparent that this kind of festival has enhanced well being even more so this year, being the ideal event to challenge those lock down issues.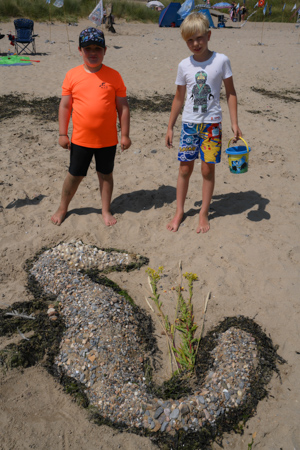 Participants enjoyed exploring the shoreline looking for resources to make their sculptures.
'The children learnt about the diversity of materials on the beach to use in their creativity. The festival showed what is possible using natural materials'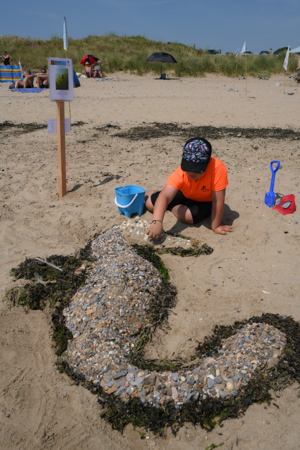 'We made a Seahorse and were very happy with it. Events like this are very worthwhile as they encourage outdoor creativity and learning'.
The Basket Starfish
Learning about textures, colours and shapes when constructing a sculpture - this young girl is totally absorbed in the activity. Learning to use the found materials to create artworks from really gave everyone a sense of confidence in their work.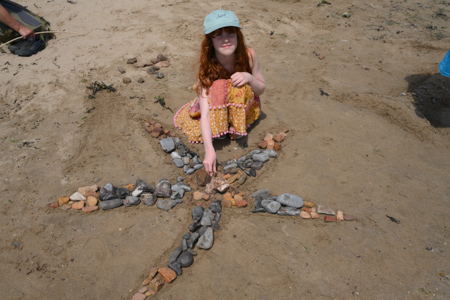 A beautiful Necklace Starfish mosaic is created from the butterscotch and pink coloured pebbles.
'Our creativity was enhanced through the festival by sharing of ideas for using natural resources and experimenting with them'.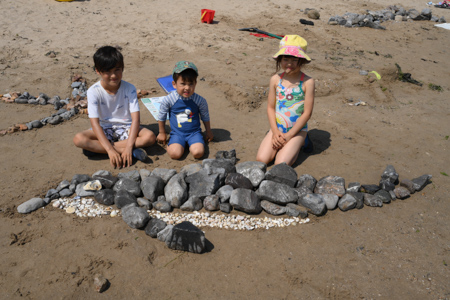 A beautiful dolphin is created.
A playful Bottlenose Dolphin with its streamlined body and flippers is skillfully made using the grey stones and white shells found on the beach. The children found out about dolphins, a favourite marine species, during the workshop. Though not quite as flexible as seals, some dolphins can travel at speeds 29 km/h (18 mph) for short distances.and they use their conical shaped teeth to capture fast moving prey. Ther well-developed hearing is adapted for both air and water and some species are well adapted for diving to great depths. They have a layer of fat, or blubber, under the skin to keep warm in the cold water.
Everyone was really enthused and engaged, there was a real sense of community spirit on the beach with people passing in awe of artworks and very proud children.
'Great Event - the children enjoyed it very much'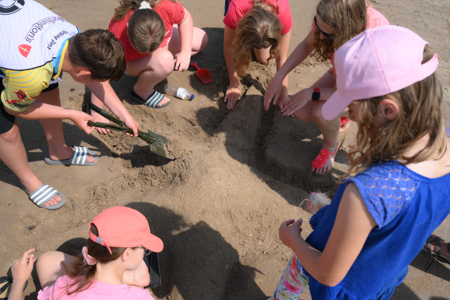 A group of friends work together to create their sculpture
'Fabulous event - lovely and friendly. The artists were great with the children who learnt lots about the beach and marine life'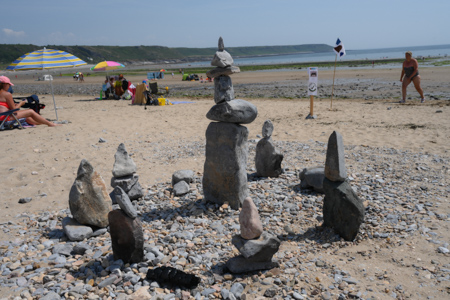 Adults were as involved as children, having such a mix of resources allowed for a wealth of investigation, collecting and making.
Teaching people what lives and grows on their shores empowers them with more knowledge about their environment and in turn creates a better connection to the natural landscape.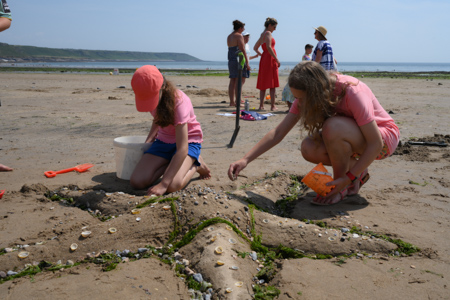 A large scale starfish is a work of art
Families worked together to create their sculptures. Participants learnt lots of new skills through the festival with the knowledge how to create sculptures from the artists.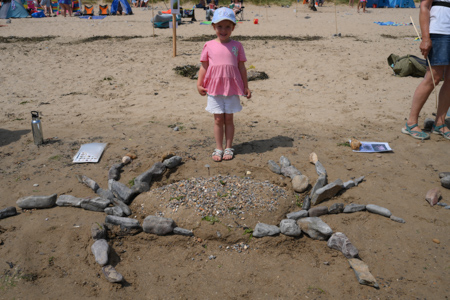 Using a variety of materials to make interesting and thought provoking sculptures, growing in confidence to experiment with different processes.
'Events like this are very worthwhile as children learn lots of environmental facts'.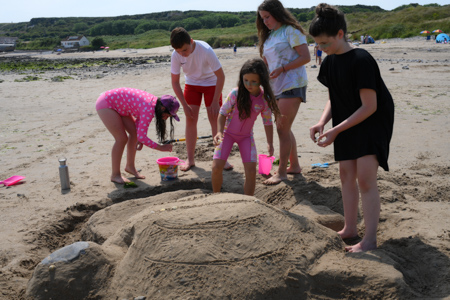 Intricate sculptures and designs engaged all ages working together - what an achievement!
'It was pure learning through play and we had a good time!'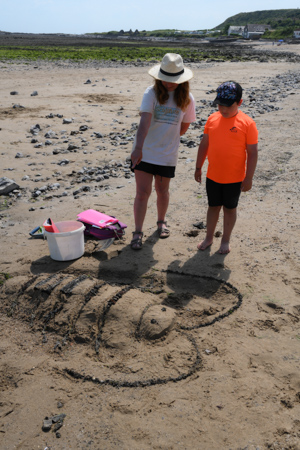 'Amazing day'
'Superb - the kids loved it'
To see day 4 of 2021 Festival at Bracelet Bay - click the link at the bottom of this page
I weld gwyl dydd 4 o 2021 yn Bracelet Bay- cliciwch ar y ddolen ar waelod y dudalen hon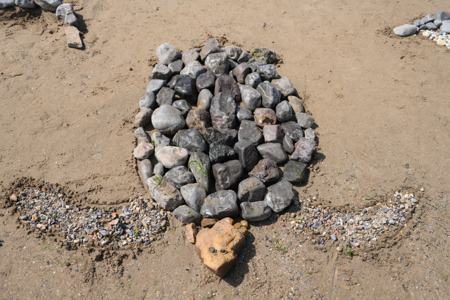 A Leatherback Turtle sculpted from grey stones and shale
'The Festival really helped the children stay focussed and gave them helpful tips. They learnt about different types fo seaweed, shells and it was very educational'
'You're the Banksy of the Beach!'
Thank you to everyone for making our annual sculpture festival such a success once again.
THANK YOU TO OUR KIND SPONSORS BELOW:
Diolch i bawb am wneud ein gwyl cerflunwaith flynyddol mor llwyddiant unwaith eto. DIOLCH I'N EIN HYRWYDDION SY'N GWYBODAETH BOD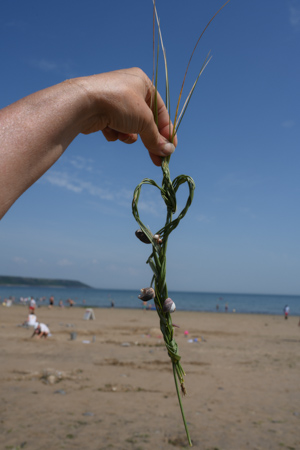 'A wonderful day - children love being creative. Lots of fun and excellent support from the artists'
A very creative day making sculptures that brought everyone together. The beach was full of beautiful sculptures like a wonderful open-air gallery. People walking along the shore marvelled at the creations. The artists packed away the flags and displays ready for the next day of the Beach Sculpture festival tour to Bracelet Bay in Mumbles.