Our 17th annual Beach Sculpture Festival continued its journey on the fourth day at the beautiful Bracelet Bay in Mumbles. It is a small bay on the south of the Gower Peninsula with good views of Mumbles light-house. The west of the bay is separated from the next beach Limeslade Bay by Tutt Hill, which carries a coastguard look-out station.The name 'Bracelet' is thought to be derived from 'Broad Slade'. There are lots of interesting materials to use for sculptures here such as a plentiful supply of different shells, feathers and pebbles of many hues and colours.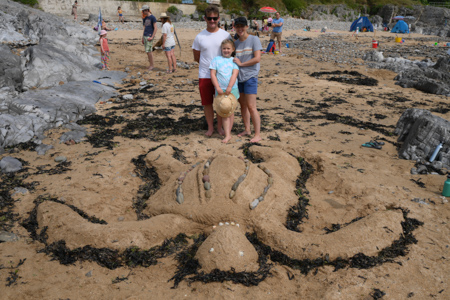 The wonderful golden sand at Bracelet Bay was ideal for creating a lovely Leatherback Turtle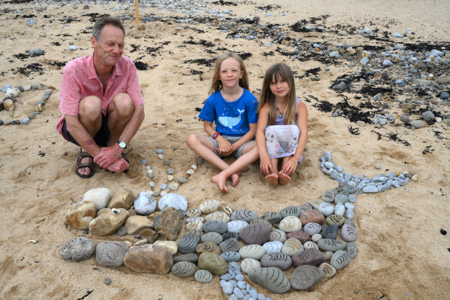 The picture of the Whale on this young boy's t'shirt was the inspiration for the colourful Whale sculpture made from the beautiful coloured pebbles on the beach. Fish scales were drawn on the rocks using charcoal leftover from a beach BBQ. The family were inspired with the use of natural found materials to draw and create art.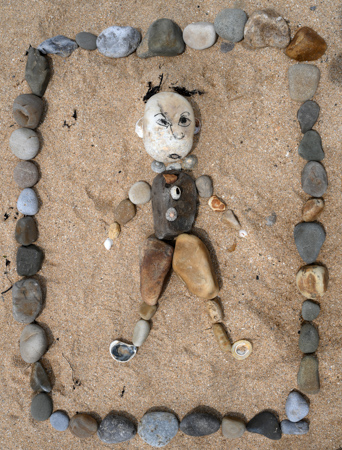 An boy made from coloured pebbles with a charcoal drawn face drew lots of smiles from people when they caught sight of him!
An environmental awareness about the site and its marine life was definitely achieved through the festival workshops with the opportunities in both visual discovery and verbal conversations with the artists.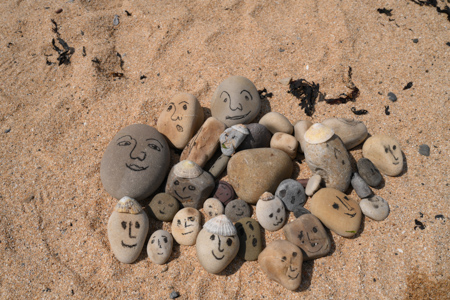 Art and Nature Conversations
Throughout each day of the festival activities the artists made talking and connecting with people about bio-diversity their priority. Collecting found objects and making sculptures is a great way to connect with people of all ages to enhance understanding and keep marine life and shorelines safe. The creation of a different marine animals and birds were the perfect visual impact for heightening creative thoughts within bio-diversity.
'such a lovely calm and fun way to engage with nature'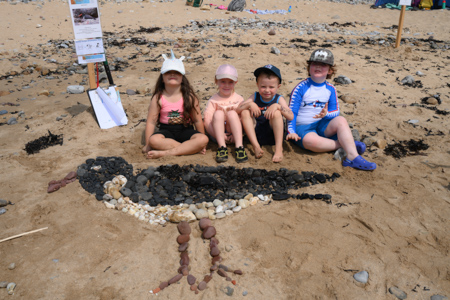 A beautiful mosaic sculpture of an Oystercatcher, a marine bird regularly seen at Bracelet Bay and in Mumbles, created on the shore by these young festival goers. Their great patience in collecting the coloured stones and arranging them really paid off with this fantastic sculpture.
Humans have been inspired by birds for thousands of years with symbolic uses
such as art, music and religion.
Fun, educational and beautiful creations. Very inspired to make more. Thank you!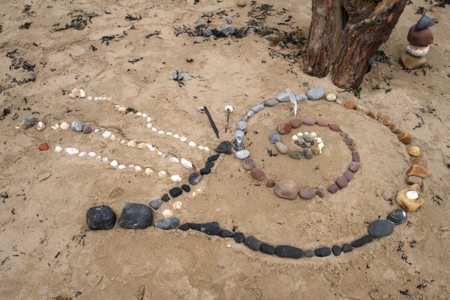 The multiple coloured pebbles on Bracelet Bay are excellent materials for creating mosaics on the beach.
An opportunity to discover the different materials that can used to create the marine animal themed sculptures and learn about the creatures at the same time. Selecting specific rocks or shells with certain colours or patterns brought the chance to study what was there and made the children's creations really meaningful and special. The workshops encouraged independent thinking, creativity and a greater sense of self esteem.We discussed marine life, in particular sea birds like kittiwakes, Oystercatchers and sea gulls. People were really committed to making intricate art works with lots of enthusiasm and positive energy.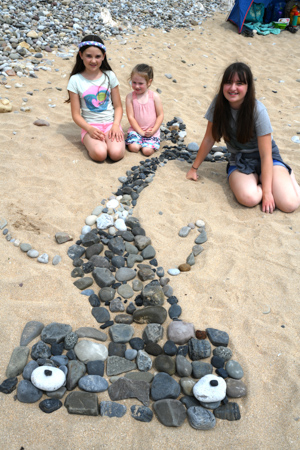 Very good educational event for children. Really good to see how inspiring this is to others around us on the beach too.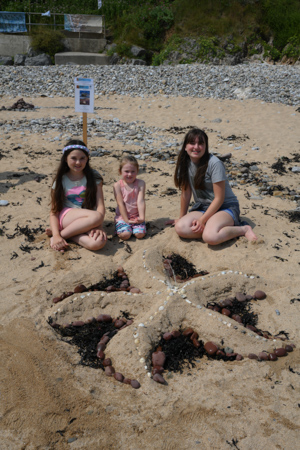 All ages were involved in making some wonderful sculptures like this starfish
This was our 2nd time at the Festival - they are very educational and it was a very creative day'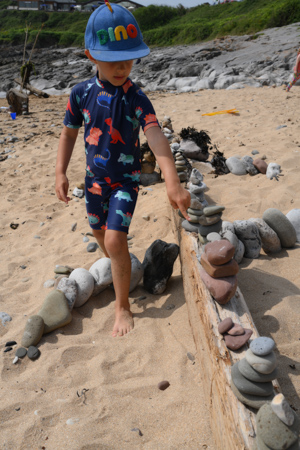 Learning through play is such fun.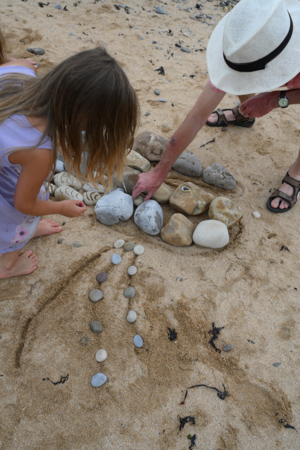 Concentration and attention to detail were skills that children learnt whilst creating meaningful and beautiful sculptures.
'an excellent fun day'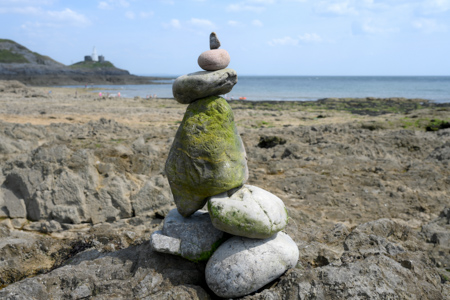 Festival participants liked the opportunity to learn and discuss things about our climate and seas whilst sculpting and playing gave people a lovely sense of confidence and a closer connection to things around them
It was fun - really enjoyed!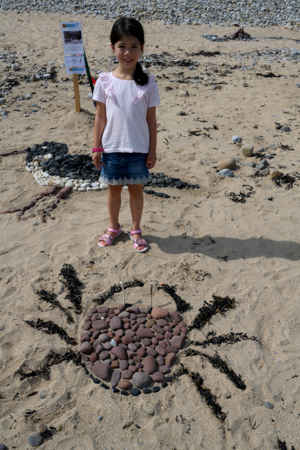 'Very informative, fun and friendly'
An environmental awareness about the site and its marine life achieved through the workshop from learning about types of marine life and rocks / rock-pools to discussions about the environment and how we respect our world under the sea.

At the end of the day, the beach was adorned with a wonderful display of sculptures for others to see and enjoy. The Artists packed away the flags and banners ready for the finale at Blackpill Beach.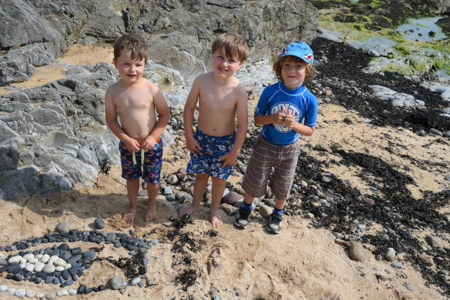 Making sculptures are a perfect activity for learning all kinds of things and engaging with nature as well enhancing fine motor skills.
'Wonderful experience!'
People were also interested to find out about the five piece waymarking sculpture trail along the cliff path between Limeslade, Mumbles and Rhossili that our team of artists created and installed - see sculpture on the coast feature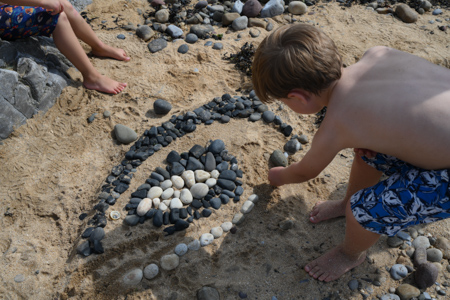 'The festival was a fantastic way of learning in a natural environment. Absolutely amazing staff'.
To see Day 5 of 2021 Festival at Blackpill Beach - click the link at the bottom of this page
I weld tudalen 5 o 2021 Gwyl Traeth Blackpill - cliciwch ar y ddolen ar waelod y dudalen hon
THANK YOU TO OUR KIND SPONSORS BELOW:
DIOLCH I'N EIN HYRWYDDION SY'N GWYBODAETH BOD: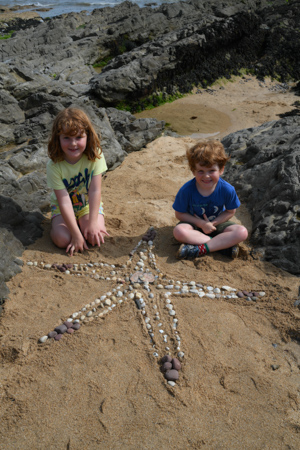 'A very creative and engaging activity'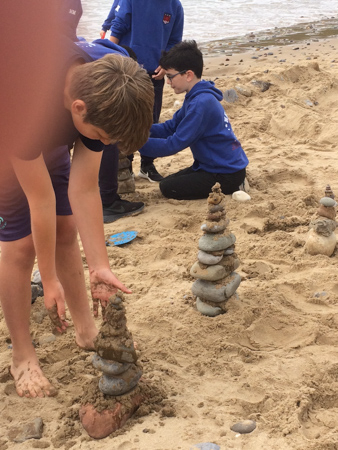 Making Sculptures at the beach
Pre-festival Primary Schools Workshops
Each year, as part of the festival, a series of workshops are run also for local schools to teach them techniques and skills for creating beach or nature sculptures. All enjoyed their workshops in their school grounds or a session at the beach, creating sculptures and artworks from nature, such as natural paint brushes, mini environmental sketchbooks, garden sculptures, moth puppets, etc.
Thanks to Mumbles Community Council for sponsoring these school workshops.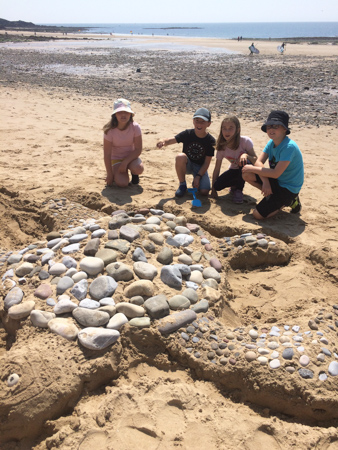 An environmental education through art
Seven pre-festival art and nature workshops were run in the summer term with Mumbles Primary Schools - Oystermouth, Grange, Newton, Whitestone, St. David's and YGG Llwynderw at either the beach or in their school grounds.
Bespoke term time Environmental Art workshops are available for schools and community groups - please contact us at info@artandeducationbythesea.co.uk for details and rates.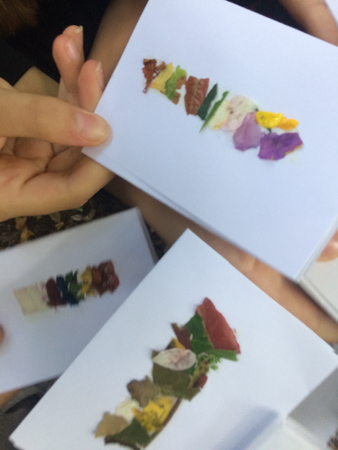 Colour palettes