Our annual Beach Sculpture Festival continued at Bracelet Bay in Mumbles, Gower. Prior to the event some pre-festival workshops were run with local Mumbles Primary Schools - Oystermouth, Grange, Newton, YGG Llwynderw and Whitestone to create some festival displays, banners and flags for the event. Bracelet Bay is a small bay on the south of the Gower Peninsula. It is the first bay one comes to after leaving Swansea Bay and rounding Mumbles Head. The bay has been awarded a Blue Flag Beach status which our art group has helped to achieve through its environmental art workshops here and it is also a beach that is Marine Conservation Society recommended. Surrounded by limestone cliffs the bay is pebbly, with some sand and affords good views of Mumbles light-house.The day of the festival was hot and sunny from the start and people eagerly arrived to work with the artists on making some interesting and thought provoking sculptures. Scroll down to view all...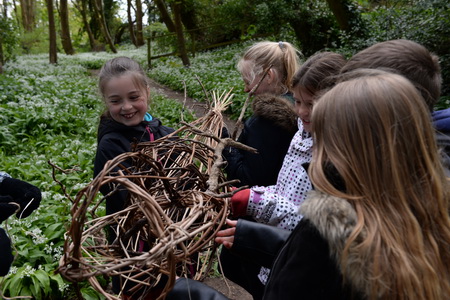 Workshop with Oystermouth school to make some willow birds for the festival site.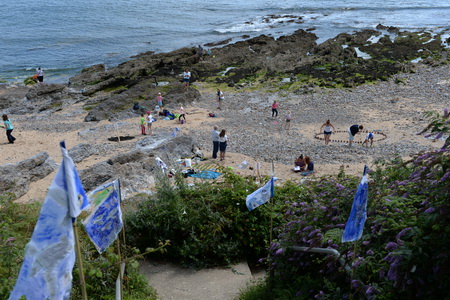 Festival site overview.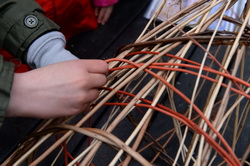 Willow weaving by the children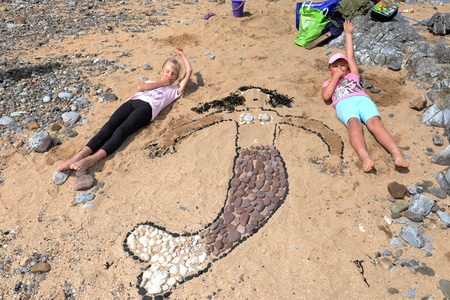 We love mermaids!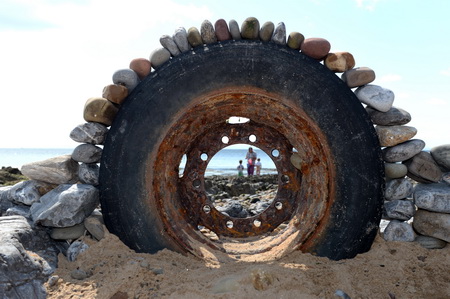 All a question of balance - interesting and thought provoking sculptures.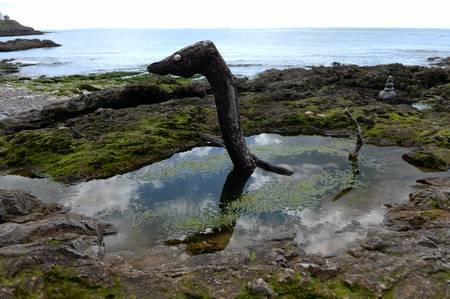 A sea creature looks out over the bay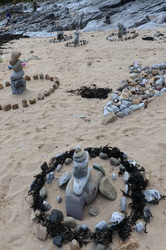 The beautiful different coloured pebbles were great for mosiacs on the beach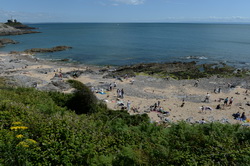 SAMPLE OF FESTIVAL MESSAGES FROM PARTICIPANTS
We enjoyed making a sea monster, a seahorse and stacked sculptures, as well as a baby monster! Our creativity was enhanced with the ideas and designs from the artists. We learnt that leather backed turtles are at risk. The festival was great as it got youngsters being creative and environmentally aware. Please go on with these delightful festivals. John Bettman, Tia and Cae Buse.
We made a mermaid and were very happy with the outcome. We had lovely ideas and encouragement from the artists and it was an excellent event for the children to learn about the environment. More of these please. Ella and Aimee, Mum and Dad Taylor
We made rock circles and were very happy with the outcome. My 4 year old daughter was encouraged and given useful suggestions whilst also developing her confidence and imagination. Environmental events like these are worthwhile because they're free, safe, encouraging and rewarding. The artists were very friendly and helpful. Cara and Sharon Pierce
We made a turtle family and we were very, very happy. Our creativity was enhanced through the festival with the use of colour and size of pebbles used and the artist also made the children some beautiful shell necklaces which they loved.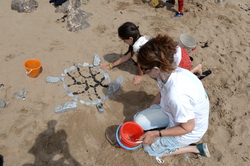 We found out about environmental aspects by handling sea weed, shells, pebbles etc. and comparing them. It was an excellent way of engaging children with the beach. It was great to see other children's environmental creations too. Georgia, Louis and Ava Morgan and grandparents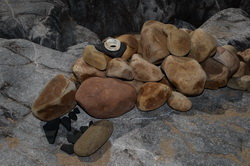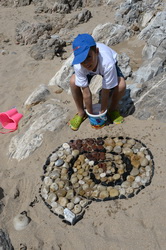 We made a windchime and a spiral shell and were very happy. Our creativity was enhanced through the festival with new ideas and inspiration of things to make on the beach. We found out about environmental aspects while at the beach by using natural materials and recycling. The festival is very good for creativity and is a good activity out in nature. Anna Watson and Nevin Balog
We made a scarecrow that turned into a merman! We had great fun being imaginative. The festival allowed parents and children to be creative together which we all enjoyed. Toby found out about the animals that lived in the different shells. Environmental events like these are very worthwhile as they promote the environment whilst having fun. More please. Nia, Gareth, Toby and Alana Thomas
We made a crab and were very happy with it. Events like the festival help to increase appreciation and respect for the seaside - more please. George, Kirsty Duffield and Clare Hazell.
We made caves in the sand which was very satifying. Our creativity was enhanced by playing with natural materials. We watched a seal in the water and learnt from the artists that it was a grey seal. Events like this are essential as we are becoming more disconnected with the natural world in this society. Bridget, Humphrey and Mark.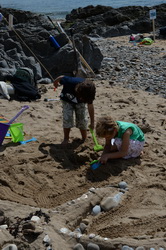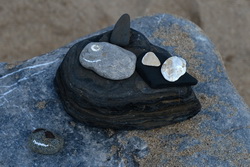 We made a ship and a shark and were very happy. We loved it - it was our second day doing it. The event was so beneficial to the children. Another great day, thank you. Adele and Jake Williams.
Our dolphin was great - it was a fantastic day out for the kids. Rose family
We didn't make any sculptures but we photographed them. Whilst at the festival, we found out about environmental aspects - ie. different types of shells used on the mermaid sculptures. Events like this are worthwhile because of the closeness to the seashore, sealife and beach contents. It was an excellent opportunity for all ages and abilities. John and Anne Pratley
We made a crab first thing which was a lot of fun and a good introduction to creativity on the beach. We found out about crabs and marine creatures in the UK. The festival was perfect and we wished that we had had more time to stay longer. 20 Chinese people visiting from Bejing.
We made a starfish which was a lovely activity that the children really enjoyed. Thank you. Phillips family
We loved making our mermaid going through a willow hoop! The children had some artistic differences but yes we were very happy with the outcome! The addition of willow weaving combined with sand sculpture was really nice. We saw a seal in the bay which we had not expected to see - lovely. Events like these are fantastic to make the best of what we have of our natural resources and beach spaces locally. Shira Badger, Ari Marchip and friend
We made towers of blanced rocks and reflections, amonite with stones and sea-weed, seahorse sculpture and 2 dragons! We were very happy and our creativity was given the go-ahead and appreciated. Children getting into creativity and finding out what they can do. Priceless!! We found out from the SBS/GLP species signs that there are long snouted sea horses in our seas here. Events like these are worthwhile as they help alleviate and counter our alienation from our environment and ourselves. Maybe you could carry on these festival days all year? Snow and Ice! Heather, John, Tia, Cae and Phil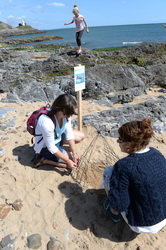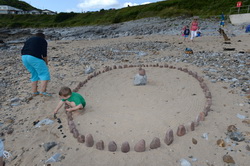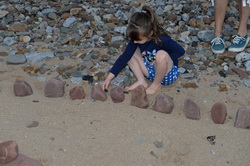 Thank you to everyone for making our annual sculpture festival such a success once again.
THANK YOU TO OUR KIND SPONSORS BELOW:
It was a fantastic day at the festival with brilliant sunshine, blue skies and lots of happy and creative participants. The artists were very pleased with the overall response from children and adults alike and the attendance was really good, particularly the involvement of adults in the activities and communication between generational groups. Participants seemed to be very aware of the value and importance of the site to their wellbeing. Bracelet Bay is a very good beach for these creative activities, with a great abundance and variety of materials available. Different species were identified and people learned about the different rock types. We also had the great experience of watching a huge male seal who was bobbing in the shallows. We had a pair of binoculars to appreciate him even more and shared them so the participants could get a closer look. The stone deposit was higher up the beach so it was a busier atmosphere with a lot of participants meeting and making together, which made for a great atmosphere.
Our planned finale of the festival at Blackpill Beach the next day was unfortunately foiled due to the torrential rain most of the day, although we did work with a family of five from Sketty who braved the bad conditions and made a turtle! We look forward to working there again next year instead, weather permitting.
Diolch to everyone from the artists for making it a wonderful festival year 2015!