Our 17th annual beach sculpture festival began at beautiful Caswell beach on the Gower Peninsula which was the first designated Area of Outstanding Natural Beauty in 1956, awarded for its fantastic coastal scenery and unique history and culture. Caswell beach holds both a Blue Flag and Seaside Award, achieved in part with environmental education activities such as our annual sculpture festival. Caswell Bay or Welsh Bae Cas-wellt (meaning straw fortress) is a sandy beach popular with families, holiday makers and surfers. The artists set up the beach with their flags, banners and marine species information posts to set the scene for a creative sand sculpting day with lots of eager and interested people of all ages. As well enhancing people's creativity and well-being, our intention was to give a sense of place and awareness of different marine species that are dependent on human understanding and care, helping to protect and sustain them in both present and future times. With extremely hot temperatures and the sun beating down, the artists and their participants were grateful for the stream running down the beach to cool hot feet and also to wet down the very dry sand to make the sculptures.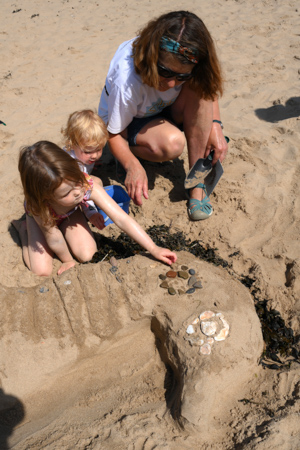 The children especially enjoyed thinking about the different materials they could use to create the features of the seahorse.
'Lovely session - the artists were very patient with our grandchildren'.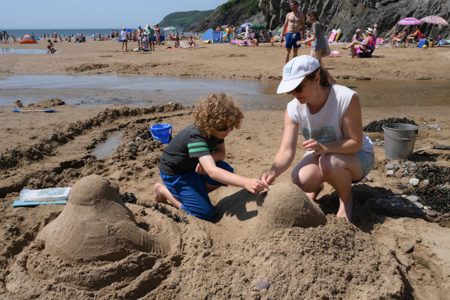 An environmental awareness for people was acheived - The artists discussed with them warming seas, plastic littering floating in the oceans and the huge knock-on effects on sealife.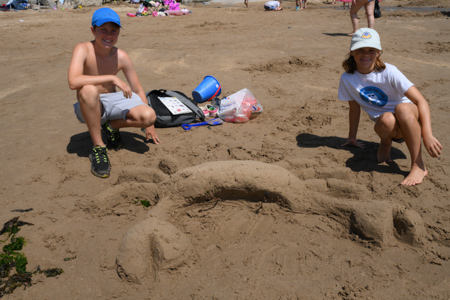 The Festival helped everyone to see the materials on the beach in a different light, whether it's the colours of the stones or playing with contrast between seaweed and sand.
'Creative, educational and fun for children'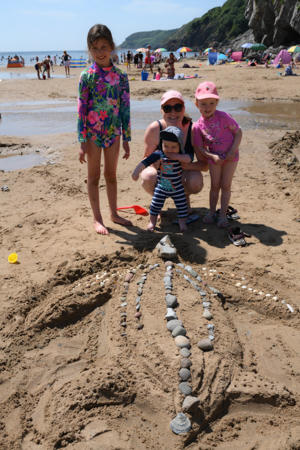 This family enjoyed creating a Leatherback Turtle with longitudinal lines on its shell and other distinctive features using selected gathered pebbles and shells on to a sand form. As the most frequently recorded turtle species in UK waters, the young people were amazed to learn that their length can be up to 2.91 meters.
'highly enjoyable'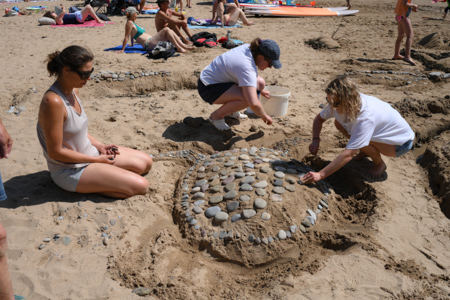 A lovely surprise to find you on the beach today! Thank you.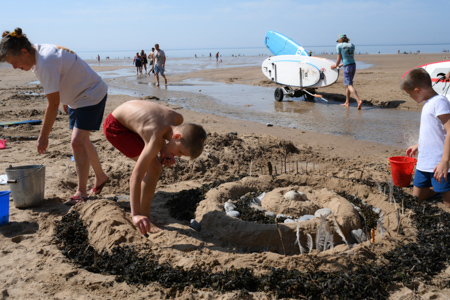 'Wonderful! Lovely Staff!'
'Brilliant activity'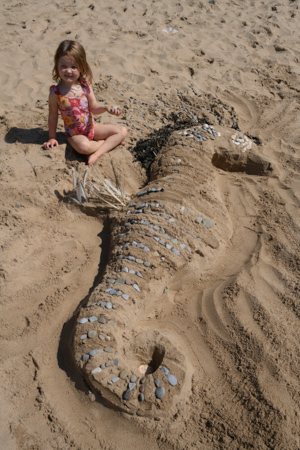 Using the Spiny or Long Snouted Seahorse found in UK waters as inspiration, this little girl enjoyed creating this sand sculpture. She found out lots of facts during the workshop, like seahorses can grow to a maximum length of around 15 cm to 17 cm and live in shallow, inshore waters in the warmer months of the year amongst rocks, mud, seaweeds and seagrass which they cling to with their tails, like a monkey.
The festival was very educational for kids and adults alike.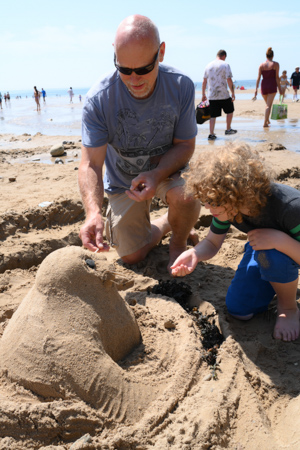 'The festival helps people re-focus on the natural environment. It was very enjoyable - we had lots of fun being creative with the artists'
'Really enjoyed being creative and heard some lovely comments from people on the beach! Thank you!'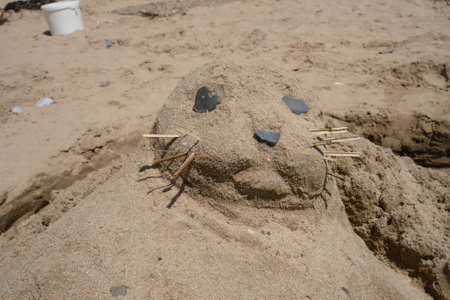 The seal sculptures made from sand and decorated with pebbles for eyes and nose with small sticks for whiskers were fun for children and families to make!
'So inspiring'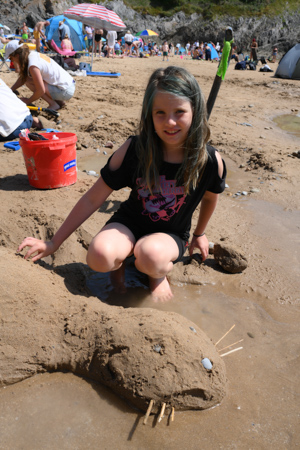 'Lovely experience - the children loved it!'
The first day of the festival had been a success and the artists folded away the flags and banners ready to take to Oxwich Bay the next day.
To see page 2 of 2021 Festival at Oxwich Bay- click the link at the bottom of this page.
I weld tudalen 2 o 2021 Gwyl Traeth Bae Oxwich - cliciwch ar y ddolen ar waelod y dudalen hon.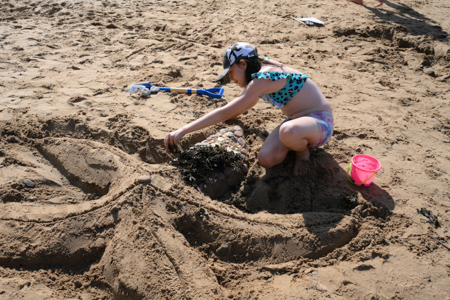 A starfish was an ideal sculpture to create from the soft sand on such a hot sunny day at Caswell.
'The artists were lovely and were very good with the children. They talked about nature and explained everything'.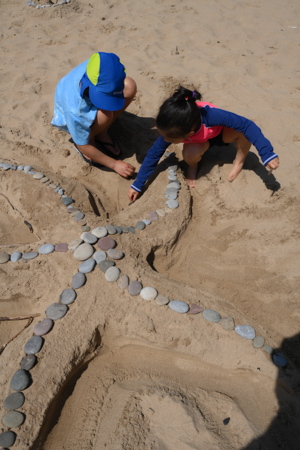 The different materials that were on the beach such as pebbles and shells were used to decorate this large scale Common Starfish sand sculpture. The pebbles the children gathered to use for decoration were placed in a pattern along its limbs. Instantly recognisable from its five-armed shape, they were amazed to find out that starfish can regenerate missing arms and the average size is 20cm across.
'The children really enjoyed themselves and were absorbed in the activity for ages'.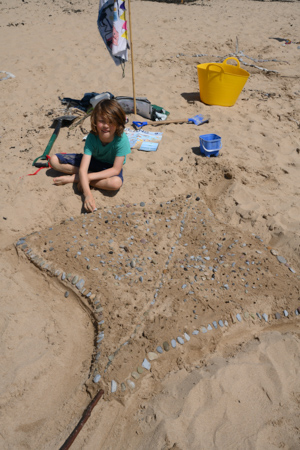 This young boy was very pleased with the beautiful ray sculpture he helped create.
'Absolutely delightful event'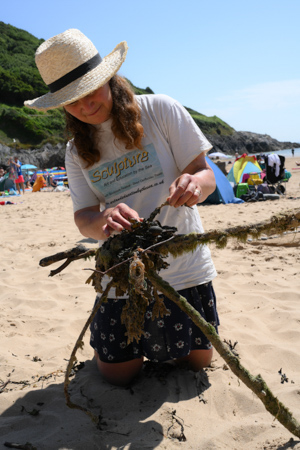 An engagement with nature using natural materials and ideas.
The children enjoyed working with the artists, smoothing the golden sand at Caswell to make beautiful large scale sculptures. Attention to detail was key to creating realistic features and it was great fun. People used their imaginations to utilise found materials and create interesting artistic works that were fun and ingenius!
'Festivals like this encourage young people to be creative and learn more about wildlife and the environment'