Our 19th annual Beach Sculpture Festival journeyed towards Swansea for the finale day at Blackpill Beach. This sandy beach is a great place to find exquisite shells of different sizes, shapes and colours plus other materials that can be used to make interesting and beautiful sculptures. Blackpill beach is a great place to birdwatch too, especially the migratory wader birds that overwinter here and work the tide to catch their favourite food. The birds are always inspiration for the sculptures that are created at Blackpill and the festival actively promotes the birds in the bay as well as other marine animals, such as turtles, seals, crabs and octopusses in our seas. It is always a fun and educational event.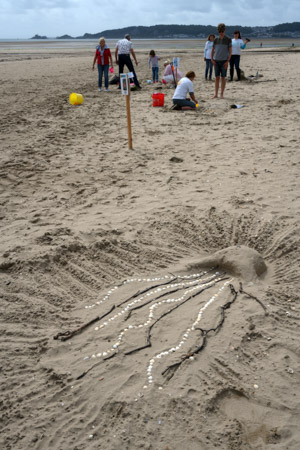 We were extremely happy with the jellyfish we made from sand and pebbles. Environment art events like this are excellent for personal devleopment.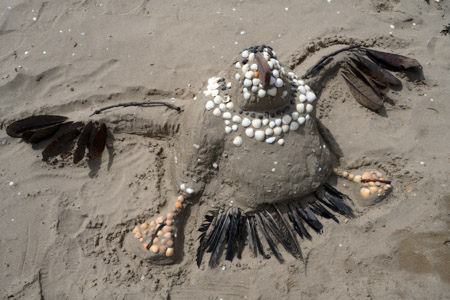 A delightful puffin is created from sand, feathers and shells.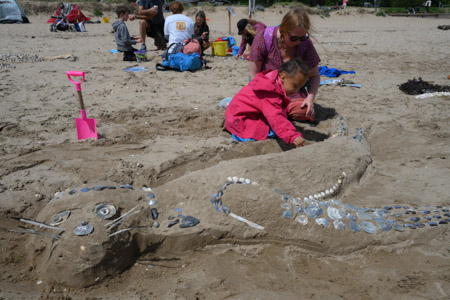 Very therapeutic! Thoroughly enjoyed - thank you!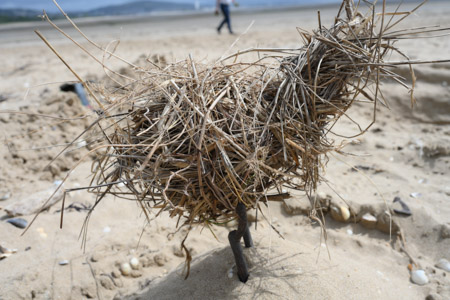 Diolch - nice event!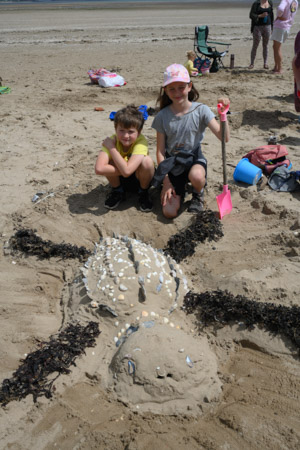 Fantastic idea. Loved the use of shells and stones!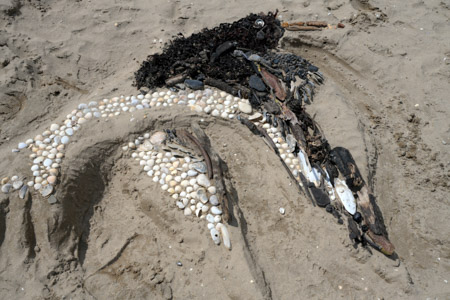 Oystercatcher fun using shells, feathers and other found objects on Blackpill Beach.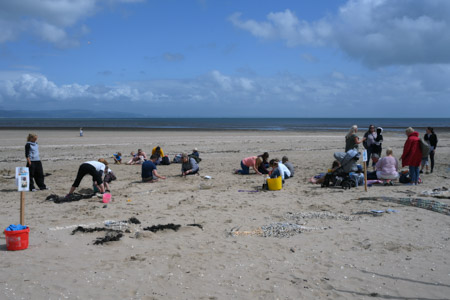 Everyone was very involved using the techniques, processes and development of ideas that the artists shared at the festival.
At the festival we learnt different bird names and about leatherback turtles in UK waters, as well as discussing issues like climate change.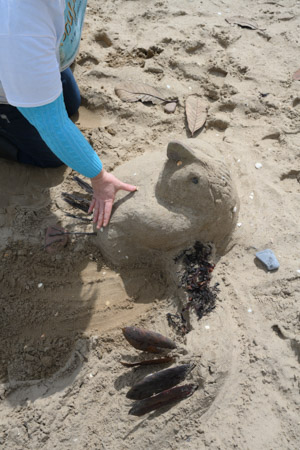 Thank you! Lovely art!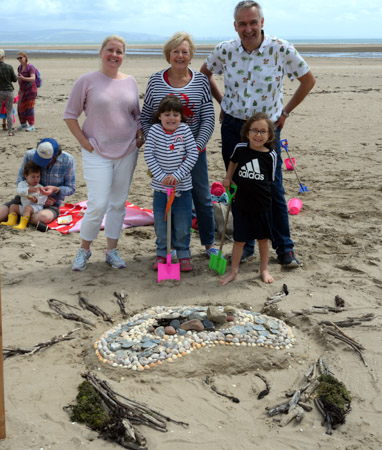 Great event enjoyed by the whole family!
Using different coloured selections of shells, participants created some really diverse pieces of work.
Absolutely beautiful! So happy to have come!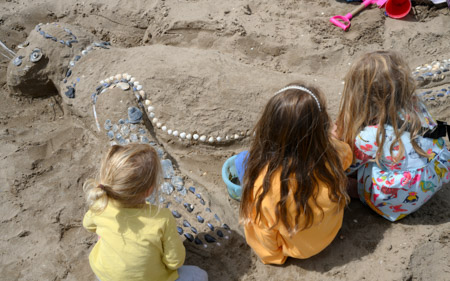 Our daughters LOVED this - thank you!
Amazing experience - the girls loved working with the artist and want to do more!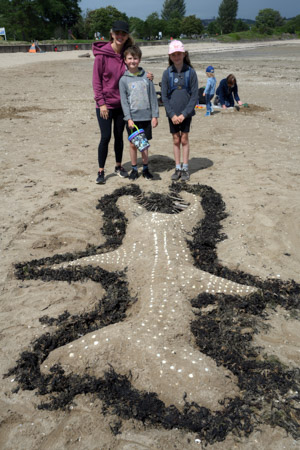 Thank you to everyone for making our annual Beach Sculpture Festival on Gower and Swansea such a success once again.
Next year we will celebrate our 20th annual Beach Sculpture Festival so we look forward to an even more successful event in 2024. See you there!
THANK YOU TO OUR KIND SPONSORS FEATURED BELOW:

Diolch i bawb am wneud ein gwyl cerflunwaith flynyddol mor llwyddiant unwaith eto.
DIOLCH I'N EIN HYRWYDDION SY'N GWYBODAETH BOD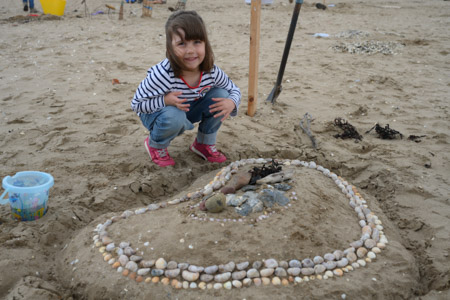 This event is amazing - thank you!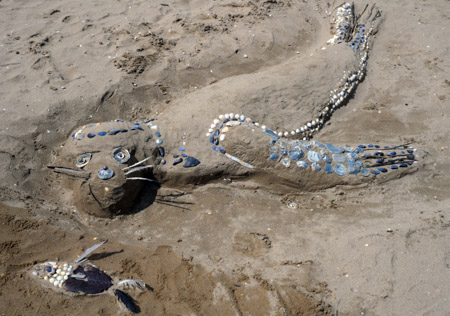 A seal sculpture chasing a fish was a fun sculpture to create with several groups of people.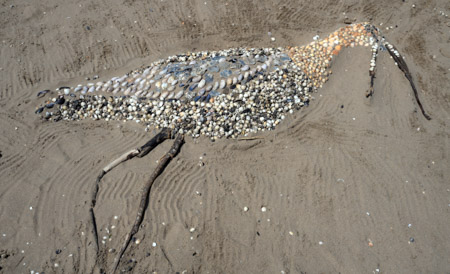 A beautiful Curlew bird mosaic artwork. The plumage was an interesting activity for people to engage in using the many different shells on this beach. These art works highlighted the bird life in the bay such as migratory wader or shore birds like the Curlew. As well as making sculptures based on these birds, people enjoyed collecting and identifying shells such as oyster, cockle, welk, mussel, slipper limpet, etc. which are the food of the birds here.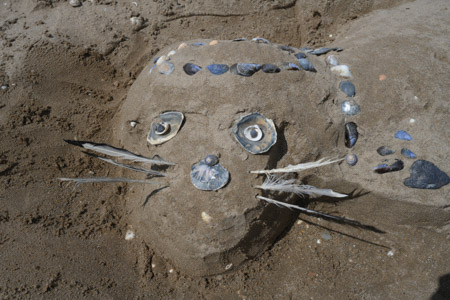 We had a lovely time at the festival. The atmosphere was lovely and there was some wonderful art made!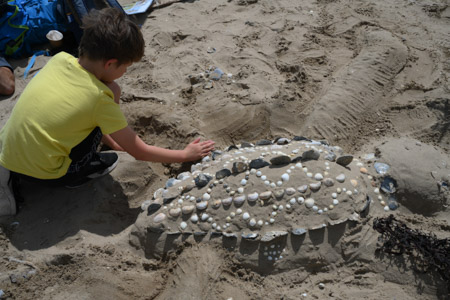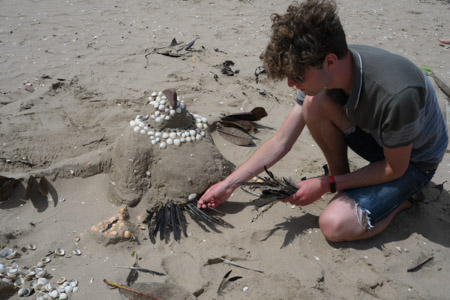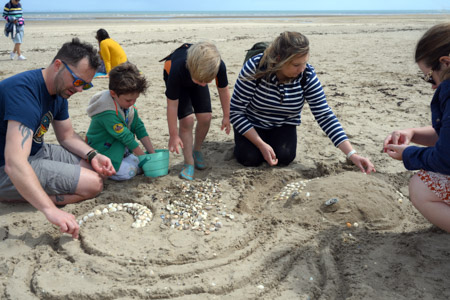 Our participants' creativity and well-being was enhanced through the festival workshops. Each year there appears to be a deeper appreciation of our exciting environmental arts festival with more people wanting to understand the natural world. So many families and individuals the artists worked with were so grateful for an activity that was creative, nature based, educational, that the whole family could do together and was free.