Our 17th annual Beach Sculpture Festival journeyed towards Swansea for the finale day at Blackpill Beach. Black Pill Rock Beach forms part of the vast expanse of sand and mudflats that make up Swansea Bay. The River Clyne enters the sea along this stretch of the bay, which is approximately midway between Mumbles Pier and Swansea Marina.This bay beach is a great place to find driftwood, exquisite shells of different sizes, shapes and colours plus other materials that can be used to make interesting and beautiful sculptures. Blackpill beach is a designated site of special scientific interest (SSSI) due to the rare birds that overwinter here. In particular, the Ringed Plover and the Sanderling, wader birds that work the tide to catch their favourite food. The birds are always inspiration for the sculptures that are created at Blackpill and the festival actively promotes the birds in the bay. Using different coloured selections of shells, participants created some really diverse pieces of work. They were enthused about their own work and also about what others had made around them.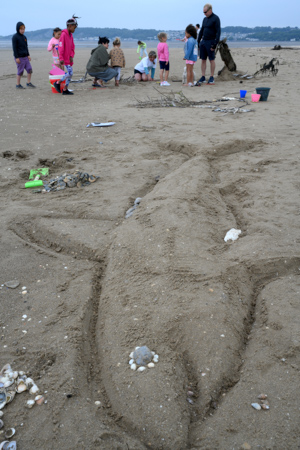 The outline of a large Great White Shark is drawn in the sand and moulded into shape before decorating it using found materials on the beach, such as pebbles, shells etc.
'Fabulous outdoor activity!'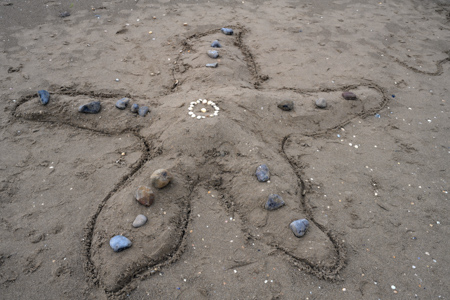 A large scale starfish sculpture was drawn up, dug out and decorated to adorn the beach. Cockle and Oyster shells were used to create the texture and markings of the starfish, which are abundant on Welsh beaches. Being gregarious they are likely to come ashore in their groups and their favourite food is mussels.
'Brilliant fun! We thoroughly enjoyed it!'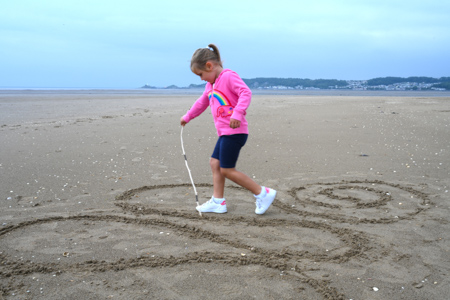 Drawing in the sand is a wonderful way of expressing yourself and is the start of a sculpture!
People enjoyed discussions with the artists about the birds and everyone was inspired by the birdlife around the coast and especially the SSSI site at Blackpill. Visual resources were available to help identify species.
'Lovely to see such creativity open to all'!
The artists enjoying listening to people's thought processes about the environment around them, it always interesting to see how others decorate their arts works to bring meaning to their pieces.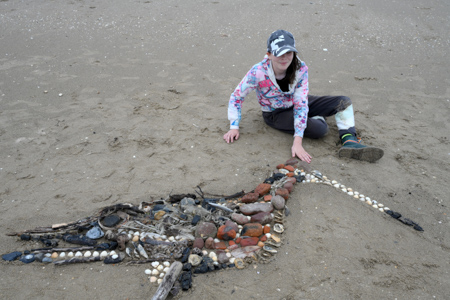 Making a beautiful bird sculpture based on the Bar Tail Godwit, a wader bird, using driftwood and shells was very much enjoyed by lots of young people. They learnt about the different shells on the beach as they explored and gathered them in buckets. Participants were absorbed in foraging for the right object, exploring and sharing narratives to their found objects. Participants where visually wowed by the spectacle of sand art.
For the Love of Birds
The beach at the end of the day was a visual mosaic of foraged and sculpted sea birds, and the discussions around their precarious lives shared throughout the day.
'Excellent Event! A new vision of our local beach. How every day found items can be used to make such beautiful art! We loved it!'
Our participants' creativity and well-being was enhanced through the festival workshops. Everyone was still involved using taught technique processes and developing ideas even when the event had finished!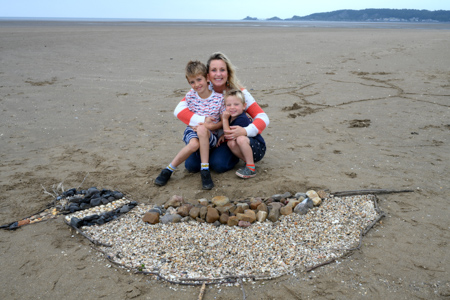 A beautiful Ringed Plover bird is created at Blackpill by this happy family. They used different coloured and shaped shells to create a beautiful mosaic artwork. Perserverence in collecting and placing the shells and attention to detail was the key to creating something so exquisite. The Ringed Plover is a small bird that has been recorded regularly at Blackpill helping to give the beach its SSSI status. The Ringed Plovers nest on the ground in an open area with little or no plant growth. They have a grey-brown back and wings, a white belly, and a white breast with a black neckband. They have a brown cap, a white forehead, a black mask around the eyes and a short orange and black bill. The legs are orange and only the outer two toes are slightly webbed.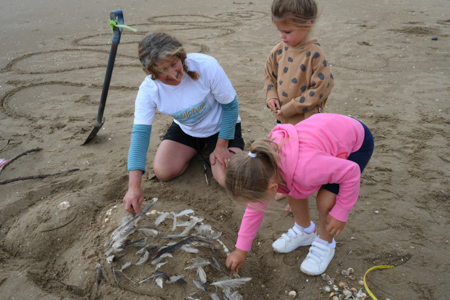 'Fantastic experience - thoroughly enjoyed it. We found it both inspiring and fun!'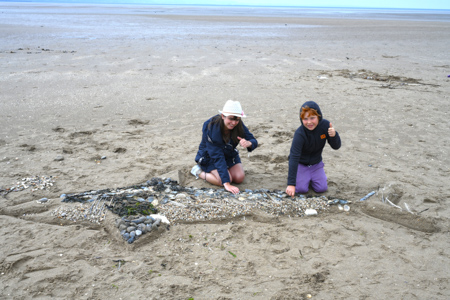 The finished shark had a large assortment of found materials used to create its textures and characteristics. The festival brought opportunities to share ideas, collect and place resources enabling participants to feel part of a community. Attention to detail was paramount.
'We came to the Festival again and they loved it as much as ever!'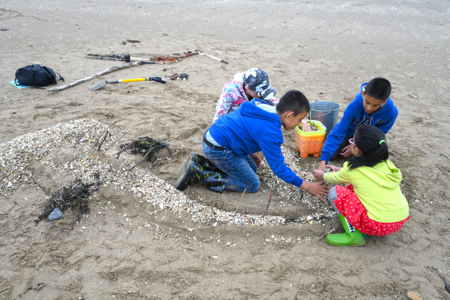 'Beautiful Sculptures - our children loved it!'
An engaging activity for everyone and a great opportunity to learn new skills and techniques for making beach sculptures.
'The festival is an outdoor imaginative achievement!'
'Positive, Lovely, fun, engaging, Happiness!'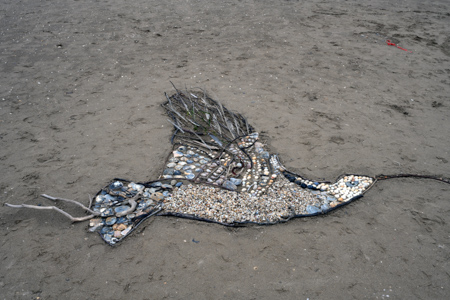 A beautiful Curlew bird sculpture is made. The plumage was an absorbing activity for lots of people to engage in using the many different shells on this beach. These art works highlighted the bird life in the bay acting as a reminder of their existence to passers-by. Many participants didn't realise it was a SSSI for migratory wader or shore birds like the Curlew so we showed them images of the birds and they enjoyed bringing them to life through collecting and making the sculptures. They enjoyed identifying shells too, such as oyster, cockle, welk, mussel, Slipper Limpet, etc. which are the food of the birds here.
Thank you to everyone for making our annual Beach Sculpture Festival such a success once again.
Look forward to seeing you again next year!
THANK YOU TO OUR KIND SPONSORS FEATURED BELOW:

Diolch i bawb am wneud ein gwyl cerflunwaith flynyddol mor llwyddiant unwaith eto.
DIOLCH I'N EIN HYRWYDDION SY'N GWYBODAETH BOD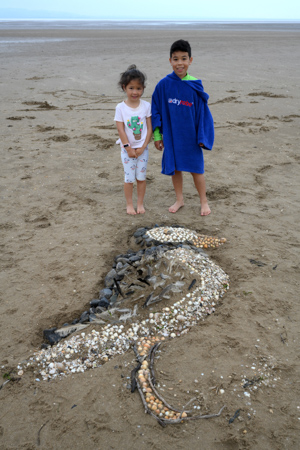 A puffin bird is not often seen on Swansea Bay but these youngsters were keen to make a sculpture based on one! What a great job they made with both design and making skills.
The Shell
And then I pressed the shell
Close to my ear,
And listened well.
James Stephens 1882-1950
Listening to the sound of the sea in a shell is something everyone should do, whether young or old!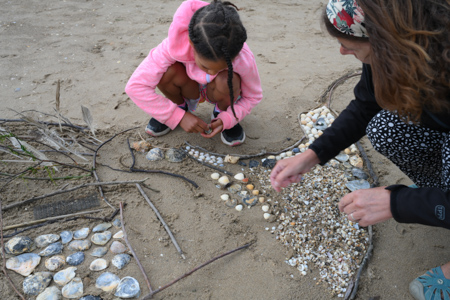 All ages enjoyed working collaboratively alongside artists and members of their groups. They were impressed by each other's and expressed how making the sculptures had opened their eyes to the variety of shoreline resources to be creative with as well as noticing the sea birds present on the far shore.
'The Festival is an amazing experience each time we take part!'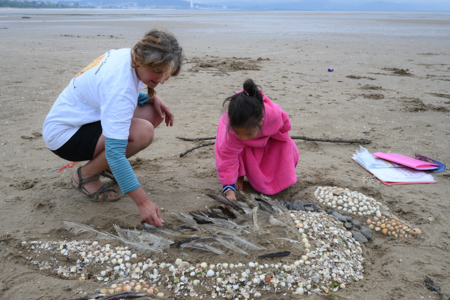 Our participants' creativity was enhanced by developing new ideas and approaches in the work. ownership of the sculpture and more of an understanding of respect for the marine and beach environment.
'Lovely event!'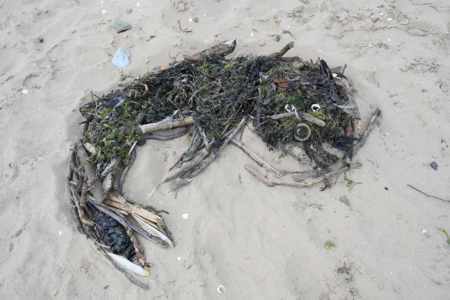 A dear little baby seal is made from different materials found on the beach
The temporary sculptures were admired and prompted conversations about environmental art and it's ephemeral nature.
'Lovely to make the most of the coast!'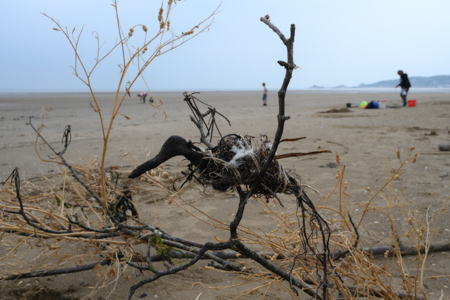 Education for local environment - wellbeing!