Our annual beach sculpture festival, now in its 15th year, continued its journey to it's next venue at the wonderful Oxwich Bay in the south of Gower. Oxwich Bay is the second largest beach on Gower and it's landscape features sand dunes, salt marshes and beautiful woodland which is particularly rich in wild flowers.As the artists arrived to set up the site for the day, the water sparkled and glistened invitingly and a wonderful day making art looked promising. Oxwich beach is always a very popular venue for our annual sculpture festival and with the high pressure weather continuing,lots of families arrived eager to work with the artists and create some beautiful and inspiring sculptures based on marine species.
...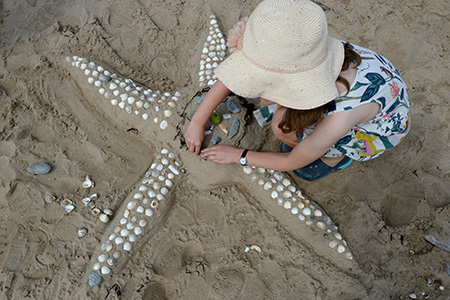 A beautiful starfish is moulded from the soft sand and then decorated with shells and pebbles collected on the shore.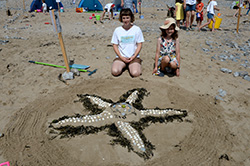 The finished work of sea shore art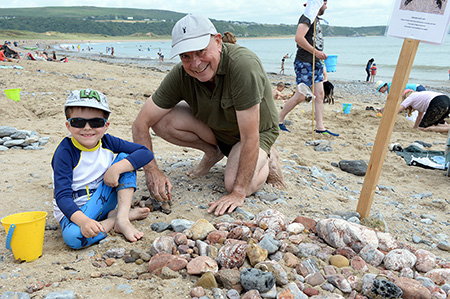 It was a wonderful way for Rob to spend his 70th birthday with his grandson Tomos making a crab from the red coloured pebbles found on the beach.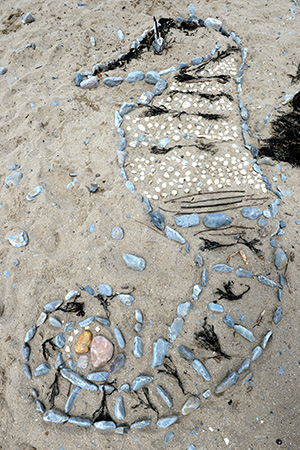 A large scale seahorse is made from different materials such as pebbles, seaweed and shells.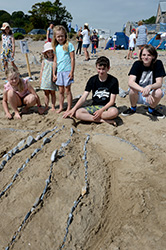 This family enjoyed creating a Leatherback Turtle with longitudinal lines on its shell and other distinctive features.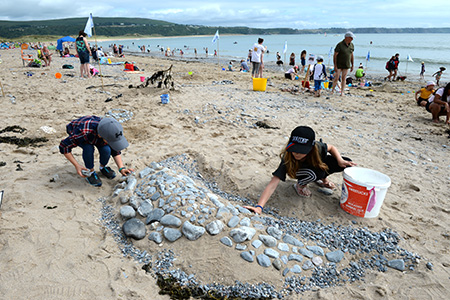 Using a variety of materials such as sand and different sized limestone pebbles to create a grey skinned dolphin was a fun and absorbing task for these youngsters.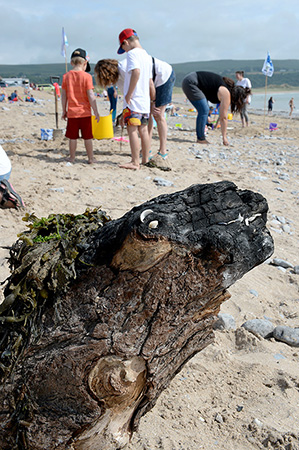 All types of materials, including an old washed up burnt log, were used in the creation of different sculptures such as this sea animal viewing the festival proceedings!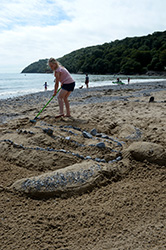 Finishing touches to the background of the turtle were made using a rake, demonstrating the different tools used in the art of sand sculpture.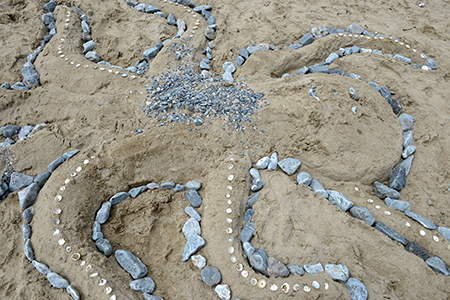 Large interactive sculptures such as this octopus madefrom a variety of found materials such as sand, limestone pebbles and shells were created by the artists and festival people, providing a fantastic opportunity for creative and imaginative play all day for all ages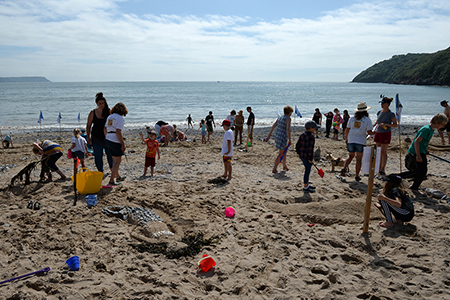 The artists provided visual resources and written infomation about different species to ensure extra knowledge for participants whilst they helped to create the sculptures. Everyone enjoyed working on the larger creations and being given tasks such as collecting different materials to make the sculptures.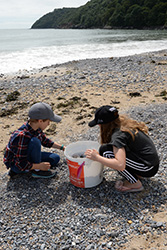 There was open discussion with regards to the Gulf Stream and flow of jellyfish and turtles. people were interested to talk about what they knew and gain new knowledge about local marine life. It was great to see that a lot of people had returned from last year to have a go again to create beach sculptures. Some of them returned to look at the eclectic spectacle of sculpted forms on the shoreline later in the day.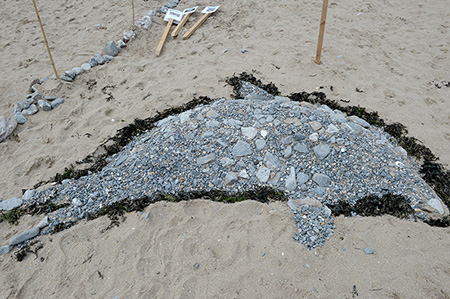 The finished dolphin or harbour porpoise was surrounded by seaweed to make it stand out from the sand background.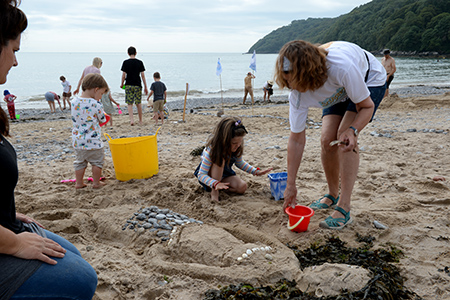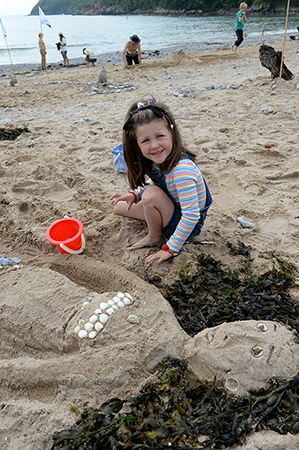 Making a mermaid is always popular with young children - learning through play encourages creativity and an enhanced sense of well being.
SAMPLE OF FESTIVAL MESSAGES FROM PARTICIPANTS
SAMPL O WYBODAETHAU GAN GAN Y CYFRANOGWYR
We made a seahorse which we were delighted with. We didn't realise how many beautiful different rocks there were on the beach! Environmental events like this are great as they encourage everyone to get outdoors and play with nature. It was very relaxed atmosphere - perfect day! Dakota, Clare, Dai and Odesza Mush
Our dolphin was beautiful and our creativity was enhanced through the workshop as we were happy and more confident making art. Environmental art events like this are very worthwhile as it brings people together and the results help educate other people too. There are not enough arts going on in Gower. Nicola, Sasha and Lisa
We made a unicorn and a seahorse and we were absolutely happy with the outcome. Both the artists we worked with were very helpful, talented and knew how to make the sculptures look even better. Events like this are definitely worthwhile as they teach us how to have fun and be creative as well as reminding us how plastics and man made waste are dangerous to the wildlife. The children leanrt so much about our different wildlife whilst they were making the sculptures. The day was brilliant and the sculpture team need to be further supported so they can pass their expertise and fun creative ideas on schools, playschemes etc. Children will definitely benefit from their ingenius ideas and activities. Leanne Hughes and family
We made a mermaid which was brilliant. It gave us lots of ideas of things to do down the beach. Events like this raise awareness about environmental issues. Amazing day! Millie Finn and Rachael
Making our starfish and mermaid taught us a lot about the environment and how to use our imagination. The festival teaches children and adults about local and worldwide marine culture. Leli and Anna Marie McColgin, Lowri Robbins and mum
The art of sculpture
Thank you to everyone for making our annual sculpture festival such a success once again.
THANK YOU TO OUR KIND SPONSORS BELOW:
Celf cerflunwaith
Diolch i bawb am wneud ein gwyl cerflunwaith flynyddol mor llwyddiant unwaith eto.
DIOLCH I'N EIN HYRWYDDION SY'N GWYBODAETH BOD: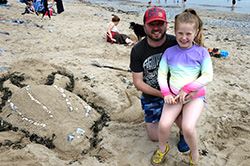 Its always nice to see peoples horizons challenged and encourage them to use new materials. Creativity was enhanced for not only those who participated but also for people who were just passing and enjoying what was happening. The more involved the younger participants became, it encouraged the adults to take part too. During sharing and allocating activities there was a lot of positive discussions shared. Lots of groups of people walked around the mass of creative works on the seashore,before retreating to their own space to formulate their own ideas. It was great to see how proud they were of their finished pieces.
To see page 3 of 2019 Festival at Port Eynon Beach - click the link at the bottom of this page.

I weld tudalen 3 o 2019 Gwyl Traeth Port Eynon - cliciwch ar y ddolen ar waelod y dudalen hon.