Our annual beach sculpture festival, now in its 15th year, continued its journey to Port Eynon Bay, the most southerly point of the Gower Peninsula. Port Eynon Bay is safe, sandy and also suitable for watersports. A derelict "salt house" used for extracting salt from sea water is located just off Port Eynon Point. The beach was voted the Best British Beach in the 2011 Great British Beach Awards. Port Eynon Bay is a very popular beach resort and has a Blue Flag which was achieved in part by environmental education activities on the beach such as our Beach Sculpture Festival.The high tide at midday added to the atmosphere and was great to cool everyone down in the hot summer sun as well as making collecting water for the sculptures much easier!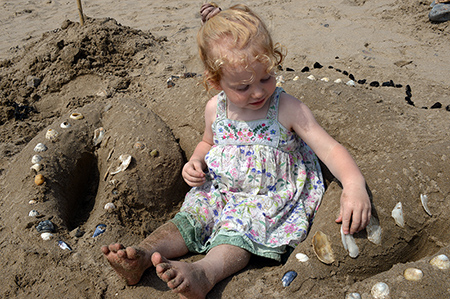 A crab sculpture becomes a lovely seat for a young girl who enjoyed adding her collected shells to the claws.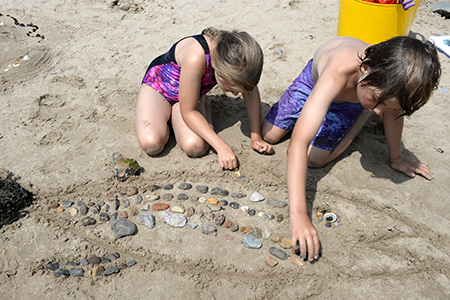 Young participants learnt how to draw designs into the sand and use collected pebbles and other treasures to decorate and bring it to life!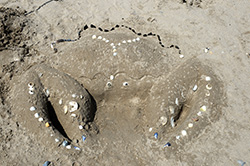 A shore crab is sculpted from the sand and decorated with shells.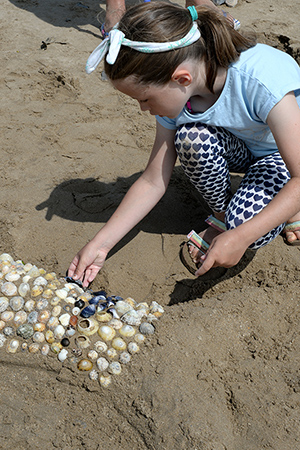 Making a pattern with shells to decorate the tail of a sea creature
Participants learnt lots of new skills through the festival with the knowledge how to create sculptures from the artists.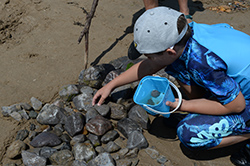 Learning about textures, colours and shapes when constructing a sculpture - this youngster is totally absorbed in the activity.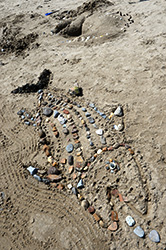 Something fishy going on!
Participants enjoyed working on the sands surface, and collecting natural resources from the shoreline.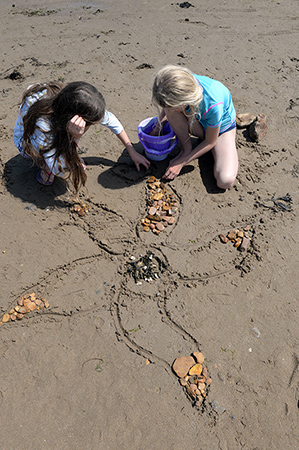 A beautiful starfish is created using the wonderful butterscotch coloured pebbles found at Port Eynon Beach-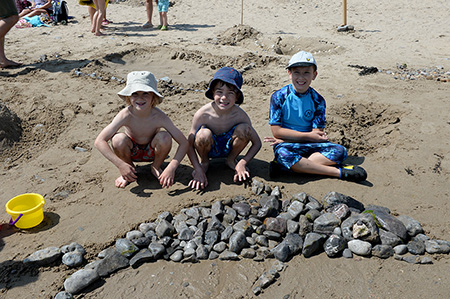 The beautiful dolphin sculpture made from collected rocks was a real achievement for these smiling boys!
An environmental awareness about the beach and its marine life was achieved during the day through conversations with the artists. The fossilised trees at this beach were visible as the sands were low at tide level. People were interested to look and talk about past environments at Port Eynon beach and the Gower headland. Everyone shared the known knowledge and were interested to learn new thing sabout the marine life.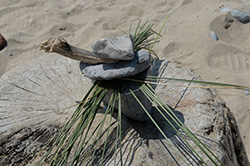 Using a variety of materials to make interesting and thought provoking sculptures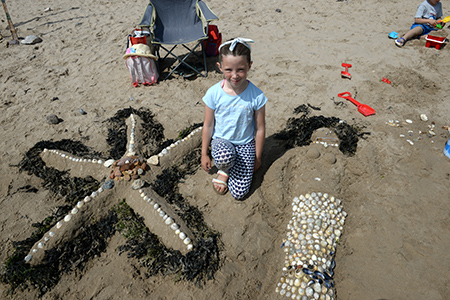 Intricate sculptures and designs engaged all ages working together - what an achievement!
There was a lot of joy with the creative explorations with many participants saying that seeing and making different sand sculptures had given them inspiration to visit beaches more, and develop new ideas with their families.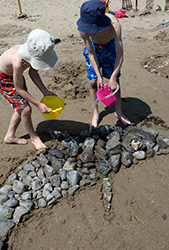 Washing the rocks down makes the sculpture shine and sparkle.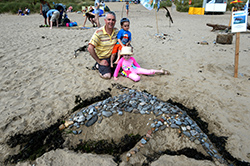 Selecting all the grey pebbles to make a lovely dolphin and learning all about it while creating it.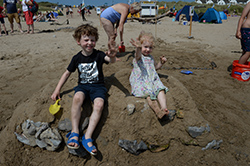 Whilst creating participants shared their ideas of their vision of the sculpture adding stories to the object. Participants enjoyed exploring the shoreline looking for resources.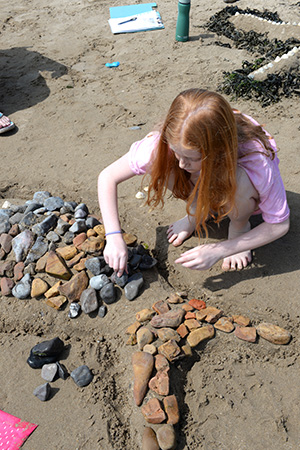 SAMPLE OF FESTIVAL MESSAGES FROM PARTICIPANTS

SAMPL O WYBODAETHAU GAN GAN Y CYFRANOGWYR
We made a dolphin which we were very happy with. We gained an understanding of how to start a sculpture and basic techniques. We also found out about local marine life. Events like this are very worthwhile as they engage children in art/science/environment enhancing motor, thinking and creativity skills. The results surpassed our expectations! James, Charlotte, Selina and Dave Still
We were very pleased with the turtle we made. The artists captured the children's imagination, encouraging them to learn about different natural materials. We learnt about different types of seaweed and turtles. Environmental Art Festivals like this are absolutely worthwhile - this is our 2nd year of coming and we look forward to the next one! Thank you we loved it! Kelly and Tomos Austin
I brought a group of 10 young people to work with the artists and they created a giant Seatee which they were very happy with. It was a brilliant day that engaged the young people. Becky Mullins and group
We made a seahorse which was lovely. It was something different and interesting for the children to do on the beach. Sinead, Portia and Nathan
We made several sculptures with the artists such as a fish, crab and mermaid and we were absolutley delighted with the outcome. Discovering how materials found naturally in the environmnet could used was facinating. We found out about environmental aspects at the festival by inspecting shell shapes and sizes and thinking about why they lined at the shore. Events like this are worthwhile as they harness creativity about our natural world. Everyone was so friendly and my children loved interacting with the artists. Brodie and Connie Allister and Kellie Allsopp
We loved making a starfish and a mermaid which we were very happy with. The artists helped Imogen to build and develop her ideas further. Festival like this help young people'd appreciation of seaside environment and the nature there as well as developing their creativity. Great combination. Rebecca Stevens and Imogen Ferguson.
We made some rock balancing sculptures and freestyle sand castle art which we were very happy with. Our creativity was enhanced because we were encouraged to experiment and take our ideas further from the world if we were on our own. We learnt about different names of shells and the environmental impact of humans. Events like this are definitely worthwhile as they encourge people to take part in things together but also not have play that creates any environmental impact. It was a lovely relaxed and creative day. Beth, Jo, Ruby, Pip, Betty and Bo
Thank you to everyone for making our annual sculpture festival such a success once again.
THANK YOU TO OUR KIND SPONSORS BELOW:
Diolch i bawb am wneud ein gwyl cerflunwaith flynyddol mor llwyddiant unwaith eto. DIOLCH I'N EIN HYRWYDDION SY'N GWYBODAETH BOD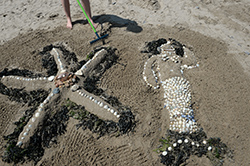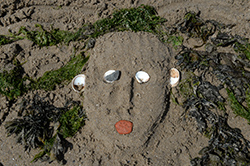 A wonderful day making sculptures brought everyone together.
Families working together felt confident to take their own ideas further and create their own masterpieces on the beach today and in the future.
To see day 4 of 2019 Festival at Bracelet Bay- click the link at the bottom of this page

I weld gwyl dydd 4 o 2019 yn Bracelet Bay- cliciwch ar y ddolen ar waelod y dudalen hon