Our annual beach sculpture festival continued its journey from south to West Wales. The stunning Pendine beach was the venue for our last beach sculpture event of summer 2019. Pendine Sands is 7 miles (11 km) of beach on the shores of Carmarthen Bay which is a Special Protected Area and European Marine Site. The beach is also famous for land speed records.
Although a initially a wet start, the rain cleared and the day was very busy with creativity.The receeding tide revealed more materials to work with as the day progressed. The wonderful sculpture trail could be viewed from high upon the cliffs and the sea wall, highlighting our wonderful marine species.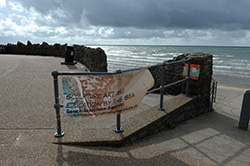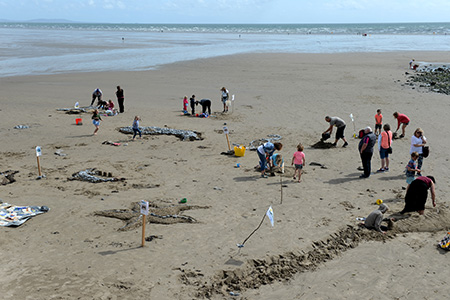 The receding tide revealed a blank canvas for creativity and further materials. It was a chance for us to work bigger and more elaborately with a large range of marine creatures and a mermaid.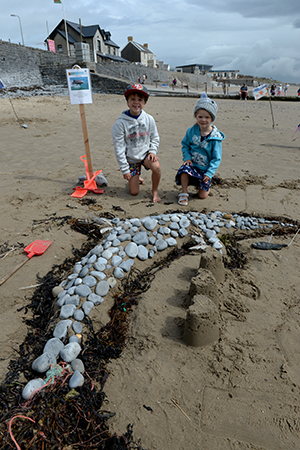 Created with love, a precious pebble dolphin leaping over 3D sand hearts.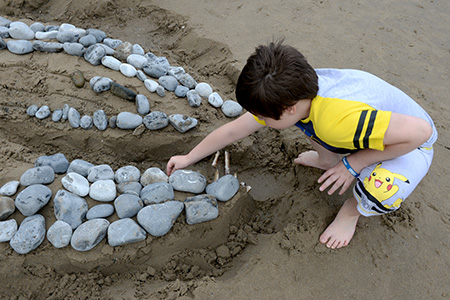 Careful precision and patience. The final touches to the first giant whale we have seen on Pendine beach!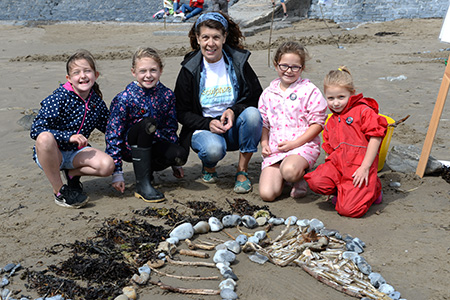 The team of makers, after collecting and organising the rich and varied materials discovered on Pendine beach to create a magical seahorse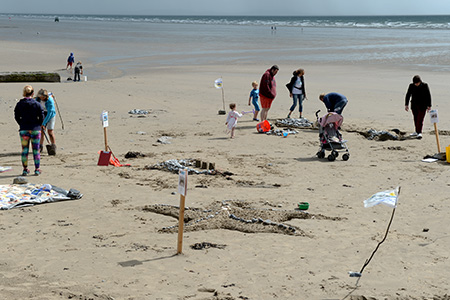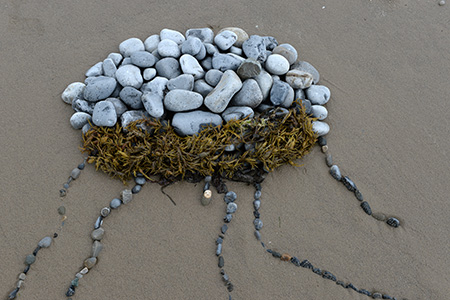 Our very own species of friendly jelly fish. Neatly created from beach finds.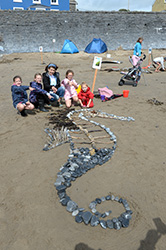 Full view of the spectacular seahorse. Ready to swim away with the high tide!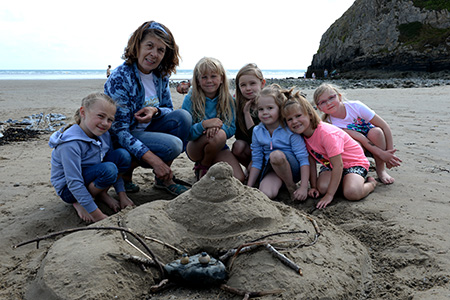 We were all inquisitive about this hermit Crab we found on the beach.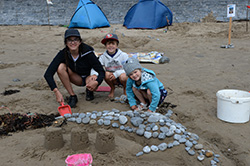 Dedicated team creating a Dolphin to swim out with the tide. Hoping to meet with further dolphins from just off our coast.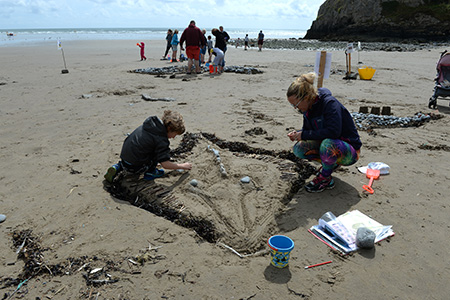 Creating a Ray, learning about the amazing texture and form of this incredible creature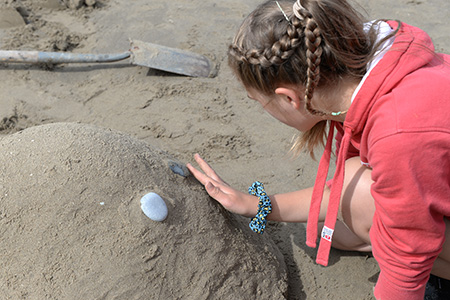 Nothing short of perfection will do for this giant puffer fish.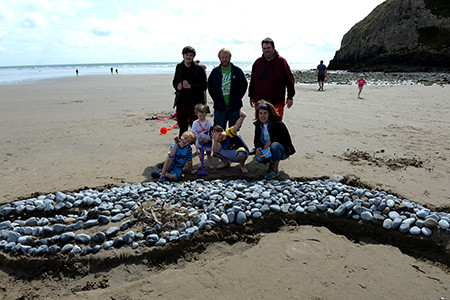 Wonderful giant whale.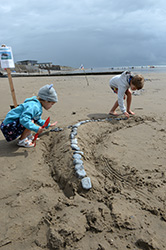 Carefully shaping the Dolphin before adding color and texture.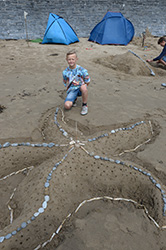 Has this big star fish wandered on the beach from the nearby rock-pools? Created using sand razor shells and pebbles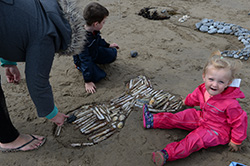 Razor shell fish. What an amazing discovery on Pendine beach!


A truly fascinating and inspiring location with such creative participants. Thank you to all who took part making our first event at Pendine beach a success.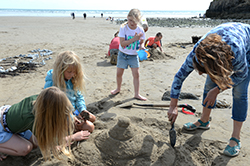 Listening to the sound of the sea in a shell is something everyone should do, whether young or old!
Thank you to everyone for making our annual sculpture festival such a success once again.
THANK YOU TO OUR KIND SPONSOR
Pendine Community Council

Diolch i bawb am wneud ein gwyl cerflunwaith flynyddol mor llwyddiant unwaith eto.
DIOLCH I'N EIN HYRWYDDION SY'N GWYBODAETH BOD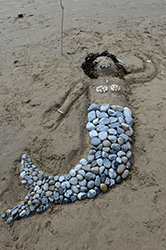 Farewell from the mermaid, see you again next year! It was a wonderful final finale to the 15th year of the Beach Sculpture Festival. The artists packed away their equipment, and reflected on yet another successful year!