Our annual beach sculpture festival, now in its 15th year, journeyed towards Swansea for the finale day at Blackpill Beach. This bay beach is a great place to find driftwood, exquisite shells of different sizes, shapes and colours plus other materials that can be used to make interesting and beautiful sculptures. Blackpill beach is a designated site of special scientific interest (SSSI) due to the rare birds that overwinter here. In particular, the Ringed Plover and the Sanderling, wader birds that work the tide to catch their favourite food. The birds are always inspiration for the sculptures that are created at Blackpill and the festival actively promotes the birds in the bay. The artists carried on the bio-diversity theme and drew up a large interactive rock pool shape in the heart of the beach.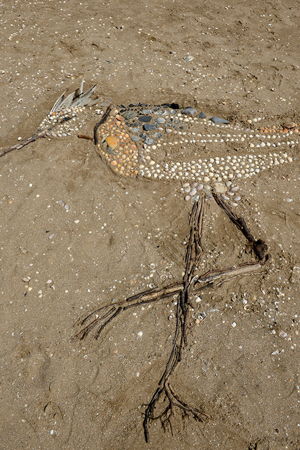 A beautiful Curlew sculpture is made. The plumage was an absorbing activity for lots of people to engage in using the many different shells on this beach. Some of the art works highlighted the bird life in the bay. Making art works relating to the birds acts as a reminder of their existence to passers-by. Many participants didn't realise it was a SSSI for overwintering birds so we showed them images of the birds and they enjoyed bringing them to life through collecting and making the sculptures. They enjoyed identifying shells too, such as oyster, cockle, welk, mussel, Slipper Limpet, etc. which are the food of the birds here.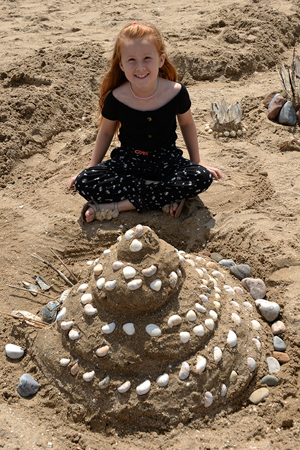 This young lady was delighted with her creation of a hermit crab in a tower shell made using a simple but effective technique of using sticks as armature.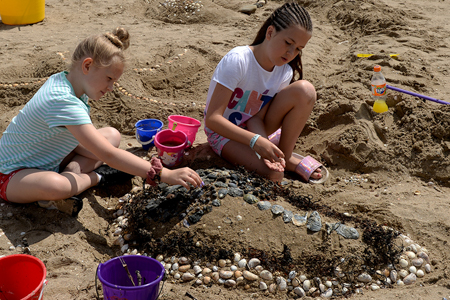 Two friends work on a large scale site specific sculpture of a mussel shell for the festival "rock pool".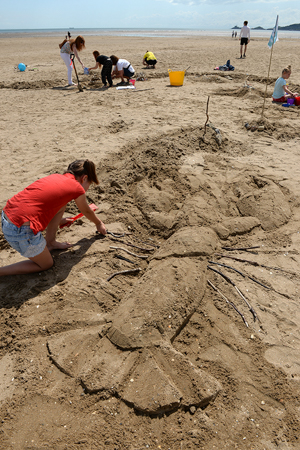 A large scale sculpture of a lobster was created on the golden sands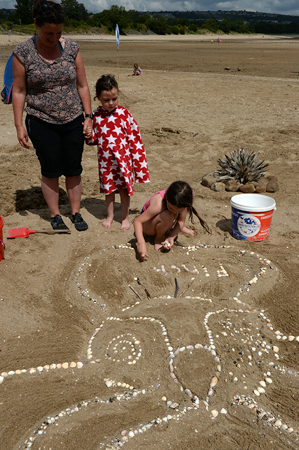 .Using different shells as materials was a wonderful way to inspire young children with imaginative out of doors early learning. This crab sculpture became an interactive game too.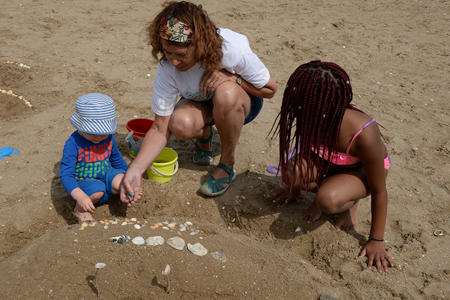 Children of all ages enjoyed working with the artists to create large scale sculptures such as this harbour crab.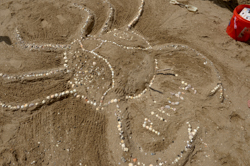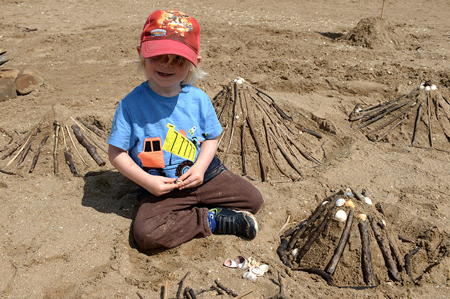 The young boy enjoyed creating a series of sculptures based on shells using sticks and shells to decorate.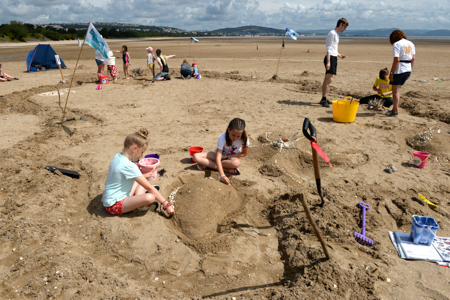 Inspired by the previous day at Bracelet Bay, a large rock pool shape was drawn at Blackpill beach and festival goers enjoyed getting creative and making sculptures of marine animals from that habitat.Many absorbed and happy participants explored the beach, scouring the shoreline for special shells, stones and feathers.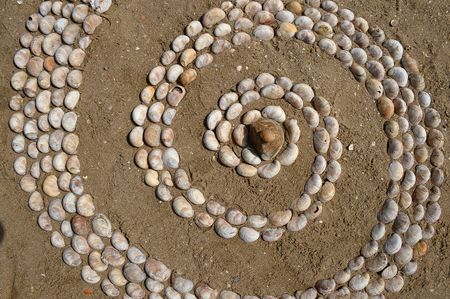 A Slipper Limpet shell spiral reminds us of the circle of life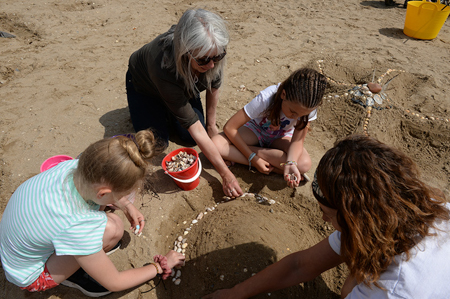 The festival brought opportunities to share ideas, collect and place resources enabling participants to feel part of a community. Attention to detail was paramount.
Listening to the sound of the sea in a shell is something everyone should do, whether young or old!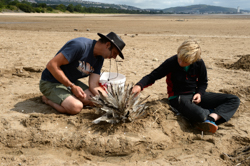 Sculptures of sea anomonies for the festival rockpool were created by dads and boys using pebbles, sand and feathers!
The temporary sculptures were admired and prompted conversations about environmental art and it's ephemeral nature.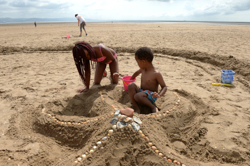 This starfish sculpture provided hours of fun for the children making it at the festival.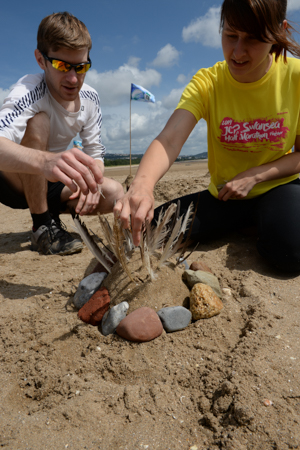 Another anomonie sculpture is made by students showing the different age groups attracted to the Beach Sculpture festival.
As well as the festival participants, a lot of people came to the beach to observe and wonder at the beach sculptures, taking photos to share their visual experience. It was a truly humbling experience to be able to reach out to so many people of many age ranges to share and formulate ideas to help keep our shoreline and biodiversities safe. Exploring the shoreline and creating the sculptures has helped to encourage discussion in a free and easy approach. Many photographs of the sculptures were taken by the public for memorabilia and most importantly helping to re-affirm the importance of nature.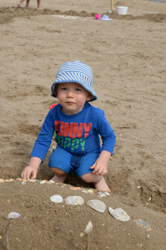 Participants enjoyed exploring the sculpted rook pool to develop ideas and really enjoyed exploring the shoreline to find and talk about the variety of shells, stones and feathers.
A SAMPLE OF FESTIVAL MESSAGES FROM PARTICIPANTS
SAFLE O WYBODAETHAU GAN GAN GAN CYFRANOGWYR
We absolutely love the Beach Sculpture festival and have attended at least one session each year since the festival's beginning. We enjoyed making a Blue Whale sculpture. The artists all have a style of questioning and encouragement that helps to develop ideas that you didn't realise you had! We found out about birdlife and sealife whilst at the festival. Events like this are very worthwhile as creativity enhances and creates a wonderful community. Hope this fesival continues for ever! Seren and Sian Davies
We enjoyed making seagull and anemone sculptures which we were very happy with. Our creativity was enhanced by the festival with encouragements, tips and inspiration from the artists. We found out at the festival that a long nosed sea horse is rare. The event is very good for both community and individual well being. It was a great idea. Thank you. Tom Owen and Alice Eaton
Our octopus sculpture was fab and we were so happy with it. The event was great for kids to learn about sea life and art. It was really good fun. Jessica, Erin, Isobel and Daddy.
We made crab, mussell and fish sculptures and loved every minute. It was a very calm and meditative experience and the artists gently led us into making fab pieces of art. We learnt about what lived locally in rock pools and ecological effects on our beaches. We had a great time. Sian Rich and two children
We created starfish and crab sculptures and learnt about Slipper Limpet and oyster shells. It was educational, fun, creative experience for kids and adults plus it was local! Jen, Paul, Ethian and Aidan Isaac
Our Blenny fish sculpture for the rock pool was facinating to make. We learnt about different techniquwes to use in sculpture as well as finding out about the Blenny fish and where it lives. Environmental Art Events like this encourage creativity and teaches everyone about the world. Deb Warren and 4 children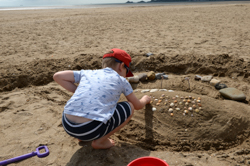 Our participants' creativity and well-being was enhanced through the festival workshops. Everyone was still involved using taught technique processes and developing ideas even when the event finished.
Thank you to everyone for making our annual sculpture festival such a success once again.
THANK YOU TO OUR KIND SPONSORS BELOW:

Diolch i bawb am wneud ein gwyl cerflunwaith flynyddol mor llwyddiant unwaith eto.
DIOLCH I'N EIN HYRWYDDION SY'N GWYBODAETH BOD
All ages enjoyed working collaboratively alongside artists and members of their groups. They were noticeably impressed by their designs and that of others and expressed how doing the sculptures had opened their eyes to the variety of shoreline resources to make sculptures with as well as noticing the sea birds present on the far shore.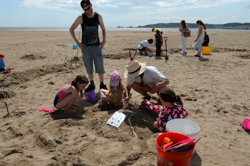 A successful festival on Gower achieved another year. One more festival day was held though when the event travelled to Pendine Beach in West Wales in August - link at the bottom of the page to see the photo-feature on festival page 6.