Our annual beach sculpture festival, now in its 15th year, continued its journey on the fourth day at the beautiful Bracelet Bay in Mumbles. It is a small bay on the south of the Gower Peninsula with good views of Mumbles light-house. The west of the bay is separated from the next beach Limeslade Bay by Tutt Hill, which carries a coastguard look-out station.There are lots of interesting materials to use for sculptures here such as a plentiful supply of different shells, feathers and pebbles of many hues and colours. Many of the festival goers had come to the beach that day especially for the Beach Sculpture Festival workshops, some returning from the previous day. Everyone was so involved and engaged with what they were creating and bringing forward own ideas as well as working on suggestions from the artists. From the artists' point of view, this was very refreshing and confirmed the effectiveness of the festival's purpose and objectives to enhance creativity and give an environmental awareness during the fifteen years of being staged on Gower and Swansea beaches. An environmental awareness about the site and its marine life was definitely achieved through the festival workshops with the opportunities in both visual discovery and verbal conversations with the artists. A large "rock pool" shape was drawn up in the sand and participants were invited to help create animal sculptures in it of creatures that live in this habitat to demonstrate the biodiversity of eco-systems. Sea anemones, crabs, lobsters, shrimps and small fish were re-created in abundance! This helped focus both adults and children on what species can be found on this beach and the habitats they live in. participants responded to their environment to assimilate shoreline sculptures , making choices relevant to their own needs. They spoke about their creative building positively alongside the making. Participants enjoyed walking through the sculpture rock pool to explore each other's creations, and develop new aspirations.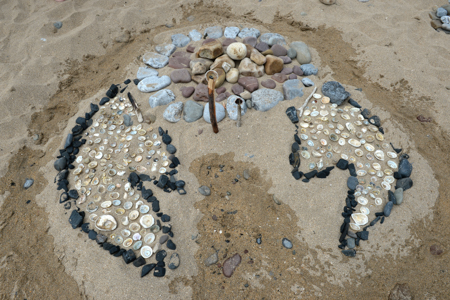 A harbour crab was made in the "rock pool" environment using the different coloured pebbles and shells found at Bracelet Bay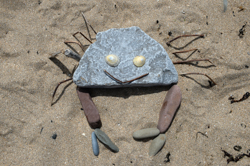 Another rock pool crab made from pebbles, shells and driftwood sticks!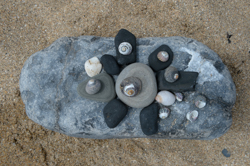 A sea anomone sculpture was made from different shells and pebbles for the rock pook highlighting the different marine animals that can be found at Bracelet Bay.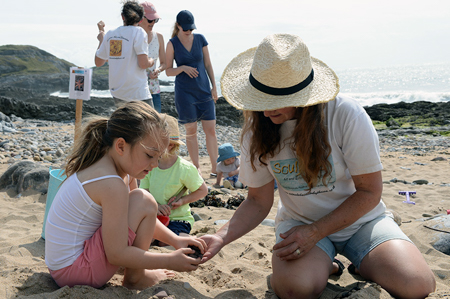 An opportunity to discover the different materials that can used to create the marine animal themed sculptures and learn about the creatures at the same time. Selecting specific rocks or shells with certain colours or patterns brought the chance to study what was there and made the children's creations really meaningful and special. The workshops encouraged independent thinking, creativity and a greater sense of self esteem.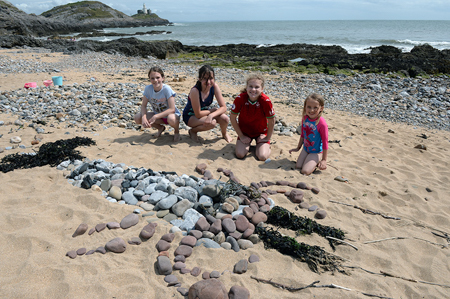 A fantastic large scale sculpture of a lobster was created on the beach by these creative youngsters for the rock pool theme for the day.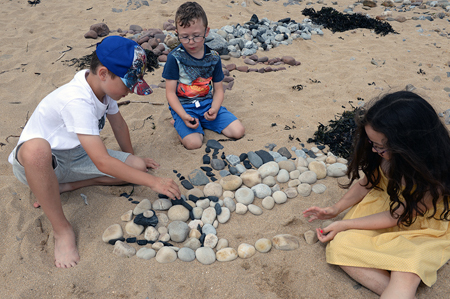 Sculptures involved everyone working together to collect materials and place them in the right places!
Participants responded to their environment to assimilate shoreline sculptures, making choices relevant to their own needs. An environmental awareness about the site and its marine life achieved through the festival workshops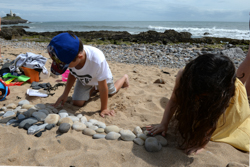 All ages worked together making interesting and thought provoking marine animal sculptures. It was great to see lots of people retuning for their second or third visit to the festival and a opportunity fabulous to build rapport and friendships.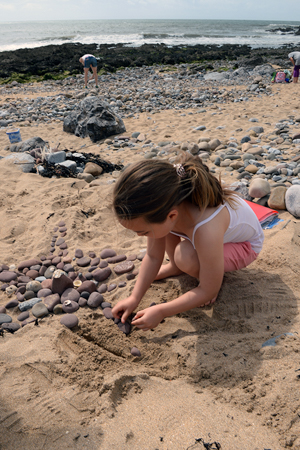 Concentration and attention to detail were skills that children learnt whilst engaged in making the colourful and meaningful sculptures using found materials such as pink pebbles.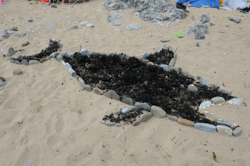 A shark is made from grey pebbles and seaweed encouraging and boosting resourcefulness and imaginative abilities and skills.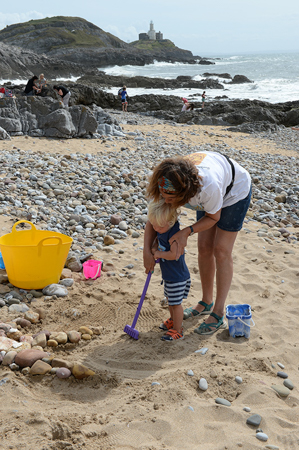 Having fun working with the artists on the beach and using different tools to create interesting backgrounds to sculptures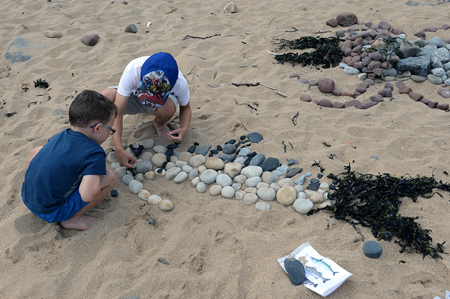 A large sculpture based on a bass was interesting to make for these young boys who used different white and grey pebbles to make the scales of the fish and dark seaweed to create the tail.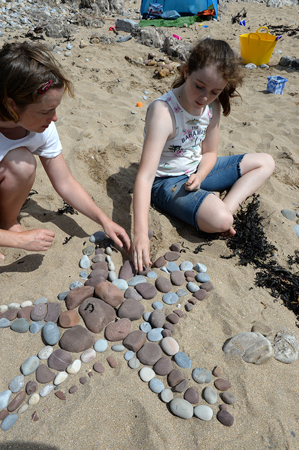 Creating a starfish sculpture was an absorbing activity.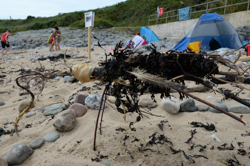 Ingenius use of different materials to create marine animals such as this crab for the "rock pool".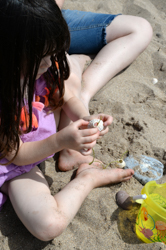 Finding out about life inside shells
SAMPLE OF FESTIVAL MESSAGES FROM PARTICIPANTS

SAMPL O WYBODAETHAU GAN GAN Y CYFRANOGWYR
Our sculptures were a crab and two turtles. The kids loved being creative with all the rocks, finding colours and learning that wetting the sculptures helps to make them even more visable. W wouldn't have done this without the festival workshops. Its like having the chance to play! The artists helped us to see how beautiful this beach is with the different coloured pebbles and other materials. Environmental art events like these give people the chance to connect to the environment and for kids to touch, learn and look closely and interact through making art. It's great to see people coming together - the festival connects the community at our stunning local beaches. We definitely enjoyed it and will come again. Kathryn Moss and four children
We made starfish and crab sculptures which we were very happy with! Our creativity was enhanced through the festival with the fantastic ideas for beach play with the kids. We found out lots of environmental aspects whilst we were there discussing bio-diversity and mussel beds. Events like this are so worthwhile - More please! jJenny Richmond and five children
Our starfish sculpture was great and we really enjoyed the festival. Ting, Alice and Rosie Church
We had such fun creating Poseidon's throne and mermaid which was an amazing imaginative activity. The boys were really engaged and enjoyed getting active and creative. It was fantastic! Helen Wilson, Mat, Dan Spillets and Livvy.
We made a shrimp sculpture for the rockpool. We were absolutely pleased with it! Environmental Art events like this enhance children's creativity and give them environmental awareness. It was a really happy enjoyable day! Joanne and Seren Cherry
We joined in making Poseidon's throne and a shrimp sculpture which were very happy with. The kids were fully engaged the whole time, team working and sharing ideas. Wonderful! It was so worthwhile as it is great getting kids engaging in creative activity and learning about the environment as the same time. Anna, James, Elin, Macsen, Nia, Seren, Danny and Olivia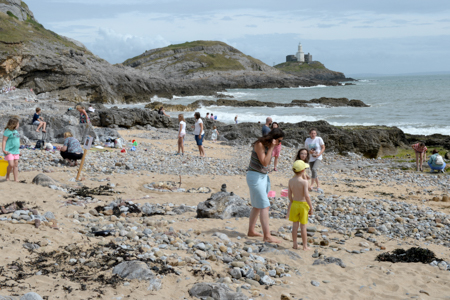 Many Participants had clear ideas of what they wanted to create amd they were able to forage a lot at Bracelet Bay for different resources to create their individual designs. Everyone was still involved when the event had finished for the day! People walked around the beach looking at all the finished sculptures.
People were also interested to find out about the five piece waymarking sculpture trail along the cliff path between Limeslade, Mumbles and Rhossili that our team of artists created and installed last summer - see sculpture on the coast feature
THANK YOU TO OUR KIND SPONSORS BELOW:

DIOLCH I'N EIN HYRWYDDION SY'N GWYBODAETH BOD: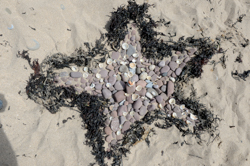 Throughout each day of the festival activities the artists made talking and connecting with people about bio-diversity their priority. Collecting found objects and making sculptures is a great way to connect with people of all ages to enhance understanding and keep marine life and shorelines safe. The creation of a sculpted rock pool was a perfect visual impact for heightening creative thoughts within bio-diversity.
To see Day 5 of 2019 Festival at Blackpill Beach - click the link at the bottom of this page
I weld tudalen 5 o 2019 Gwyl Traeth Blackpill - cliciwch ar y ddolen ar waelod y dudalen hon